Six Flags Magic Mountain & Hurricane Harbor Discounts and Deals
LAST UPDATE: 6/9/15
Six Flags Magic Mountain (open daily in spring and summer, weekends and holiday periods only in winter) and its associated water park, Hurricane Harbor (open seasonally) both offer frequent and varied promotions that can save you money. Check below for the latest Six Flags Magic Mountain discounts, coupons, and offers.
Be aware that all of the coasters at Magic Mountain have MANDATORY locker storage before entering the line to get on the ride. This costs $1 at each ride, which can really add up. You are not allowed to carry anything on the coasters, including cell phones, sunglasses, fanny packs, backpacks, camera bags, etc. Tip: consider wearing cargo pants with pockets that close securely with buttons or Velcro. This can save you a bunch of money. Do not put your stuff in regular pockets, particularly on Tatsu, or you may lose things!
If you need tickets to Six Flags Magic Mountain and other Southern California attractions, it's worth checking out the available multi-attraction ticket discounts to see if they can save you extra money. Be sure to compare the final cost of a multi-park pass to the combined cost of the individual tickets; the best deal varies depending on the specific attractions and the discounts that are currently available.
All offers are subject to change without notice. Always call ahead and confirm before driving out of your way to take advantage of a particular offer!
Jump to:
Six Flags Magic Mountain Gate Prices
New!Regular one-day admission is $72.99 for adults. For children 48 inches and under, one-day admission is $47.99. Children 2 years of age and younger are FREE.
Parking is $20.
Six Flags Magic Mountain Ticket Discounts
Jump to:
Six Flags Magic Mountain Website Discounts
Visit the Six Flags Magic Mountain site to see current online deals.
AAA Discounts
AAA is a loosely associated group of clubs that each cover a small geographical area, usually a single state or portion of a state. Different clubs have different offers, so it's worth checking both your own AAA state club and the Southern California AAA club websites. To check your own state club, just go to AAA.com and you will be redirected (usually) to your local club. If you haven't yet set up your online access, you'll sometimes need to do that to see your local club's discounts. To check the Southern California site, click here and enter zip code 91608. Once you get to the club home page, click the "Discounts" tab and select "Tickets."
If a particular discount on the Southern California site involves booking online through the club site, you will usually need to be a Southern California member. Discounts that involve showing your card at the gate are available to any AAA member. If you can get to a Southern California AAA club office, you can usually take advantage of offers that must be bought in person, even if you're a member of a different AAA club.
Generally AAA members can get a $5 admission discount to Six Flags Magic Mountain at the gate, and sometimes discounts on other things such as food or merchandise (usually 10%).
Season Passes
Often you can buy season passes for the same price as a regular one-day admission, or similar. Check the Six Flags Magic Mountain site for current season pass offers.
Group Tickets
You can save a substantial amount when you buy 15 or more tickets at a time on the Six Flags Magic Mountain site. Plus, if you purchase at least 15 tickets, you'll get one free "chaperone" ticket. (Despite the "chaperone" terminology, any group can buy these tickets.) You have to specify a date when you purchase the tickets, but they are good from that date through the expiration date, and they do not all have to be used on the same date. Be sure to check the expiration date before buying. There is a "print at home" fee as well as a processing fee per order for the group tickets.
Discounts on Multi-Attraction Tickets that include Six Flags Magic Mountain
If you know you want to visit other attractions as well as Knott's Berry Farm, there are a number of discount pass options available that can save you a lot of money, and eliminate the hassle of buying all of your tickets individually. We've scouted out some of the best discounts you can find from reputable companies and describe them here. For more details and pricing just click on the pass name.
Jump to:
Go Los Angeles Card
The Go Los Angeles Card is an all-inclusive pass that allows you to visit as many attractions as you want within a set number of days (usually 3 to 7 days). You pay one discount price for the number of days you choose. These work well if you are visiting at least two major attractions plus some less expensive attractions. The more attractions you visit, the more you save.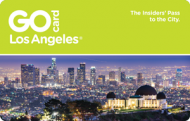 GO Los Angeles Card: If you want to fit in as much as you can in 1- to 7-days using one simple pass for one price, consider this all-inclusive pass. MouseSavers readers get an extra $11 off their purchase of $150 or more with a special code. This pass includes Six Flags Magic Mountain, Universal Studios Hollywood, Legoland, Discovery Science Center, The Hollywood Museum and more.
Go Select Card Value Package Passes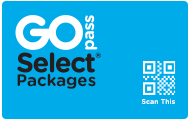 These passes bundle several very popular attractions and offer a slightly better discount than if you were to build your own pass with the same choices. If one of these passes includes your choices, you'll save a significant amount off gate prices. Plus, MouseSavers readers get an extra $10 off their purchase of $300 or more with a special code. You have 30 days from first use with all of these passes. The LA Theme Park Pass is a packaged pass that's a favorite among MouseSavers readers:
Hurricane Harbor Gate Prices
(Open Seasonally. Check park website for specific dates of operation.)
Regular one-day admission is $40.99 for adults. For children 48 inches and under, one-day admission is $32.99. Children 2 years of age and younger are FREE.
Hurricane Harbor Discount Tickets
Visit the Hurricane Harbor website to see current online deals.
AAA members can usually get admission discounts. See the section above for AAA discounts for Six Flags Magic Mountain.