Go Los Angeles Card
LAST UPDATE: 11/30/15
The Go Los Angeles Card includes admission to 33 Southern California attractions, museums and tours, including:
Universal Studios Hollywood (3, 5 and 7-day cards only)
Warner Bros. VIP  Studio Tour, Madame Tussaud's Hollywood, The Huntington Library, Aquarium of the Pacific, and lots more.
Go Los Angeles Card Discounts
New!Cyber Monday Sale: Get 10% off any Go Los Angeles Card order now through Monday 11:59pm EST, 11/30/15! No promo code required.
New!Get $35 off your Go Los Angeles Card order of $350 or more with promo code HOLIDAYMOUSE. Ends 12/30/15. One use per credit card.
Promo codes come out frequently. If the most recent one is expired, check back in a few days.
Instant delivery! You can get your pass instantly when you download it as a mobile pass after checkout. You will also receive a link to the pass in your order confirmation email. Along with your pass, you will receive printable and mobile versions of your guidebook containing information about each attraction including location, getting-in instructions, phone number, and hours of operation. Simply choose the "Instant Delivery" option at checkout.
Go City Cards are also available for Boston, Chicago, Las Vegas, Los Angeles, Miami, New York, Oahu, Orlando, San Francisco and Washington DC! Our promo codes can be used for any Go City Card.
Go City Cards – General Information
The Go Los Angeles Card will probably save you money if you plan to do several major attractions and tours in Los Angeles, Hollywood, Orange County and surrounding areas within a short time. However, be sure to check on regular prices and generally available discounts first. Some of the museums that are included are normally quite inexpensive anyway. If you are only visiting low-cost attractions, you may find it's a better deal to purchase admissions separately.
You'll receive a FREE full-color guidebook with the purchase of any Go City Card. Not only does this pocket-size guidebook include complete information on all of the attractions included with the card, but it also provides details on dining & shopping discounts, maps of the area, local info and insider advice. One free guidebook per order.
The Go Los Angeles Card comes in 1, 2, 3, 5, or 7-day increments, and provides admission to each included attraction. Universal Studios is only included with purchase of the 3-, 5- or 7-day Go Los Angeles Card. You can visit Universal Studios Hollywood on up to three of your valid card days. Passes are valid one year from date of purchase. The card is activated the first time you use it at a participating attraction. You can use this pass for the number of days purchased over a two-week period. It costs:
| | |
| --- | --- |
| 1-day Adult (13+) | $77 |
| 1-day Child (3-12) | $70 |
| 2-day Adult (13+) | $120 |
| 2-day Child (3-12) | $100 |
| 3-day Adult (13+) | $190 |
| 3-day Child (3-12) | $165 |
| 5-day Adult (13+) | $250 |
| 5-day Child (3-12) | $217 |
| 7-day Adult (13+) | $285 |
| 7-day Child (3-12) | $250 |
Go City Cards, also called Go Cards,  are available Los Angeles and San Diego and both provide admission to multiple attractions in Southern California. Be sure to look at both cards and see which one fits your plans best, because there is some overlap in what they include.
Go Cards and Go Select Cards can also be purchased for Orlando, Oahu, New York, Boston, San Francisco, Chicago and Miami. Discounts or promo codes almost always apply to all Go Card locations.
Go Select Los Angeles Pass & Value Packages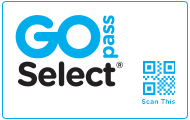 If you know exactly where you want to go, you may want to check out the Go Select Los Angeles Pass. This build-your-own multi-attraction pass gives you discounts similar to the Go Los Angeles Card. Unlike the Go Los Angeles Card, the Go Select Pass gives you 30 days from first use to explore your preselected picks from over 34 attractions.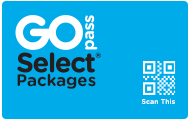 There are also prepackaged Go Select passes, such as the SoCal Theme Park Pass that group several key attractions and offer a substantial discount on admissions. Attraction options differ slightly, for instance SeaWorld and the San Diego Zoo are included in the SoCal Theme Park Pass.
You can check out all of the available Go Select Los Angeles Value Packages by clicking here.
You should compare prices with the Go Los Angeles Card– in some cases a Go Select Pass Los Angeles or prepackaged Go Select Pass may be a better deal.
Southern California MouseSavers Explorer Pass
This new exclusive prepackaged pass includes four of the most popular southern California attractions and offers a 22% savings off gate prices!
Click here to find out more about this value-packed pass. MouseSavers readers pay only $232 for adults, $192 for child passes! Regular gate prices for these attractions total $299 for adults, $245 for children ages 3-12.
This pass is good for 30 days from first use, and includes one visit to each attraction. Passes are valid one year from date of purchase. Plus, cards can be downloaded instantly! Great for last minute gifts! Passes are immediately available to download and/or print after checkout. Note: This pass is already fully discounted. MouseSavers promo codes cannot be used with these cards. This offer is subject to availability and may be modified at any time.
Other Go Card Discounts
Buy a Go Los Angeles Card through aRes Travel and save! Their prices are usually competitive with discounts listed above. Please note that if purchasing through aRes, you must redeem your voucher(s) at one of several specified Los Angeles area locations ONLY.
Costco.com sometimes offers select Go Los Angeles Cards (usually the 2-day cards, which does NOT include Universal Studios Hollywood) at a very good discount. You don't even have to be a Costco member to buy through their site. (Non-members pay a 5% surcharge, however.) There is a shipping charge when ordering from Costco.com.
If you would like to check out other multi-attraction passes based on where you want to go, review our chart on Southern California Multi-Attraction Passes.