Owner's Locker – Who Needs It?
Back in early 2007, I started hearing from some of my readers about something called Owner's Locker, a service for repeat visitors to Disney World that allows you to keep your vacation gear in Orlando between visits. Several people told me how much they loved this service and suggested I should mention it here on MouseSavers.com. Around the same time, I started reading about Owner's Locker on various Disney discussion boards. Quite a few of the board participants had tested the service and they were all raving about how great it was.
Well, I'm a skeptic. My first question was, "what exactly is the service they provide?" I looked into it and discovered that Owner's Locker delivers a specially designed air- and water-tight container to store personal items that you regularly use at Walt Disney World, such as toiletries, an air mattress, a coffee maker — just about anything nonperishable. The company picks the container up from your resort when you check out and stores it until you return. Then Owner's Locker has your container waiting for you at your resort's bell stand when you come back.
Now, we visit Disney World several times a year. Even so, I kept thinking "why would I need this?" My initial reaction was that Owner's Locker seemed a little bit expensive. There is a one-time $75 fee, which covers the locker and the initial delivery and pickup. Then you pay an annual fee of $99, which includes storage in a climate-controlled warehouse plus one delivery and pickup per year. (Or $179 per year for unlimited deliveries and pickups.) But it wasn't the cost that was really holding me back. I just had a hard time understanding the need for this service.
So I talked with some people who were using the lockers and asked what they were storing. They gave me a few ideas*, and when I thought it over a bit, I realized I've been carrying a lot of things back and forth to Orlando that I only use there, such as a big bottle of spray-on sunscreen, a Mickey Mouse vinyl rain poncho, a sun hat, an extra swimsuit and a Minnie Mouse daypack. It occurred to me that by storing all that stuff in Orlando, I could probably take a much smaller suitcase on future trips — maybe even just a carry-on!
I also realized there are certain things I've never bothered to take to Orlando, even though they would be nice to have, because I knew I'd have to lug them back home afterward. But maybe if I had an Owner's Locker, next time I stayed in a unit that has a kitchen (like a Disney Vacation Club villa, or a villa at Caribe Royale), I could bring some kitchen items that are not provided, such as salt and pepper shakers and spices. And maybe a blender. (Margaritas, anyone?)
The more I pondered it, the more I realized how handy the locker might be. I could bring a crockpot, set that puppy up in the morning before heading out to the parks, and come back to find dinner made — how great would that be? Then I could keep it in my locker and it would be there whenever I wanted it.
And then I thought about water. Yes, water. In a typical trip to Disney World, I would go through about half a case of bottled water. The water in Orlando tastes bad, and Disney charges a ridiculous amount for bottled water. So every time I visited, I would have to make a special trip to a grocery store and buy a case of bottled water. Then I left half of it behind, because there was no way it was going to fit in my suitcase. This bugged me because it was so wasteful, not to mention bad for the environment. But if I had an Owner's Locker, I could just buy a Brita water filter pitcher, keep it in my locker, and make my own filtered water every time I visited!
Well, that was the thing that made me decide to try it out, and I have to admit, now that I've experienced the Owner's Locker service, I never want to go without it again! It is totally worth the money.
First, I was very pleasantly surprised about the locker when I saw it in person. It's bigger than I expected — you can cram a lot of stuff in there! It's very heavy-duty and has removable dividers inside, which you can configure any way you want. It also has a removable "tackle box" type container that you can use for small items. You get to close it up with special seals before it goes back to the warehouse, so no one knows what's in it but you. (There is a private area on the Owner's Locker website where you can keep an inventory, so you can remember what you've stored.)
Second, I was impressed with how well the system works. I stay at different hotels and villas all the time, in part because I'm always inspecting the MouseSavers Preferred Hotels. Turns out that's not an issue at all. Owner's Locker can pick up and deliver lockers at any major hotel, vacation condo or timeshare resort in the Orlando area. Anytime before a trip, I just log into my account on the Owner's Locker website and let them know when and where I'm arriving and departing.
The day I fly out to Orlando, I get an email letting me know the locker has been delivered to Bell Services at my hotel. When I arrive, I just call Bell Services and have them bring it to the room (I could also go out to the lobby and collect it, but I'm too lazy). When I'm ready to depart, I call Bell Services and have them collect the locker. They take it to a storage area where it will be picked up by Owner's Locker. Later that day I get an email letting me know the locker is safe and sound in the Owner's Locker warehouse.
The whole experience is easy, seamless and worry-free. Not many things in life are like that!
Having an Owner's Locker saves me money. I don't have to worry about overweight luggage fees on the way home anymore. (In the past I've I had to repack stuff into two bags at the airport or pay a $50 penalty.) Now that most airlines are charging $25 or more each way to check the first bag and $35 or more each way to check a second one, it saves me even more. I can cook more often, because it is so much more convenient. I no longer buy bottled water, because I can just fill up my Brita water pitcher. Best of all, I no longer throw away half-used items like shampoo and liquor, rather than risking breakage or leaks in my checked luggage.
Owner's Locker makes my visits to Orlando tremendously more convenient, pleasant and "home-like." It's hard to put a price on that — it enhances my stays so much.
(By the way, if you'll need a stroller while you're in Orlando, check out Magic Strollers, a new venture by Owner's Locker. Owner's Locker members get 20% off stroller rentals!)
SEE BELOW TO SIGN UP FOR OWNER'S LOCKER
*Here are just a few of the things people have told me they store in their Owner's Locker:
| | | | | |
| --- | --- | --- | --- | --- |
| shampoo/conditioner | sunscreen | champagne flutes | laundry soap | liquor |
| sewing kit | first aid kit | diapers | tampons/pads | sheets |
| swim toys | tub toys | coffee filters | umbrellas | rain ponchos |
| corkscrew | fuzzy slippers | swimsuits | autograph books | air mattress |
| water filter pitcher | water bottle strap | lanyard | flower vase | waffle maker |
| game console | guidebooks/maps | curling iron | crockpot | flashlight |
| batteries | scissors | Mouse Ears | eyeglass repair kit | night light |
| pillows | paper plates | mouthwash | espresso machine | swim goggles |
If you're a regular visitor to Walt Disney World,
you should look into Owner's Locker
Owner's Locker allows you to store your vacation gear between visits, which means less packing, less hassles, less hauling and less stress!
Owner's Locker provides you with a container to store personal items that you regularly use when vacationing at Walt Disney World, such as toiletries, an air bed, a water filter, your favorite liquor — just about anything that makes your stay more pleasant.
Owner's Locker picks the container up from your resort when you check out and stores it in a climate-controlled warehouse until you return.
Here's the great part: Owner's Locker will have your container waiting for you at your resort's bell stand when you come back!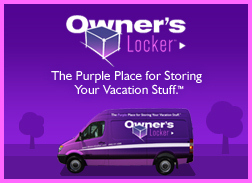 Disney Vacation Club Members are now eligible for a 20% discount off the Owner's Locker Membership Fee.
To qualify for the discount, DVC Members must use a special link that can only be found on the DVC member website.