Time is Money: Maximize Time at Disney World!
We all know that a trip to Walt Disney World can be expensive, so maximizing your enjoyment of your vacation time is the smart thing to do! Who wants to spend the whole time standing in line or staking out that perfect spot for the afternoon parade? Here is a compilation of tips and tricks for you to maximize time at Disney World!
In my many visits to Disney World, I've learned that some pre-planning (and a few judicious purchases before you leave) can save money and help maximize time at Disney World. On this page I've gathered some important "survival" hints that everyone should know before departure.
The Disney fans who visit MouseSavers.com have lots of great information to share. This "Time is Money" page includes many reader contributions. Thank you to all who have shared their tips on how to maximize time at Disney World!
Where Do I Start?
I recommend starting on my step-by-step planning guide page, which will help take you through the major decisions you'll have to make when you plan your trip.
How to Take MouseSavers.com Along on Your Vacation
Would you like to have this site at your fingertips while you're at Walt Disney World? Accessing MouseSavers.com on a smartphone (iPhone, Android, Windows Phone, Blackberry, etc.) makes it convenient to look up tips and tricks, check on dining discounts, see what events are happening during your stay, and lots more.
This site works perfectly on any phone that allows you to access the Internet. Just fire up your phone's Web browser and navigate to MouseSavers.com!
By the way, if you'd like to have a MouseSavers icon on your iPhone, Android, Windows Phone or Blackberry that will take you directly to the site, click here for directions.
Essential Equipment
When you're planning your trip to Walt Disney World, remember two words: HOT and HUMID. Temperatures in the 90s (Fahrenheit) and humidity readings in the 90%+ range are not at all uncommon in Orlando, even in the spring and fall. Also, bear in mind that there is a LOT of walking at Walt Disney World. Once you've trekked through four large theme parks, I guarantee you will have tired feet!
However, there are several items you can bring (or purchase at Walt Disney World) that will help to make your trip much more comfortable:
Moisture-Wicking Socks
You might be surprised to learn that cotton socks are NOT the best for walking in the heat. They quickly become saturated with moisture and then they start to rub — voila, nasty blisters. A much better choice are high-tech socks that wick moisture away from your skin. CoolMax is a major brand, but there are lots of good competitors.
Comfortable Shoes or Sandals
Be sure to buy these well before the trip and wear them on some walks around the neighborhood, to make sure they don't "rub you the wrong way." Different people swear by different shoes, but the critical components most people need are arch support and thick soles. Thin-soled shoes of any kind are a recipe for disaster — the hot pavement radiates up through them and they don't cushion your foot against the cement walkways. Some people love Teva brand athletic sandals. Personally I prefer a good quality pair of athletic (walking) shoes. Zappos is one of my favorite places to buy shoes. It offers FREE shipping and FREE returns (so if the shoes don't fit or you hate 'em, you aren't out anything). Zappos has an amazing variety of shoes, so if you have a hard time finding your size, width or exactly the right shoes, I highly recommend checking it out.
Moleskin (foot padding)
Don't worry, it's a synthetic material and no actual moles are harmed to make it! This product is much better than regular sticky bandages for preventing blisters. If you know your shoe is rubbing at a certain point, or you start to feel a "hot spot" on your foot, just cut a piece of moleskin to size and cover that area of skin to prevent it from rubbing on your sock/shoe. It works really well. Available in most American pharmacies under the Dr. Scholl's brand. Buy it in advance so you can pre-cut some to various sizes. Moleskin is sold in many Walt Disney World shops (usually it's behind the counter and you must ask for it), but at inflated prices.
Hat
A light-colored ball cap or other hat with a brim is a great thing to have at Walt Disney World. It gives your face a little shade, which both keeps you cooler and helps prevent sunburn. (It also helps to prevent sunburn on the top of your head — obviously this is a worry if you're a little light in the hair department, but you can even get burned along the parting in your hair!) Hats are sold everywhere in the theme parks, but $19-$20 for a ball cap is the norm. It's much cheaper to bring one along from home: you can get Disney-themed hats many places for much less.
Sunscreen
You'll need lots of this, and get at least SPF 20. Don't say "oh, I never burn." You WILL burn at Walt Disney World. There is a lot of water and a lot of light-colored concrete everywhere, all radiating the sun's rays at you from every angle. This can cause burns in the most unlikely places, like the backs of your knees and under your chin! Every time I go to Walt Disney World I see a number of poor souls who look like cooked lobsters — don't let this be you! I personally like the spray-on sunscreen, because it just sprays on with no rubbing and feels nice and cool. I find it is very effective, waterproof, light and not sticky. You can buy sunscreen throughout Walt Disney World, but it's a lot cheaper to buy it at home.
Waist Pack or Backpack
A waist pack (aka fanny pack, or "bum bag" as our British, Aussie and Kiwi friends would say) makes it much easier to carry your stuff (ID, room key, money, credit cards) around, is relatively secure against pickpockets if you wear the bag in front, and keeps your hands free. I know they look kind of silly, but so do Mickey Mouse ears! Don't worry, you will see lots of people at Walt Disney World sporting both. Try eBags for a wide selection and good prices on waist packs.
Alternatively, consider a small backpack/daypack. As long as it's small and squishy enough, you can probably cram it in beside you on any rides that don't provide storage space for personal items. A favorite of many Disney park fans is the Baggallini Messenger Sling Bag, which is sort of a backpack hybrid with lots and lots of pockets and compartments, including an outer mesh pocket that's perfect for a water bottle. eBags carries this bag in many colors at a very good price.
Personal Handheld Fan with a Mister/Spray Bottle Attached
These fans are a low-tech personal "air conditioner" that can be surprisingly effective on a hot day. They usually come with a long strap so you can sling them over a shoulder. One brand name (widely sold in the theme parks for $17) is Squeeze Breeze. It's a good idea to buy these BEFORE you go, because the exact same item can often be found at discount stores such as Wal-Mart for around $6-$8! Thanks to Pam P for the info.
Rain Poncho
It often rains in the afternoons at Walt Disney World, but the showers tend to be fairly short-lived. I find an umbrella is really a hassle to carry around. A rain poncho is much easier, because it squishes down to almost nothing and can be put away in a pocket, backpack or waist bag. A poncho comes in handy for wet rides like Kali River Rapids, too.
Sometimes you can find semi-disposable ponchos at dollar stores. MouseSavers.com reader Cheryl D has a good tip: "Walmart has 87 cent 'emergency ponchos' in their camping supply department that are quite nice. They are transparent, hooded and roomy. We buy them by the dozen since ponchos never seem to fold up into those tiny little packages after used."
If you don't find a poncho that cheap, don't worry, however, because better quality ones are sold everywhere at Walt Disney World for about $7. A good thing to know is that if your Disney World poncho rips, you can take it to the nearest Disney World shop that sells them and they will replace it.
Water Bottle Strap
You will need to drink a lot of water due to the heat. Water bottle straps adjust to fit most bottles of water and make them much easier to carry with you. Buy one when you arrive, as they are available for about $3.50 in every park.
Ultimate Packing List & Tips for Packing Better
This one will definitely save you some time even before you head to Walt Disney World! I've recently updated and reorganized a great list originally compiled by Michelle E from Charlotte, NC. This packing list includes everything you would ever need, and a lot you don't — it's smart to pack as light as possible since surcharges are now in place at most airlines for checked bags!
It's in Word format so that you can adapt it to your own needs — just delete any items that don't apply to you. Also includes a checklist of things to do before you go, such as stopping the paper and the mail, etc.
To download the list in Windows, right-click on the link and select "Save Target As."
To download the list on a Mac, hold down the Option key while clicking on the link.
TSA Packing Hints
Be sure to check out the Transportation Security Administration (TSA) web page that discusses baggage limitations and tells you what NOT to pack in your checked luggage — some of the items may surprise you.
In addition, bear in mind that liquids and gels over 3 ounces are banned from CARRY-ON luggage, and 3-oz bottles or tubes must be carried through security in a single, clear, quart-sized zip-top bag. This includes items such as deodorant, suntan lotion, toothpaste, perfume, makeup, contact lens solution, bottled water, etc.
Need small sizes of your favorite items to fit in a TSA-approved baggie? Check out Minimus.biz, which offers a huge variety of travel-sized items, including toiletries, pharmacy/first aid, laundry soap and lots more.
NEVER pack valuables in checked luggage! Keep anything valuable (electronics, jewelry) or hard to replace (prescription medications, glasses/contacts, photos) with you, in your carry-on luggage. You should also keep all travel documents for the entire trip (flight/hotel/rental car confirmations, trip insurance documents, etc.) with you in your handbag or carry-on.
For Repeat Visitors: The Disney Box
"We make a Disney trip every year with our children, and the most frustrating thing we find is having to 're-purchase' souvenirs like autograph books, Disney hats, etc. Here's my hint for keeping that to a minimum: if your kids are like mine, their Disney souvenirs are treasured possessions after they return…until the next big thing comes along, like the start of school or whatever. When they sort of lose interest in them, I box up the pin lanyards, autograph books, pens, ponchos, fans…anything that provided comfort or seemed indispensible to them. I just label the box 'Disney' and I store it with the luggage. When I am packing for the next trip, I slip the things into a suitcase and don't let on that I have them until we arrive. This saves me a bundle, and the souvenirs are there when the kids need them the most. The box is also a great place to 'pre-pack' the sunscreen [note from Mary: be sure to check the expiration date - it loses its effectiveness after awhile], sunglasses, and other stuff you don't think about until you are at Disney and faced with paying a premium price." - Susan F from Seattle, WA
For Repeat Visitors: Owner's Locker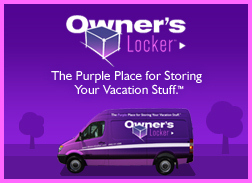 If you're a regular visitor to Walt Disney World, you should look into a service called Owner's Locker:
Owner's Locker allows you to store your vacation gear between visits, which means less packing, less hassles, less hauling and less stress!
Owner's Locker provides you with a container to store personal items that you regularly use at Walt Disney World, such as toiletries, an air bed, a water filter, your favorite liquor — just about anything that makes your stay more pleasant.
Owner's Locker picks the container up from your resort when you check out and stores it in a climate-controlled warehouse until you return.
Here's the great part: Owner's Locker will have your container waiting for you at your resort's bell stand when you come back!
Avoid the Crowds
Nothing affects the value of your vacation as much as WHEN you choose to go! So, when are the busiest and least busy times at Walt Disney World? Be sure to see the answer in the Frequently Asked Questions section.
"The first suggestion should be branded on everyone's forehead, 'Go during value season.' There is simply no comparison in the levels of attendance…. This is one's first line of defense in the 'Time is Money' battle." - Jeff D from Toms River, NJ
Would you like some very specific help with picking the best dates and then avoiding lines once you arrive? When you buy a very reasonably-priced annual subscription to TouringPlans.com, you'll receive:
Crowd Calendars showing you the expected crowd levels, best parks to visit and the parks to avoid, every day for the next 12 months.
Touring Plans with step-by-step advice for visiting the best Disney attractions while saving you up to four hours in line per day.
Lines, a mobile phone application showing current and future wait times and FASTPASS times at every attraction (for iPhone, Android, BlackBerry, and more).
MouseSavers.com readers get an exclusive 20% discount on subscriptions to TouringPlans.com!
Click here for details on the special discount offer.
 If you are traveling with young children who will want to ride Dumbo and the other "little kid" attractions in Fantasyland, I strongly recommend that you arrive at park opening and make a beeline for that area. Dumbo, in particular, is a very slow-loading ride and once the park has been open for an hour or two, the lines are huge. Get that one out of the way first! Peter Pan is another ride to do as early as possible.
On the other hand… "Skip Fantasyland during the daytime when it is packed with kids. When everyone is lining up for the parade, that is the best time to visit. Also the parade does not run through Fantasyland, so you don't get the bottleneck/gridlock effect once it is over. By the time the parade is over and people from Main Street start flooding into the area, head for Liberty Square/Frontierland." - Kevin P from Bayport, NY
"My own experience as a Disney veteran has taught me to leave the beaten path at the Magic Kingdom and begin in Adventureland and work clockwise through Frontierland… At a good time of year you can easily ride Pirates, Thunder and Splash Mountains in a matter of only an hour!" – James O from East Bridgewater, MA
For those traveling without little kids: "I head immediately to Space Mountain to get my FASTPASS. While I'm waiting for my FASTPASS, I'll go straight to the Monsters Inc. Laugh Floor (which has literally no wait in the morning) and then after that I will either go to Buzz Lightyear (while all the children are in Fantasyland, there is no one at Buzz) or to the Tomorrowland Transit Authority. I don't ride the Teacups or the Tomorrowland Indy Speedway until about an hour before the park closes. These are busy rides, and at night there is no line, and it's cool outside." - Alex N from Savannah, GA
Shorter Waits in Ride Lines
Jump to:
FASTPASS
Here are a few things you should know about FASTPASS, a system that can save you a lot of waiting in line:
FASTPASS is FREE to anyone who is visiting the Disney theme parks.
FASTPASS is available for the most popular rides and attractions.
To get a FASTPASS, you insert your park admission ticket into a FASTPASS machine. You will get a FASTPASS allowing you to return at a specific time (usually it assigns a one-hour period during which you can return) to bypass the regular "standby" line. When you return, you wait in the special, much shorter FASTPASS line.
The current FASTPASS return time is posted above the machines, so that you can decide whether that time will work for you BEFORE you get the FASTPASS.
Your FASTPASS willhave printed on it the next time you can get another FASTPASS. It's possible to be holding more than one FASTPASS at a time, if you take advantage of this feature.
 FASTPASS Tips and Tricks
It used to be that FASTPASSes were honored from the earliest time on the pass through the rest of the day, but starting 3/7/12, the return times are now enforced, with only a 15-minute "grace period." If you have one that expires at 10:25 am, for example, you can still use it until 10:40.
"At Hollywood Studios DEFINITELY get the FASTPASS for Toy Story Mania. We were there mid-week, not very crowded, and by 11:00 am the FASTPASSes were all distributed and the wait was 90 minutes (Star Tours still had plenty of passes and a 20-30 minute stated wait time, as a point of comparison). We ended up missing out on that particular ride. One of the attendants said that it was the most popular ride of all the rides in all the parks (not just Hollywood Studios)." - Susan R from Arvada, CO
"When we go to Walt Disney World we always take advantage of the FASTPASS. On the most popular rides we get a FASTPASS as soon as we enter the parks. Depending on the wait time you may only have to wait for less than 20 minutes in the standby line to ride, and then you can use your FASTPASS to ride again." - Toni K from Bel Air, MD
"This works especially well with Rock N Roller Coaster and Tower of Terror since they are situated so close together. Get a FASTPASS for one and ride the other." – Kevin P from Bayport, NY
"Check the FASTPASS times for Big Thunder Mountain Railway and Splash Mountain. If the wait time and FASTPASS time are close together, get a FASTPASS for one and wait in line for the other. When you get off the first ride (that you waited in line for) you can walk right on the next ride." - Patrick S
Regarding the above hint, MouseSavers.com reader S.T. offers this excellent point: "I would suggest that under ALL circumstances, always FASTPASS Big Thunder Mountain Railroad and just wait in line for Splash Mountain. The reason is that the line for Splash Mountain winds underneath a lot of natural shade (trees) and once inside the structure, there is air conditioning. Big Thunder Mountain Railroad, on the other hand, has a queue that winds around on itself inside a stifling structure with ceiling fans that do nothing but push hot air around. Thus, you stay cool and comfortable waiting in line for Splash Mountain and you get to walk right on to Big Thunder Mountain Railroad when your FASTPASS comes up."
"The FASTPASS system is wonderful. It helps to know what rides you should do first thing and what can wait. On our last trip we got to the park before the gates opened and headed straight to the Buzz Lightyear ride and rode it 4 times in 20 minutes. While we were in one line, my husband would [take everyone's tickets and] run to the next FASTPASS ride and get passes. While I waited in line for food, he was running to get the next FASTPASS. While waiting for our time period on the passes, we would do other rides with short lines. If you plan your day around the passes and where you want to eat you can do the whole Magic Kingdom park in one day." - Gerry P from Crescent Springs, KY
"If you are with people who don't ride much (grandparents, wimps, etc.) have them go get a FASTPASS for you with their admission ticket for another ride. This way you wait less time and they wait less time waiting for you!" - Kevin P from Bayport, NY
Extra Magic Hours
Disney offers a special feature called Extra Magic Hours for Walt Disney World hotel guests. If you are staying at one of the official hotels owned and operated by Disney, the Swan/Dolphin, Hilton in the WALT DISNEY WORLD® Resort or Shades of Green, you qualify for this program.
The Extra Magic Hours program allows you to enter a specific theme park one hour before official opening on certain days of the week. On other days of the week, one of the theme parks stays open to Disney resort guests for two hours after the general public closing time.
Remember, if your ticket does not include the Park Hopper option, you can only visit one park per day. Therefore you would not be able to visit (for example) Animal Kingdom during the day and then "hop" to Magic Kingdom for the evening Extra Magic Hours.
Morning Extra Magic Hours Information
Morning Extra Magic Hours occur one hour prior to regularly scheduled park opening. You will need to present a valid Disney resort room key at the park's turnstiles.
Be sure to check DisneyWorld.com for the exact schedule during your vacation and a list of attractions open during the Extra Magic Hours.
Evening Extra Magic Hour Information
For the evening Extra Magic Hours, resort guests have to show their room key at each attraction during Extra Magic Hours.
Be sure to check DisneyWorld.com for the exact schedule during your vacation and a list of attractions open during the Extra Magic Hours.
MouseSavers.com reader Mary C from Pennsylvania has this tip about Extra Magic Hours: "The evening extra magic hours are great, but … heavily publicized for resort guests, so EVERYONE takes advantage of it. After our second night of 30-50 minute lines at midnight, and kids in strollers still in the park and awake, we wondered which park was opening early the next day. Giving up our plan of sleeping until noon, we left for Disney's Hollywood Studios at 7:15 am. By 11:00 am we had ridden everything and were ready to come back and go swimming. Same luck next morning at Animal Kingdom. Rode Expedition Everest three times by 9:30 AM! Extra magic evening hours probably work at non-peak times, but for anyone planning to go at peak season, we recommend the morning extra magic hours. All those folks doing the parks til 1:00 am can't get up the next day at 7:00!"
Child Swap (aka Baby Swap)
Will you be visiting Walt Disney World with a child who is too short to ride some of the attractions you'd like to experience? You can still ride as long as you have two adults present, by taking advantage of the Child Swap, which is available on most height-restricted rides. When you enter the queue area, tell the Cast Member you'd like to do Child Swap. This allows the first adult to ride while the second adult stays with the child. Then the second adult can ride — without waiting in line again — while the first adult stays with the child. If you are using FASTPASS, the system works the same way, except that you get in the FASTPASS line.
Single Rider Line
If you don't mind possibly sitting separate from the rest of your party, use the Single Rider line, which is available at Test Track, Expedition Everest and Rock N Rollercoaster. The Cast Members loading ride vehicles draw from the Single Rider line to fill in empty seats, so this line often moves much faster than the regular line.
"Always use the Single Rider line for Test Track. 75% of the time my wife and I end up in the same vehicle, just not next to each other. The ride sits 3 across, so a lot of times, they will need 2 people: one in the front seat, one in the back. I've walked on line and been on the ride in 10 minutes, while the standby line is well over 1 hour." - Kevin P from Bayport, NY
Special Needs
Those with special needs (mobility, visual, hearing or cognitive disabilities) can get a special pass, which is called a Guest Assistance Card, from Guest Services when you arrive. Different passes are offered to people with different needs, and depending on the type of pass, may allow you easier access to the various attractions. For more great info for those with disabilities who are planning a trip to Disney World, I recommend Teri's Disney Travelers' Disability FAQ.
Save Time on Disney Transportation
Augie from Long Island, NY offers these great hints for those who don't mind a little extra walking to save a lot of time:
Going to Disney's Hollywood Studios from the Boardwalk? Or vice versa? Walking always beats the boats!
When leaving Magic Kingdom and taking the bus back to Boardwalk, you can get on the Swan/Dolphin bus instead. It is usually a shorter or no wait, and not as crowded, and is a short walk to the Boardwalk. Get off at the Swan stop for the shortest walk. This also avoids the stops at the Beach and Yacht Club.
Rather than wait in the Magic Kingdom bus line, get on the bus to the Contemporary. It's a short walk to Magic Kingdom from the stop.
[Note from Mary: Another good one to remember is that from many parts of the Polynesian, it's an extremely short walk to the Ticket & Transportation Center (TTC), and it can be much faster to walk than to wait for the monorail. From the TTC you can connect to pretty much any location in Walt Disney World.]
[Another note from Mary: If you are staying at the Boardwalk, Beach Club or Yacht Club, it is usually a lot faster to walk to the International Gateway at Epcot rather than taking the boat. It's a very pleasant walk along the Boardwalk.]
"If you want to go to Epcot — or just the Ticket and Transportation Center (TTC) — at the close of the Magic Kingdom, but you want to avoid the crazy rush at the monorail to the TTC, take the monorail labelled 'Magic Kingdom Resorts' instead. It's a lot less crowded and will take you to the TTC, too! In the meantime, you'll get a nice look at the Magic Kingdom Resorts. There are not as many monorails running on the Magic Kingdom Resorts line, but it still seems to be the quicker way to go–with a lot less pushing & shoving." - Elizabeth H from Northumberland, PA
"Taking a bus from your Disney resort to the Magic Kingdom can dramatically reduce the time required to get there. The buses drive AROUND the Seven Seas Lagoon and drop you at the gate to the park. [Note from Mary: If you arrive by car or by the Epcot monorail, you must take a ferry from the Ticket and Transportation Center to the Magic Kingdom, which takes extra time.] The ferry trip is charming and part of the anticipation building element of getting to the Magic Kingdom, but there are times when you just want to get there as quickly as possible, and avoid another round of queuing and waiting. This is obviously most effective at non-peak traveling times of the day, when the buses are not full and stopping at every stop (e.g., leaving for, and returning from lunch at the hotel). This is also most effective at busier times of the year if you're forced to travel then." - Jeff D from Toms River, NJ
"If you are staying at a Disney resort and are planning a night out at Downtown Disney, it is faster to drive your own car or take a cab. You might even be able to share with someone else going that way. The buses make several stops along the way." - Tasha B from Jacksonville, FL
Getting Around Disney World Faster
First time visitors to Walt Disney World are often surprised to find out that the parks, hotels, and other locations are miles away from each other and getting between them really requires some kind of motorized transportation. You can certainly use Disney transportation, which is free, but it has a few downsides:
You need to wait for the transportation to come, which might take as long as 20-30 minutes.
The transportation often makes other stops rather than going directly to the destination you want. Most of the Disney buses, for example, serve multiple hotels.
There is not always a transportation option that goes directly between your current location and your desired destination, especially if you are travelling from one hotel to another (for example, to eat dinner at a different resort restaurant, or to go to the Polynesian Luau or the Hoop-De-Doo Revue). In such cases, you generally end up having to change buses, which takes a lot of extra time
Driving your own car or a rental car is a faster and more flexible option. However, even if you're just going to another part of the Disney property, you'll have to navigate a somewhat confusing complex of streets and freeways inside Disney property, almost none of which have normal street signs.
If you own an auto GPS receiver (or are considering the purchase of a GPS unit), this is a great use for it! Best of all, there is now an exclusive MouseSavers Points of Interest file you can upload to most GPS units, which will help you navigate to pretty much anywhere mentioned here on the site.
Alternatively, a good map will prove very helpful. If you are a member of AAA, you can get maps for free from your local office.
Want maps of Walt Disney World? Click here to order a FREE set customized park maps for your Walt Disney World vacation. Delivery takes approximately 3 weeks, so plan ahead. You can order one set every 6 months.
See Mickey (and Other Characters) Faster
Some tips from a Character Attendant who escorts the characters:
Believe it or not, everyone will get through the character lines more quickly when families get in one line together. Holding places in line and then having to round up family members, or having the family photographer off on the side and then trying to jump in to take pictures adds to the confusion and slows the line.
Have everything ready to go before you get to the front of the line. Have cameras out of camera bags, turned on and lens caps off. Have autograph books out and pens ready with the caps off. Have your children out of the stroller before it's time for them to go up and visit the characters.
If you have a large group, have a plan. Decide in what order you are going to go up for your photos before you get in the line. For instance, you might decide little Bobby and Sally will take a photo with the character first, then Aunt Judy and Uncle Jim, then Grandma and Grandpa.
              Thanks to Jim R for the info!
"We wished we'd known early on about the weekly schedule (a 1/3 size sheet of paper) available at each park. It lists any attractions that have unusual opening or closing times, parades, shows AND where and when to find the characters who are posing for pictures and signing autographs. Once we found that, we were able to find the character greeting spots (or ask about alternate indoor locations when it was raining) and get to one of the early sessions before the lines got quite so long." - Susan R from Arvada, CO
"I would like to share a tip I received from some of the staff at WDW. My son loves the characters and we always seem to just miss them. I finally was talking to one of the attendants at the Aladdin ride and she was kind enough to call in on her 2 way radio and find out all of the times that the characters would be in her area. We did that in every area (Tomorrowland, Fantasyland, etc..) and got tons of autographs. Another tip she shared with me is that if you visit the parks in the late fall and early winter you will see more characters due to the fact that they can stay in their suits for longer periods without needing hydration." - Janna M from Jacksonville, FL
"Book a character breakfast in Magic Kingdom just before the park opens. We had breakfast with Pooh & Friends at Crystal Palace with 9:10 am reservations. We got to the gate at 8:30, walked through the crowds, entered the park early. It was beautiful walking through empty Main Street. We stopped to take some family photos. Then to our surprise, Mickey & Minnie were in front of the castle posing for pictures. We only had to wait for 2 families and then we were able to casually take a few of our own. The kids loved it!!!" - The S. Family from Commerce Township, MI
"We caught Mickey the last two years at Disney's Hollywood Studios. He has his own studio there, and right when he opens at 10:45 there is not a line. Last year he was open when we went by at 10:30. My son went in, had his picture taken, spent some time. My daughter was, at that point, scared of all characters. Mickey motioned to her to come in, but she would not. So he came out to her!!! He spoke with her, and she got up and held his hand for a picture. That was the highlight of the whole trip." - Penny J from Eden Prairie, MN
"At the Merry Christmas Party, we … ended up watching the first parade and got good seats in front of Town Hall. Since this is where the first parade ends and the second parade starts, all the characters stay in the general area between parades. We got pictures of Goofy, eeyore, Piglet, Tigger, Chip and Dale, etc. all in their Christmas garb. Also it's where Mickey and Minnie are located, and the only place you can get a picture of the two together with the kids. We didn't have to wait in line more than a couple of minutes for anyone, including Mickey and Minnie. You do need to wait about 10 to 15 minutes after the parade ends for the characters to go out, but it is well worth it." - Penny J from Eden Prairie, MN
Participating in Shows & Parades
I'm frequently asked "how can we be in the parade or get picked to participate in a show?"
For the shows, they are looking for certain physical "types" (which vary) and for very enthusiastic audience members. Your best chance is to stand up, cheer and generally make a spectacle of yourself! (Exception: Jedi Training Academy. See below for how to participate.)
There is really no way to have a better chance of being selected as a "parade family." Disney Cast Members pick families randomly off the streets in the theme parks to ride on a float and wave to the crowds. Usually it seems as if they are looking for an "average" family of four with small children.
Jedi Training Academy
Star Wars: Jedi Training Academy is a 30-minute live show at Disney's Hollywood Studio, featuring inspiring music and awesome lightsaber duels. Approximately 15 Padawan participants (guests ages 4-12) can register for the show. They will be invited to don a brown robe and pledge the sacred Jedi Oath. Then they will grab a lightsaber and hone their battle skills as they learn age-old techniques from a real Jedi Master.
If your child would like to participate in Jedi Training Academy, be sure to take the child directly to the Sounds Dangerous attraction first thing in the morning, where you can sign up. The child must be present in order to sign up. Registration typically fills up by lunchtime.
Best Places to Watch Shows & Parades
Jump to:
Pixar Pals Countdown To Fun Parade at Disney's Hollywood Studios
MouseSavers.com reader Ronnie L reports, "the best place to watch it is on the steps of the American Idol Experience. It is important to arrive there early, usually a minimum of 30 minutes (try for about 45 or 60 though). There is always a Cast Member working near there, [so it is] nice to strike up a conversation with them. The parade starts at this end of the park, so as soon as it passes, it's great to go hop onto any ride on that end of the park while everyone else is waiting on the parade."
Fantasmic! at Disney's Hollywood Studios
Fantasmic! was a nightly show for years. However, the last every-night show was in January 2009. After that time, Disney moved to a twice-weekly schedule (usually Mondays and Thursdays) in the off-season. During peak season times, additional performances may be added. Due to its popularity and the limited number of performances, normally you need to show up at the Fantasmic! theater about 90 minutes before the show and line up to get a seat. This is especially true at high season times (spring break, summer, holiday weekends, Thanksgiving, Christmas).
Fantasmic! Dinner Package
If you're interested in seeing Fantasmic! at Disney's Hollywood Studios, one way to avoid a long wait in line for seating is to book the Fantasmic! Dinner Package. With this special package you pay for a regular sit-down meal at The Brown Derby, Mama Melrose or Hollywood & Vine and you get preferred seating for Fantasmic! at no extra charge. With the Fantasmic! Dinner Package you can walk into the theater 45 minutes before show time and have a guaranteed seat.
Those booking the Fantasmic! Dinner Package are sometimes required to eat very early (typically before 5:00 pm). Clearly Disney is using this package to fill tables at less-popular times.
You can reserve and prepay for the Fantasmic! Dinner Package in advance by calling (407) WDW-DINE (939-3463). This prepaid offer includes dinner and reserved seating for Fantasmic!. Prices are a fair deal and of course you're getting the added benefit of guaranteed seating.
Platinum Plan
If you shell out the big bucks for the Platinum Plan (the most expensive vacation plan offered by Disney), one benefit of the plan is reserved seating for one Fantasmic! show during your stay. Advance reservations are required.
Parades and Fireworks at Magic Kingdom
"We like to watch the parade from Frontierland, where it usually starts. Once it passes you have a clear shot to Adventureland, which is pretty empty because people are still watching the parade. Parades are also a great time to get into your favorite table service restaurant for a late lunch or early dinner." - Tasha B from Jacksonville, FL
Another reader agrees: "I would suggest watching the afternoon parade from Frontierland. The parade generally begins here, and therefore your group can get into more attractions while others are still watching the parade. Also, there is an added perk – my children have been picked from the crowd to dance and play with the characters bringing up the rear of the parade, and other children have been invited each time we've watched from this location. It's worth a shot to make your child's day!" – Elizabeth L from Centerville, Ohio
"The Spectromagic Parade … was amazing, however the crowds up and down Main Street and around the train station were unbearable. Since we had seen the parade before we didn't feel the need to see it again …. we wanted to take advantage of everyone watching the parade to get on some of the more popular rides. Much to our surprise the parade found its way to the back of the park where we were waiting for some rides. Instead of the mobs of people, we were able to get an up close and personal view of the parade. Almost all the walking characters stopped in front of us to pat the heads and shake the hands of our children. They were awestruck. So our advice… is to watch the parade from the back of the park, where you will thoroughly enjoy front row seats." - Philip and Karen S
"For the afternoon parade in the Magic Kingdom, I tell people to sit on the left side of Main Street as you look at the castle and across from the bakery. It is always shady at that time of the day. If you get there 45 minutes before the parade (as you'd have to, if you want to get the curb seats) you can send someone over to the bakery to get cookies, or our favorite, the ice cream cookie sandwich. Also, cold drinks are available. So while you are waiting in the shade for the parade to begin, you have great seats and a snack and can people watch too." - Gayle S from Fairfield, CT
While you're waiting for the parade to start, MouseSavers reader Jennifer S from Munster, IN suggests the following: "take a deck of cards into the park with you (or buy a deck there). While waiting for the parades to begin, my kids play cards! You cannot imagine the number of kids who want to join in with them. Often they have a 10 kids playing and it sure passes the hour or so waiting time!"
"On my last trip to the Magic Kingdom, my boyfriend and I made a reservation at Tony's Town Square Restaurant. We got there early and and asked for an outside table. From there we had the perfect view of the parade." - Allison M from Raleigh, NC
"Catch the Ferry that runs to and from the Magic Kingdom from the Ticket and Transportation Center at fireworks time. The boat is virtually empty and the view of the fireworks is one of the best we have found!" – Bill M from Fredericksburg, VA
Wishes Dessert Party
On most nights, Disney offers a Wishes Dessert Party at Tomorrowland Terrace. The party begins one hour before the scheduled performance of Wishes, and runs for approximately 30 minutes after the Wishes start time.
This is a very good viewing area and you'll have a reserved table for your party, plus access to an extensive dessert buffet and non-alcoholic beverages such as coffee, hot tea, iced tea, lemonade, milk and water.
The cost varies: usually it is $27.68 (ages 10 and over) and $14.90 (ages 3-9), tax included. During peak periods (spring break, summer, Christmas, etc.) the price goes up by a few dollars.
Reservations can be made with Disney Dining at (407) WDW-DINE (939-3463). Prepayment is required at the time of booking and you cannot use the Dining Plan for this option. Walk-ups without a reservation are occasionally possible, but the event frequently sells out.
Premium Plan and Platinum Plan Wishes Viewing
If you shell out the big bucks for the Premium Plan or the Platinum Plan (the most expensive vacation plans offered by Disney), one benefit of either plan is preferred fireworks viewing at Magic Kingdom. The area is private and less crowded than staking out a spot on your own, but does not offer super-optimal viewing. You get one access to the viewing area per stay and advance reservations are required. Certain block-out dates apply.
In addition, for the Platinum Plan ONLY, a private fireworks cruise to view Wishes at Magic Kingdom is included. You can book one cruise per reservation (either Wishes or IllumiNations). This is an amazing experience! Advance reservations are required and subject to availability.
IllumiNations: Reflections of Earth at Epcot
"Japan at Epcot is a very underrated area to watch IllumiNations. You are closest to the sphere here as well." - Kevin P from Bayport, NY
"A favorite place for IllumiNations at Epcot is the Rose and Crowne Pub. We request the last dinner seating and check in early and ask for a lakeside table. We then have our dinner while watching the fireworks display from our front row seat! It is a perfect end to our day in Epcot." [Note from Mary: reader Laurie H reports that the pub no longer honors seating requests, but it can't hurt to ask.] – Lynn M from Knoxville, TN
Premium Plan and Platinum Plan IllumiNations Viewing
If you shell out the big bucks for the Premium Plan or the Platinum Plan (the most expensive vacation plans offered by Disney), one benefit of either plan is preferred viewing for IllumiNations. You get one access to the viewing area per stay and advance reservations are required. Certain block-out dates apply.
In addition, for the Platinum Plan ONLY, a private fireworks cruise to view IllumiNations is included. You can book one cruise per reservation (either Wishes or IllumiNations). This is an amazing experience! Advance reservations are required and subject to availability.
Mickey's Jammin' Jungle Parade at Animal Kingdom
MouseSavers.com reader Ronnie L reports, "the best place to watch is out in front of the building near the Tusker House restaurant. There is a bench and planter near there that's a great spot to just sit and enjoy a snack while you wait for the parade."
Treating Cast Members Right
"Cast Member" (CM) is a Disney term for employee. The reason for this terminology is that Disney expects its workers to act as if they are "onstage" whenever they are working with the public.
The vast majority of Cast Members are exceptionally friendly, kind and helpful. However, they take a lot of abuse from guests who don't realize what a tough job it can be to deal with large crowds of demanding people all day. As a guest, it's easy to go into "vacation mode" and start thinking of CMs as if they are Audio-Animatronic or "just part of the Disney experience."
In reality, of course, they are only human. Being polite to you and assisting you is a Cast Member's job — but as with any employee anywhere, they can choose to do the bare minimum. That's why having the right attitude can change your whole experience at Walt Disney World. So few guests really go out of their way to be friendly, kind and patient toward CMs that when you make that extra effort, it is often returned tenfold!
Joe M from Columbus, GA offers these words of wisdom about Cast Members, which I couldn't agree with more!
"Be friendly to all Cast Members. They are not responsible for the heat, crowds, obnoxious guests, or prices. They do, however, control most of your park experience.

We have been offered priority seats (when available) just because we were having a friendly conversation with the attending Cast Member. On our last trip we were given 3 free drinks for our children because we have befriended some Cast Members and we ALWAYS stop by their location to say hello. Our sons were given a special FASTPASS because they were polite to a Cast Member. I had a special dish made for me at a WDW restaurant because I mentioned how much I enjoyed and missed it. (The entree had been discontinued). We have been given special seating for fireworks and parades simply because we were nice to the Cast Members working that event.

We never ask for anything, we just recognize that these people are working very hard to be sure OUR vacation is the best."
In short, when it comes to dealing with Cast Members, the Golden Rule definitely applies: "Do unto others as you would have them do unto you!" Treat a Cast Member with a little extra kindness and friendliness, and that CM is much more likely to "go the extra mile" for you.
Lost Kids
A parent's worst nightmare is losing track of small children in a crowded theme park. It happens surprisingly often, because everyone (kids and adults) can get distracted by all the fun things going on around them. Going on a hunt for a lost child can really put a damper on your day.
For that reason, be sure your kids know what a Cast Member badge looks like (white, oval). If they become separated from you, tell them to find the nearest Cast Member, who will help them find you.
If you can't find your child, don't panic. Locate the nearest Cast Member, who will direct you on what to do next. There is a centralized "Lost Parents" system and usually they'll have you all reunited in minutes. Good to know: no child has ever been kidnapped from a Disney theme park (perhaps because there are hidden cameras everywhere).
To make it easier for a CM to reunite you with your child in case you are separated, it's a good idea to make sure each child has your cell phone number and/or other contact info physically on him somewhere. There are many commercially-produced ID products for kids, ranging from rubber bracelets to temporary tattoos to dog tags to shoelaces printed with your contact info. However, there's no need to spend money on any of those. You can write the information in permanent marker on a piece of white fabric and safety-pin it into the back of the child's shirt collar, or put it on a slip of paper that is slipped into a shoe or pocket. If your kids are wearing lanyards (for pin collecting or just to hold their room key, tickets and FASTPASSes), the attached plastic sleeve is a good place to stow a business card with your contact info, or at least a piece of paper with your cell number. Don't put your child's first name or nickname anywhere that is visible to a casual observer.
MouseSavers.com reader Francis T has this additional suggestion: "Use a digital camera to take a photo of your kids BEFORE you head out to the park. Take a close up head shot and a full body shot. In the unlikely event that you and your children become separated, you have digital photos to show cast members, security guard or local police. Descriptions are great, but a picture is worth a thousand words. And don't forget to retake the photos when you buy and wear that new Disney sweatshirt, tee shirt or hat!"
MouseSavers.com reader Cristina C from Mexico has this suggestion for those whose kids don't speak English: "My kids speak only Spanish so I write with permanent ink on a piece of white fabric and attach it in the back of their shirts on the inside. As soon as we get somewhere I teach them who can help them in case they get lost and tell them to show that person where they have the information tag with the info in English: 'I only speak Spanish.' 'My name is…and nick name is…' along with both mom's and dad's names and cellphone numbers." Don't put your child's first name or nickname anywhere that is visible to a casual observer.