Aquatica San Diego Discounts & Coupons
LAST UPDATE: 5/6/18
Aquatica San Diego is a seasonal water park run by SeaWorld San Diego that opened on June 1, 2013. In the location formerly known as Knott's Soak City in Chula Vista, the new Aquatica San Diego water park is near San Diego, California, within easy driving distance of the San Diego Zoo and to SeaWorld San Diego.
Aquatica San Diego is closed during the winter months and opens to the public in late spring. In 2018, the park will be open May 25 through October 7.
Check below for  the latest Aquatica San Diego discounts, coupons, and offers.
If you need tickets to Aquatica and other Southern California attractions, it's worth checking out the available multi-attraction ticket discounts to see if they can save you extra money. Be sure to compare the final cost of a multi-park pass to the combined cost of the individual tickets; the best deal varies depending on the specific attractions and the discounts that are currently available.
All offers are subject to change without notice. Always call ahead and confirm before driving out of your way to take advantage of a particular offer!
Jump to:
Aquatica Gate Prices
Regular one-day admission is $46 for adults and $40 for kids (3-9), tax included. Admission includes all slides, rides, pools and beach use. Food, merchandise, Cabanas, lockers are optional and available at an additional cost. Park capacity is limited.
Parking is $15 for cars, $20 for RVs and campers, $10 for Motorcycles.
Aquatica Ticket Discounts, Deals and Freebies
Jump to:
Aquatica San Diego Website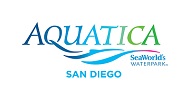 Be sure to check the SeaWorld San Diego or Aquatica San Diego websites for current Aquatica San Diego discounts on tickets.
Aquatica/SeaWorld San Diego Deals
Be sure to check the SeaWorld San Diego or Aquatica San Diego websites for current SeaWorld/Aquatica San Diego discounts on tickets. Since Aquatica is open seasonally only, deals for the two parks are not always available. Check back near the season opening date to see what's available.
Discount Tickets from aRes
aRes Travel offers significant discounts on SeaWorld San Diego/Aquatica tickets, which you can purchase instantly online and print out (thus no shipping fee). They are an extremely reliable ticket vendor we've been recommending for years. They have decades of experience selling Southern California attraction tickets, and have excellent customer service, with real people you can talk to. You can buy from them with confidence. Click here and scroll down to view their prices. There is a $2.00 per ticket service charge added to online orders.
AAA Discount
If you are a member of AAA or CAA, some Auto Club offices have deals on Aquatica tickets. Check with your local office or visit your regional website.
California Resident Discounts
Be sure to check the Aquatica San Diego website for current resident discounts on tickets.
Discounts on Multi-Attraction Tickets that include Aquatica
If you just want to visit SeaWorld and Aquatica, see Aquatica/SeaWorld San Diego Deals listed above. There are currently no multi-attraction tickets that include Aquatica other than those offered by SeaWorld Parks.
Save
Save
Save
Save
Save