Aquatica San Diego Discounts & Coupons
LAST UPDATE: 8/4/21
Coronavirus-related update: Aquatica San Diego opened on May 29, 2021. Tickets are available now for the 2021 season. Per state COVID-19 restrictions, Aquatica San Diego has returned to usual operations with no COVID-19 restrictions, including the removal of restrictions for out of state visitors. Reservations will still be required to enter the park. Aquatica will continue to operate with enhanced health and safety protocols for cleaning and sanitizing.
Aquatica San Diego is a seasonal water park run by SeaWorld San Diego. It's near San Diego, California, within easy driving distance of the San Diego Zoo and to SeaWorld San Diego.
Aquatica San Diego is closed during the winter months and opens to the public in late spring.
Check below for  the latest Aquatica San Diego discounts, coupons, and offers.
If you need tickets to Aquatica and other Southern California attractions, it's worth checking out the available multi-attraction ticket discounts to see if they can save you extra money. Be sure to compare the final cost of a multi-park pass to the combined cost of the individual tickets; the best deal varies depending on the specific attractions and the discounts that are currently available.
All offers are subject to change without notice. Always call ahead and confirm before driving out of your way to take advantage of a particular offer.
Jump to:
Aquatica Gate Prices
Please note: Aquatica charges a $9.99 processing fee per online order.
Regular one-day admission is $49.99 for adults and kids (3-9), tax included. Admission includes all slides, rides, pools and beach use. Food, merchandise, Cabanas, lockers are optional and available at an additional cost. Park capacity is limited.
Parking is $15 for cars, $20 for RVs and campers, $10 for Motorcycles.
Aquatica Ticket Discounts, Deals and Freebies
Jump to:
Aquatica San Diego Website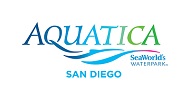 Be sure to check the SeaWorld San Diego or Aquatica San Diego websites for current Aquatica San Diego discounts on tickets.
Note: Aquatica San Diego is currently closed. It is currently anticipated that Aquatica San Diego will reopen May 29, 2021. Tickets are being sold.
Aquatica/SeaWorld San Diego Deals
Be sure to check the SeaWorld San Diego or Aquatica San Diego websites for current SeaWorld/Aquatica San Diego discounts on tickets. Since Aquatica is open seasonally only, deals for the two parks are not always available.
New!Save 30% with 2-Park ticket! Get 1 visit to Aquatica and 1 visit to SeaWorld San Diego for $95.99/pas for adults and kids. Tickets must be used by 9/6/21. Reservations are required. Sale ends 7/11/21.
Aquatica San Diego Ticket Discounts From Undercover Tourist
Undercover Tourist, a great ticket vendor we've recommended for many years, offers significant discounts on Aquatica San Diego tickets and tickets for other California and Florida attractions. We really like Undercover Tourist because they constantly strive to have both the best prices and best customer service in the business. That's a tall order, but we have years of experience and feedback from our readers that tells us they really deliver!
Exclusive Discounts for MouseSavers Newsletter Subscribers
Undercover Tourist offers its best prices to subscribers to the FREE MouseSavers Newsletter and Hot Deals announcements! By using the exclusive link located in every monthly MouseSavers Newsletter, you always get an extra discount on most tickets, and the lowest prices Undercover Tourist offers, across the board! In addition, Undercover Tourist puts a handful of individual tickets on sale every month, and those tickets are offered only to Hot Deals subscribers! (It's a different set of tickets every month, and can include any combination of Disneyland, Walt Disney World and/or other California or Florida attractions.) The MouseSavers Newsletter and the Hot Deals emails also contain exclusive hotel and other discounts not found anywhere else. Remember, it's completely FREE.
AAA Ticket Discounts
If you are a member of AAA or CAA, some Auto Club offices have deals on Aquatica tickets. Check with your local office or visit your regional website.
California Resident Ticket Discounts
Be sure to check the Aquatica San Diego website for current resident discounts on tickets.
Discounts on Multi-Attraction Tickets that include Aquatica
If you just want to visit SeaWorld and Aquatica, see Aquatica/SeaWorld San Diego Deals listed above. There are currently no multi-attraction tickets that include Aquatica other than those offered by SeaWorld Parks.
Save
Save
Save
Save
Save