SeaWorld San Diego Discounts and Deals
LAST UPDATE: 10/14/19
SeaWorld San Diego has theme park rides, shows and marine animal exhibits. They have a number of well-regarded roller coasters, including Manta. Their animal exhibits feature penguins, beluga whales, otters and fish of all kinds. SeaWorld San Diego is located in San Diego's Mission Bay Park. Check below for the latest SeaWorld San Diego discounts, coupons and offers.
If you need tickets to SeaWorld and other Southern California attractions, it's worth checking out the available multi-attraction ticket discounts to see if they can save you extra money. Be sure to compare the final cost of a multi-park pass to the combined cost of the individual tickets; the best deal varies depending on the specific attractions and the discounts that are currently available.
If you're a SeaWorld fan, in addition to SeaWorld San Diego, you should also check out SeaWorld Orlando and SeaWorld San Antonio.
All offers are subject to change without notice. Always call ahead and confirm before driving out of your way to take advantage of a particular offer!
Jump to:
SeaWorld Gate Prices
Please note: SeaWorld San Diego charges a $9.99 processing fee per online order.
Regular admission is $91.99 for adults and kids (ages 3+). Children ages 2 and under are free.
1-Year memberships are available with varying levels of benefits.
Parking is $20 per day for cars, $40 for RVs and campers, $17 for motorcycles. Up-Close parking is $25 per day and VIP parking is $35 per day.
SeaWorld San Diego Discounts
Jump to:
SeaWorld Website
Check the SeaWorld San Diego website for current special offers, but make sure you compare their offers to deals listed below. Check out  the Multi-Park Tickets & Passes section on this page before purchasing multi-park passes (SeaWorld + San Diego Zoo, Universal Studios etc.) on the SeaWorld site. You can often find a slightly better deal than what's offered on the SeaWorld site. There is a $9.99 service fee per order added to online purchases.
SeaWorld San Diego Annual Passes
SeaWorld San Diego Annual Passes come with varying levels of benefits, and are good for 1 year from date of purchase.
New!2020 Annual passes have been released with new lower prices!
SeaWorld Silver Annual Pass: 1 full year of unlimited admission (no blockout dates), free general parking, 2 free tickets for friends for specific events only, 10% off dining and shopping and more. Cost is $105 for adults or children.
SeaWorld Gold Annual Pass: 1 full year of unlimited admission (no blockout dates), free general parking, 3 free tickets for friends for specific events only, and up to 10% off dining, 15% off shopping and up to 25% off select animal experiences plus 1 FREE All-Day Quick Queue and more. Cost is $126 for adults or children.
SeaWorld Platinum All Parks Annual Pass: 1 full year unlimited admission to SeaWorld, free Preferred Parking (if available), 4 free tickets for friends for specific events only, 3 free tickets at Aquatica San Diego for select dates, 2 free all-day Quick Queues at SeaWorld San Diego, 2 free all-day Quick Queues at Aquatica, free reserved seating at select shows, 20% off dining and shopping and 50% off select animal experiences, plus admission to Aquatica San Diego and 9 other SeaWorld parks (excluding Discovery Cove, Orlando). Cost is $189 for adults or children.
Membership is marketed primarily to locals but you do not have to be a Southern California resident to buy these passes. Restrictions may apply. Passes are non-transferable and non-refundable.
Discount Tickets from Undercover Tourist
SeaWorld San Diego Ticket Discounts From Undercover Tourist
Undercover Tourist, a great ticket vendor we've recommended for many years, offers significant discounts on SeaWorld San Diego tickets and tickets for other California and Florida attractions. We really like Undercover Tourist because they constantly strive to have both the best prices and best customer service in the business. That's a tall order, but we have years of experience and feedback from our readers that tells us they really deliver!
Exclusive Discounts for MouseSavers Newsletter Subscribers
Undercover Tourist offers its best prices to subscribers to the FREE MouseSavers Newsletter and Hot Deals announcements! By using the exclusive link located in every monthly MouseSavers Newsletter, you always get an extra discount on most tickets, and the lowest prices Undercover Tourist offers, across the board! In addition, Undercover Tourist puts a handful of individual tickets on sale every month, and those tickets are offered only to Hot Deals subscribers! (It's a different set of tickets every month, and can include any combination of Disneyland, Walt Disney World and/or other California or Florida attractions.) The MouseSavers Newsletter and the Hot Deals emails also contain exclusive hotel and other discounts not found anywhere else. Remember, it's completely FREE.
Fast Food & Grocery Store Promotions
Fast food restaurants and grocery stores frequently offer SeaWorld ticket discounts. When we hear about them, we will list them here. If no expiration date is listed, the date is unknown and the offer may end at any time.
Costco Ticket Discount
Some Costco stores in Southern California carry discounted SeaWorld San Diego tickets from time to time. These are often a great deal, so it's worth checking with your local store.
Costco.com sometimes offers a very good discount on SeaWorld San Diego tickets and you don't have to be a Costco member to buy through their site. (Non-members pay a 5% surcharge, however.) There is a shipping charge when ordering from Costco.com. Thanks to Kimberly for info.
AAA Ticket Discounts
AAA members can usually get admission discounts, and sometimes discounts on other things such as food or merchandise.
AAA members normally get $3 off single-day tickets at the gate.
AAA members get 10% off single-day tickets purchased in advance. Visit aaa.com/seaworld to purchase.
FREE Tickets for Military
Through 12/31/19, members of the military (active duty military, active reservists, National Guard, Coast Guard) and as many as three direct dependents may enter SeaWorld, Busch Gardens or Sesame Place parks with complimentary admission. You must register in advance at www.wavesofhonor.com and complete a form, which you take with you to the theme park along with valid ID.
Through 11/11/19, veterans and their families are eligible for free admission through www.wavesofhonor.com. The ticket(s) must be obtained online by 11/11/19, and redeemed at SeaWorld San Diego for visitation by 11/11/19.
California Resident Ticket Discounts
California residents sometimes enjoy special discounts, which can be purchased on the SeaWorld San Diego website. Resident ID and credit card used to purchase your tickets are both required at point of park entry.
American Express Membership Rewards Points
If you have an American Express card that earns Membership Rewards points, you can redeem those points for Sea World San Diego tickets. Thanks to Kristin K for info.
Air Miles
Reader reports that Canadians can redeem Air Miles for select SeaWorld San Diego tickets. Thanks to Dawn N for info.
Discounts on Multi-Attraction Tickets that include SeaWorld
If you know you want to visit other attractions as well as SeaWorld, there are a number of discount pass options available that can save you a lot of money, and eliminate the hassle of buying all of your tickets individually. We've scouted out some of the best discounts you can find from reputable companies and describe them here. For more details and pricing just click on the pass name.
Jump to:
Go San Diego Pass
Go San Diego Pass is an all-inclusive pass that allow you to visit as many attractions as you want within a set number of days (usually 3 to 7 days). You pay one discount price for the number of days you choose. Note that SeaWorld is only included on 3-, 5- and 7-day Go Passes. These work well if you are visiting at least two or three major attractions plus some less expensive attractions. The more attractions you visit, the more you save.
Go San Diego Pass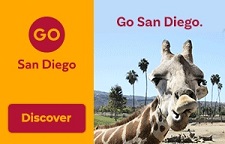 : If you want to fit in as much as you can in 3- to 7-days using one simple pass for one price, consider this all-inclusive pass.  This pass includes SeaWorld San Diego, Legoland, San Diego Zoo, San Diego Zoo Safari Park, Knott's Berry Farm, harbor tours, museums, plus multiple other attractions in the San Diego area. The 3, 5 and 7-day Go San Diego Passes includes daily entry into SeaWorld for the duration of the pass. You can skip the ticket line at SeaWorld when you choose Instant Delivery at checkout — go straight to the turnstiles and present your pass on your smartphone for immediate entry. Plus, MouseSavers readers get an extra 10% discount off their total pass purchase!
Build Your Own San Diego Pass
Select where you want to go from dozens of attractions and build your own custom pass. You'll save 20% off gate prices when you select 2 or more attractions. You have 30 days from first use to visit your selected attractions.
Build Your Own San Diego Pass: This build-it-yourself pass can include any combination of SeaWorld San Diego, Legoland, the San Diego Zoo, San Diego Wild Animal Safari Park and the new Aquatica San Diego, and many other attractions. You can add Los Angeles and Las Vegas attractions to this pass! Passes are good for 30 days from first use.
Get an overview of all the multi-attraction passes that we've found to offer terrific value.
Other Deals
AAA Discounts
AAA members may qualify for a discount on the higher-end meals where you get to view or interact with animals, such as Dine With Shamu! Be sure to ask when reserving or paying.
According to MouseSavers.com reader Susan B, AAA membership gets you 2-for-1 on the Bayside Skyride or Skytower. We have not confirmed this independently, but it's worth a try!
Discounts for Passholders
Hotels near SeaWorld San Diego
Looking for a place to stay near SeaWorld San Diego? Choices are plentiful in the San Diego area near SeaWorld and the San Diego Zoo, and getting around San Diego is fairly easy by car. If you don't have a place in mind, we suggest checking out the hotels below. Our recommendations are not the cheapest places you can find– there are plenty of those out there– but we feel they offer a very good value for your dollar. As with our preferred hotels for Disney, we suggest accommodations that will enhance your stay while not breaking the bank. That said, if you are used to Orlando area pricing, you will be in for some sticker shock. Low rates for decent but average hotels start at around $80-$120/night, mid-range hotels start at around $120 and can run upwards to $275/night or higher in peak seasons.
SeaWorld is located at 500 Sea World Drive, San Diego, California 92109.
If you don't know where to start, we suggest checking out:
Hotel Websites
Sometimes the best offers are directly through the hotels' own websites, and if you are a member of a specific loyalty program, you probably want to search across all of that hotel company's brands. For example, Hilton owns DoubleTree, Embassy Suites, Waldorf Astoria, etc. Here are links to the overall parent company websites where you can search their whole portfolio– use San Diego, California, zip code 92109 to find hotels closest to SeaWorld:
Save
Save
Save
Save
Save
Save
Save
Save
Save
Save
Save
Save
Save
Save
Save
Save
Save
Save
Save
Save
Save
Save
Save
Save
Save
Save
Save
Save
Save
Save
Save
Save