Canadian Rockies with Adventures by Disney
BY DON MUNSIL & SARAH STONE
In September 2023, Don and Sarah took a 7-day Adventures by Disney (ABD) trip to the Canadian Rockies, which included time in Calgary, Banff and Lake Louise, all in Alberta, Canada. Adventures by Disney is Disney's group tour company, so you travel on a set itinerary with 2 Disney Adventure guides and about 20-40 other people. Most of the activities you do as a group, but you do get some free time to do your own thing as well as some meals on your own. There are ABD itineraries all over the US and the world, so there are lots of options! Our trip was booked by our favorite travel agency, Small World Vacations. 
We had wanted to visit Banff and Lake Louise in the Canadian Rockies for quite a while, so we were very excited about this itinerary. Because we were traveling in early September, this was an adult-only trip. Our guides told us that the only real difference with a group that includes kids is that one guide will take the kids to do something fun like bowling, watch a Disney movie, etc. when the group is scheduled to do an activity the kids can't do (for example, we visited a distillery and had a tasting of their gins and whiskeys; if there had been kids on the trip they would have done a tour of the town and scavenger hunt). 
We apologize in advance that you are going to read the word "gorgeous" a LOT in this trip report. We expected the Canadian Rockies to be beautiful, and we have been to many scenic places: Alaska, Grand Canyon, Scotland, Norwegian fjords. But all the mountain, forests, rivers and lakes on this trip were just absolutely gorgeous. In fact, at our final dinner together, everyone at our table mentioned that friends and family couldn't believe that the photos we were sharing and posting weren't fake or taken by a professional, they all looked so perfect. But that's how gorgeous it was – you couldn't take a bad photo.  
Day 1: Calgary, Alberta
Our trip started in Calgary, at the Fairmont Palliser – a very lovely old hotel in downtown Calgary. A driver met us at the airport and drove us to the hotel. We checked into the hotel and then checked in with our guides. After a few questions and some paperwork, we were on our own until dinner.
Any trip we take, one of the first items on our "to do" list is to find a grocery store so Don can check out the unique snack foods available in that area. In this case, we snagged a small bag of ketchup-flavored chips (or, more accurately, ketchup-flavoured – Canada has kept the British spelling for many words) and all dressed chips. For those who haven't encountered "all dressed" flavor, it's kind of a tangy BBQ flavor that is unique to Canada.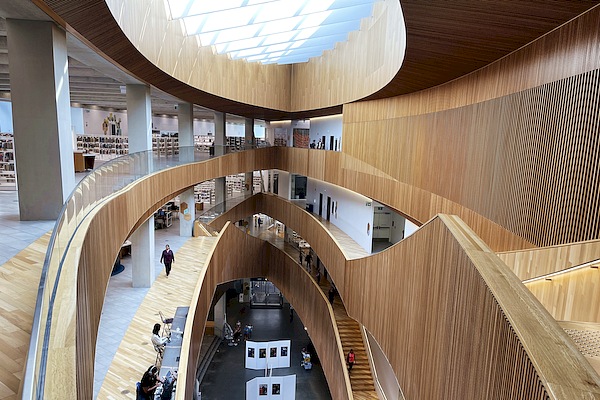 We spent the afternoon walking around central Calgary and explored some of its highlights, including the beautiful Calgary Central Library. This library is an architectural gem, with sweeping organic shapes, beautiful blond wood balconies and a 4-story atrium filled with natural light.
We joined up with our group for a private catered dinner at the hotel. Our guides introduced themselves and we were officially welcomed to Calgary by a nice lady in a cowboy hat, who told us a bit of the history of the area and gave us all our own souvenir hat. Then we started to get to know more about each other with some introductions and ice breaker questions. 
Day 2: Bar U Ranch, Eau Claire Distillery and Calgary Farmers' Market
Our first full day in Alberta started with a bus ride to the Bar U Ranch National Historic Site to learn more about the history of the area, specifically cattle ranching. On the bus ride out, we had a local food expert on board who told us about Alberta's signature foods (beef, bison, canola oil, honey, wheat and root vegetables). At the ranch/museum, we had time to look around and then got to try our hand at roping cattle (well, a stationary "cow" that looks like a sawhorse with horns).
Our lunch included bison chili or a bison burger and then a short, fun history lesson about Alberta in the days of Prohibition. Fortunately, the good folks at Eau Claire Distillery knew the secret knock to get us into a speakeasy, where we sampled gins made from their locally grown grains. Next we had a short stop at the Calgary Farmers' Market where there were food samples for us to try and a chance to do some shopping.
Dinner was on our own, and Alberta is known for high-quality beef, so we decided to treat ourselves to dinner at Hy's Steakhouse, which has been in Calgary since 1955! A chance to have a taste of history and a good steak dinner – what more can you ask for!  
Day 3: Canmore & Banff
We left the city behind bright and early, which meant getting up even earlier so that our bags could be packed in time for the bellhops to get them out of our room and onto the bus. 
First we went to Canmore, a very cute little town in the Canadian Rockies. From there we had a float trip down the Bow River – which was very pretty, but the weather had turned a bit nippy. We then had time on our own to explore downtown Canmore and have lunch. There was heavy rain, so we hustled over to one of the closest restaurants we could find. Luckily the skies had cleared by the time we were ready to explore downtown. 
Just before lunch, our guides gave us a scavenger hunt to work on for the rest of the trip, with instructions to take a photo of any item on the list. As we showed them photos of the items we found, they would mark our card. The items ranged from things found in nature (moose, elk, magpie), activities (a photo of you hugging a particular kind of tree) to things like a statue of a miner, a helicopter, a sasquatch, a Canadian flag. This was a great activity, it kept us exploring and observing, as well as walking down streets or into stores we might not have gone into on our own. Apparently, this was something our guides put together just for the adult-only trip. They weren't sure how people would react, but it got a very positive response from our group. There was lot of leeway as to what counted. Sarah wasn't able to get a clear photo of an actual magpie, but we found a restaurant called Magpie & Stump, took a picture of their sign and that was good enough!
We explored downtown Canmore, including the Northwest Mounted Police Barracks, a small, free museum; walked on the Policemen's Creek Boardwalk alongside the Bow River; and found a few items for our scavenger hunt.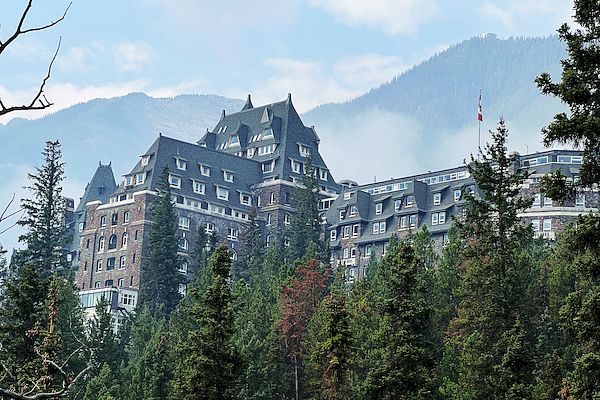 Then it was back and on bus and on to our next hotel – Fairmont Banff Springs. This hotel was designed to look like a medieval Scottish castle, so it felt very Disney in all the best ways. There were spiral staircases, turrets, and a huge banquet area that looks like someplace King Arthur and the Knights of the Round Table would feast. Before meeting our group for dinner, we visited the Rundle Bar which has gorgeous views or the mountains, excellent cocktails, and a "secret" seating area hidden behind some bookshelves. Dinner was at the hotel and included as part of the tour, but this was "date night", another special feature of an ABD trip. Each couple could choose from one of the 3 hotel restaurants and our guides set up the dinner reservations. Had there been kids on the trip, our guides would haven taken the kids for their own dinner and activities so the parents can get a little private dining time.
Day 4: Banff
This was one of Sarah's favorite days – less time on the bus, more time being active and outdoors. It started with a bike ride from the edge of downtown Banff along the Bow River to a pretty waterfall. (If you didn't want to bike you could ride the bus to the waterfall.) After that we took a short walk to the lovely Cascade Gardens at the historic Canada House. Our guides had an optional photo contest – take a picture of a flower. The staff at our final hotel would serve as judges and pick their favorite. It was such a nice garden it wasn't hard to find motivation to take photos, but this gave you a nudge to find an interesting shot or perspective. 
Then we drove to Banff National Park to ride the gondola up Sulfur Mountain. As you would expect there were gorgeous views to enjoy, as well as more searching for items on our scavenger hunt. We had a buffet lunch up there as a group. 
Back at the hotel, we had the rest of the afternoon and evening to ourselves. It was pretty rainy and we had work to get done, so we spent the rest of the afternoon in our room. We had a dinner reservation in downtown Banff, but by the time we needed to head out we were feeling pretty low energy and almost decided to eat at the hotel. But, we pushed through, got to the Banff shuttle bus in time, waded through the rain and puddles and made it to the restaurant. A fantastic meal of small plates at Brazen gave us our second wind. By the time we finished dinner and dessert, the rain had stopped. With our new-found energy, we decided to look for the rest of the items on our scavenger hunt. So off we went! We had a great time checking everything off the list, and also managed to buy some gifts for family as well as a few souvenirs. Then, to top off a an almost perfect day, we saw four live elk on our walk back to the hotel. Everything around us was quiet and still, so we just stood and watched them graze. What a treat!
Day 5: Columbia Icefield & Glacier Skywalk in Jasper National Park
In the morning we packed our things and got on the bus to head to our final hotel, Fairmont Chateau Lake Louise. On the way there we spent most of the morning at the Columbia Icefield, where we got to walk on a glacier. You take a shuttle bus from the visitor center to a parking lot closer to the glacier where you get on an Ice Explorer Bus. They are specially built to drive on the glacier as well as down the very steep hill to get you there. Our driver was great, very entertaining and informative. Once we were at the glacier we had about 20 minutes to walk around. If you live somewhere with significant snow and ice in the winter, it doesn't feel all that different than walking on an icy road. But you are surrounded by mountain peaks in the middle of a national park, so the view is great!
Then we bused over the to Glacier Skywalk, which is a walkway built right on the edge on a mountain and over a valley. The clouds were rolling in a bit, so the views weren't quite as amazing. But it was still very nice. After lunch at the visitor center we got back on the bus to head to Lake Louise. However, on the way, our guides had a little surprise for us. We pulled into a parking lot and took a short walk to an amazing view of Peyto Lake, a gorgeous glacial lake. Absolutely stunning! We had some time to snap photos and take in the view. 
Soon after we arrived at our hotel – which was right on the shore of Lake Louise, an absolutely stunning location! Once we were settled in, we strolled over to one of the lounges to get a drink with a view. And what a view! We always like to try to local foods and specialties, so as we sipped our cocktails, we asked the bartender about the Caesar (a Canadian twist on a Bloody Mary that has a splash of clam juice). She whipped up 2 Caesars for us (on the house!) and we toasted another lovely day in the Canadian Rockies. Then it was off to our group dinner at the hotel's Italian restaurant. We had assigned seating, so were able to talk with some people we hadn't chatted with yet. As the meal went on, we were all enjoying talking so much that the restaurant had to close the doors to our dining area so the noise didn't carry to the rest of the restaurant. Our guides were very impressed with how well everyone got along and how much we were enjoying each other's company. 
Day 6: Moraine Lake, Lake Louise, Farewell Dinner
Another day filled with gorgeous views! First up, a short drive to Moraine Lake. The whole group hiked up a small hill/rock pile to view the lake – beautiful! The water in the lake is a beautiful shade of turquoise due to the glacier silt. The clouds slowly lifted and it felt like every 5 minutes we had a differ view as the shafts of light changed and different peaks came in and out of shadow. Then we had time to walk around on our own, stroll along the lakeside, take photos, shop at the gift shop, etc. And, our guides had another optional challenge for us – meet at the lakeside at 10:45 to see who could stay in the ice cold water the longest. About a dozen members of group bravely rolled up their pants and stood almost knee deep in the water for as long as they could stand it. Many more sat on the shore and cheered them on. Some folks managed to stay in there just over 10 minutes! 
After everyone dried off, we were whisked back to our hotel and given a box lunch to eat wherever we wanted. Most of us chose to sit by Lake Louise and eat; that view just doesn't get old. The rest of the afternoon until dinner was free time. There were a number of hiking trails and walks, kayaks for rent (ABD gave each pair a 1 hour voucher), and horseback riding. It was one of the most beautiful spots we have been to, so we enjoyed walking next to the lake just taking photo after photo after photo. Eventually, we went back to our room to change for our farewell dinner. Before dinner, we stopped at the hotel lounge and watched the sun set behind the mountains as we enjoyed a drink.  
During our farewell dinner we had a surprise guest – a former Canadian Mounted police officer came in uniform to tell us about the history of this organization. Our guides showed us some of the photos they took and gave us all a chance to share our favorite moment from the trip. It was hard to believe that the trip was basically over.  
Day 7: Calgary Airport
In the morning, we all got back on the bus one last time to head to the Calgary airport. As this was a fairly long ride on a highway, our guides used this time to play a trivia game and then showed us the winning photos from the photo contests. They did a really nice job of making this less interesting part of the trip fun, while also giving us time to just look out the window and be alone with our thoughts. 
Once at the airport, we said our farewells, gave our guides a hug and went to check in for our flight. It was such a fantastic trip that it was hard to have it come to an end. It was well organized, our guides were fabulous and we enjoyed all the people we met in our group. There were a few activities that we didn't love, but most were great to excellent AND the benefit of a group tour is that you don't have to worry about driving and logistics. So we were really able to focus on what were we seeing, rather than figuring out how to get from place to place and managing all the reservations and tickets. 
Shout Out to Our Adventure Guides – Jessie & Dave!
In addition to the gorgeous scenery, our Adventure Guides were a big part of what made the trip so amazing. They're both lovely people – friendly and professional. They managed the logistics, but were always available to answer questions or just chat. They have both lived in the areas we visited, and were clearly excited to share their love of this beautiful part of Canada with us. They had worked with Adventures by Disney to create this itinerary, so they were very familiar with where we were going and what we were seeing. They also included fun activities (such as the scavenger hunt and photo challenges) which you could join or not, but they were great at keeping them short and fun. It was another way to have our group get to know each other, and we can imagine would also be fun for kids.  
In particular, they did a really great job managing our bus rides. They would tell us about what we were seeing, but also pause for long stretches and just let us enjoy the scenery and talk among ourselves, or doze (there were a LOT of early mornings!). They periodically walked down the aisle with snacks, ranging from fresh fruit and nuts to chocolate and potato chips. Other times they would just come by and check that if anyone needed anything, or the bus was too hot or too cold. 
They added a lot of fun to our trip and also kept everything running smoothly. They definitely made a great trip even better!