Discovery Cove Trip Report – March 2017
Swim with a Dolphin and Do So Much More
(Pricing updated: March 2022)
I had the unique pleasure of visiting Discovery Cove and experiencing the Dolphin Swim program in early March of 2017. I had longed to visit this beautiful day resort for some time, and was curious to know if it was all I anticipated it to be. It was all that and more. I now understand why it is one of the top Orlando attractions, next to Walt Disney World, of course.
Discovery Cove is expensive– prices (including a dolphin swim) start at $265.19 tax included (as of March 2022) and fluctuate upwards during peak travel periods. However, you can add 2 or 3 visits to Seaworld, Aquatica, and Busch Gardens for $20 + tax per visit ($40 + tax for SeaWorld and Aquatica or $60 + tax for SeaWorld, Aquatica and Busch Gardens Tampa Bay). If you decide to go to Discovery Cove, make your decision before you purchase tickets to SeaWorld, Aquatica or Busch Gardens, and make sure you give yourself the whole day for this gem — you will get your money's worth. 
It is hard to come by discounts for Discovery Cove, although you can check here for any discounts or tickets deals that we know are available.
What will you get for the price of your ticket with the Dolphin Swim Program?
Breakfast and lunch – Discovery Cove has it's own counter service restaurant with indoor and outdoor seating, and there are select hot entrees available as well as grab and go style side dishes and desserts. Vegan, dairy free and gluten free menus are available upon request. View menu and meal info here.
Unlimited snacks and drinks (including alcoholic drinks) available from several conveniently located snack huts. The snacks include fresh fruit, assorted chips and crackers, warm pretzels, and sweets — including sugar-free cookies.
Self-parking.
Gear rental – Wet suit or vest to wear over your swimsuit, snorkel gear (mask and snorkel), animal friendly sunscreen, towels, changing facilities and locker access. The mask and snorkel are a very basic setup — if you have your own gear you may prefer it over the set that's included with admission.
Dolphin Swim Program – Yes, that is me in the photo. The Dolphin Swim Program begins with a 20-30 minute orientation given by one of the dolphin trainers. You'll sign waiver forms and receive information about the dolphins, safety, the trainers and Discovery Cove generally and have the opportunity to ask questions. Then you head with your group to the designated cove where you'll be greeted by your trainer and hopefully, by a willing dolphin who will then spend about 30-40 minutes with your group. The trainer will give you instructions on how the dolphin likes to be touched (or not) and demonstrate training techniques, some hand signals and tricks. Because the trainer described the specific likes and dislikes of the individual dolphins, I got a feel for the particular personality of the dolphin we worked with. We were then shown how to ask the dolphin for a kiss, and lastly, we each swam about 10 yards out to meet up with another trainer and the dolphin, and were shown how to hold onto the dolphin while she swam us back to group. Granted, the swim part only lasted about 30 seconds, but it was something very special.
Optional discounted admission to SeaWorld, Aquatica and Busch Gardens Tampa Bay. 
At Discovery Cove, you'll also have access to:
Grand Reef, a man-made reef and snorkeling lagoon replete with thousands of beautiful fish, from tiny colorful wrasses and yellow tang to large parrot fish… there is also glass enclosed area housing reef sharks. Ok, so the coral is fake, but the numerous tropical fish are real and the cove is teeming with gentle, velvety sting rays in sizes ranging to 5 feet across. I've snorkeled numerous coves on the Hawaiian Islands and found Discovery Cove's Grand Reef to be more realistic than I expected, and really pretty amazing.
Freshwater Oasis and Wind-Away River, a warm freshwater wading / swimming lagoon where you can watch playful otters dive underwater and scout their surrounds while curious marmosets nap on high branches or swing on vines in a rainforest canopy.
There are also numerous areas to lounge in or out of the water. The freshwater in this area is clean, clear and warm, and free of fish and rays. The otters are in their own separate area and can be viewed through a glass wall that extends underwater.
Explorer's Aviary, an enormous aviary where you can meander on foot through lush tropics while feeding amazing and exotic multi-colored birds by hand.
Upgrades to the standard Discovery Cove package include:
Shark Swim – Swim with SHARKS as well as dolphins! During the shark swim, guests will have the opportunity to swim freely alongside several species of sharks following a shallow-water training session with aquarists. Cost for the Shark Swim is $179.99/person, tax included, in addition to regular admission.
Ray Feeding – Guests can help aquarists feed Cownose and Southern Stingrays before venturing out on a private guided swim of the Grand Reef. Cost for Ray Feeding experience is $62.84/person tax included in addition to regular admission.
SeaVenture is an add-on attraction starting at $52.19/person, tax included, where you can don a dive helmet and experience the Grand Reef on foot during a 20-minute guided underwater walking tour. Guests must be at least 10 years old to take this tour.
Trainer for a Day offers you the chance to upgrade your dolphin swim experience with a second deep-water interaction with 2 dolphins plus a behind-the-scenes tour of all support areas, the chance to feed tropical fish in The Grand Reef, shadow a trainer for the day and more. It costs around $211.94/person, tax included, to add this option.

Private Cabanas for up to 8 guests start at $211.94/day tax included. Cabanas include water views, a table, chairs, chaise lounges and rolled towels. Cabanas must be reserved in advance.
Photo packages are also available with a variety of options. Pricing starts at $105.94 tax included for four 6″ x 8″ photo prints.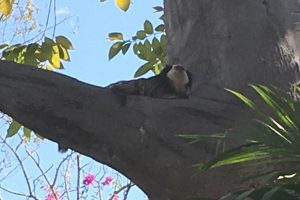 How does it all work?
Go online and purchase your Discovery Cove package in advance as an advance reservation is required. Pick the date you want to go, select any upgrades and make your reservations. You truly only need to bring yourself, credit card and ID for check in, a swimsuit, pair of flip flops, and a change of clothes if you want one. They have everything there for you: towels, sunscreen, wet suits or vests, masks and snorkels. All the food and drinks (including alcohol) were included. The sand is silky soft and kept very clean so you can wear flip flops or sandals or just go barefoot. Unless you want to purchase souvenirs, if you've paid in advance, you don't even need a wallet.
At check in you'll be given a photo ID and lanyard, which must be worn while you are at the resort. The ID will include times and location for any activities, such as your dolphin swim. You'll also receive a small postcard size map of the resort that attaches to the lanyard, so you'll know where to go — although if you are used to Disney sized parks you'll find Discovery Cove small and easy to navigate. From there, head to the changing station where you get your wetsuit or vest and snorkel gear. It's easiest if you already have your swimsuit on — although there is a restroom with toilets, showers and changing stalls nearby. Leave everything you can in one of the lockers — if you are in and out of the water or doing any of the programs you will find yourself unnecessarily encumbered.
Tips: the wetsuits zip at the back— you may need someone else to zip you up once you've managed to get it on, and again should you need to use the restroom during the day. I wrestled with the wetsuit then ended up opting to wear a rashguard/swimshirt of my own with my swimsuit and one of the vests, however if you need full sun coverage or if it's on the cool side you may want the full body wetsuit. I was asked to remove my rashguard for the dolphin swim (you'll be asked to remove any and all superfluous belongings except a wedding band because the dolphins can be apparently very clever thieves when given the opportunity). Locker keys are on lanyards and along with your pass get tucked into your vest or suit during the dolphin program.
I wish I had brought a cheap underwater camera or had a waterproof jacket for my phone. I would have loved to have some photos of stingrays from the Grand Reef, the dolphins underwater and the very playful otters.
I found staff members to be friendly, knowledgeable, and caring. Animal concern is paramount, and staff do a good job of making sure the animals are safe and that their needs are met while numerous guests view and interact with them. Five percent of all Discovery Cove proceeds go to Rising Tide Conservation, a non-profit dedicated to protection of coral reefs through sustainable aquaculture.
If you and your family or traveling friends love animals, sea life, and the idea of spending an idyllic day in a tropical resort, Discovery Cove is not to be missed. I believe it is the only experience of its kind within the continental U.S., and you would be hard pressed to have an experience like it packed into a day just about anywhere else in the world.
Save
Save
Save
Save
Save
Save
Save
Save
Save
Save
Save
Save
Save
Save
Save
Save
Save
Save
Save
Save
Save