Disney World Stroller Rental Discounts & Coupons
If you are looking for Disney World stroller rental discounts, you've come to the right place! Disney rents strollers for use in their parks, but you can also get a great rate on a stroller rental that you can use during your entire vacation in Orlando. You also have the option of bringing your own, of course: scroll down for useful tips!
We update prices whenever we become aware of changes, but prices on this page are always subject to change.
Jump to:
Walt Disney World's In-Park Stroller Rentals
Disney rents strollers at $15 per day for a single, $31 per day for a double. (Yes, seriously!)
Strollers rented from Disney can only be used inside the parks, which is inconvenient when you leave the parks at the end of the day with sleepy children, or you want to "park hop." If you're in the Magic Kingdom, for example, and want to hop to Animal Kingdom, you'll have to turn in your stroller at the Magic Kingdom entrance, walk with your kids from the gate to the bus, ride the bus, walk from the bus to the Animal Kingdom entrance, enter Animal Kingdom, then get a new stroller. If you want to go somewhere where there aren't any Disney strollers, like the BoardWalk, Blizzard Beach or Fantasia Gardens, you're out of luck.
If you do rent a Disney stroller, save your receipt, because if you lose your stroller (or someone walks off with it) you can get a new one by showing your receipt at the stroller center. Also, if you park hop, your receipt is good for a stroller at any park.
There is a discount for prepaid multi-day stroller rentals from Disney: $13 per day for a single, $27 per day for a double. MouseSavers.com reader Melissa W notes that when buying a multi-day rental, "the days do not have to be used consecutively. We were told that they have seen people come back the following year or years even and still use unused days. Also, most of the time you do not have to wait in the line to pay for the stroller rental, rather just in line to actually pick up the rental and have your stroller tickets date stamped."
Rental Stroller Discounts From Magic Strollers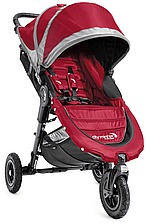 We personally recommend renting a stroller for your Walt Disney World or other Orlando vacation from Magic Strollers, a service provided by a great company we have been recommending for years, Owner's Locker.
Magic Strollers' rental rates are exceptionally reasonable, and usually lower (sometimes much lower) than the other big Orlando stroller rental companies we've checked out. For long rentals (more than 4 nights), their prices on single strollers are better than Disney's, but even for shorter rentals we think it's worth paying a few dollars more for a much better stroller, delivered direct to your hotel. For double strollers, even a 2-night rental is a better deal than Disney! There is no minimum rental period – you pay for only the days you need.
For single City Mini strollers, Magic Strollers charges less than $9.50/night for a one-week rental.
For single City Mini GT strollers, Magic Strollers charges less than $10.25/night for a one-week rental.
For single Summit X3 strollers, Magic Strollers charges less than $10.50/night for a one-week rental.
For double City Mini strollers, Magic Strollers charges less than $11.00/night for a one-week rental.
For double City Mini GT strollers, Magic Strollers charges less than $12.50/night for a one-week rental.
For double Summit X3 strollers, Magic Strollers charges less than $13/night for a one-week rental.
Rates are lower for longer rentals, and slightly higher for shorter periods
Renting from Magic Strollers can save you a lot of money — for example, compared with renting from Disney, you can save over $140 on a one-week double stroller rental! 
Plus, you'll have the stroller to use during your entire vacation, not just in the theme parks! Magic Strollers delivers FREE to almost any Orlando/Lake Buena Vista/Kissimmee area resort, hotel or condo. If you're planning to change hotels mid-trip, that's not a problem. Magic Strollers can deliver to one resort and pick up from another.
Magic Strollers rents top-notch Baby Jogger City Mini Single and Double strollers, which are simple to fold, comfortable and easy to steer. Every stroller comes with a "parent console" (cup holder and Velcro compartments). Magic Strollers completely cleans and sanitizes each stroller between rentals using Ecolab products.
Magic Strollers also has the extra-rugged City Mini GT strollers, which have great convenience features like an adjustable handlebar and a hand-operated brake, which makes parking the stroller a snap. They retain the same ease of use and smooth operation of the regular City Minis.
For the ultimate in style and comfort, Magic Strollers now rents the ultra-rugged Summit X3 strollers, which have extra reinforcement and all-wheel suspension for a smooth ride and extra capacity and durability.
Magic Strollers is a Disney Featured Stroller Provider, which allows them to deliver your stroller and pick it up even if you are not present. Disney determined that Magic Strollers provides "[rental strollers] that maintain high guest satisfaction consistent with the Disney Standard" and a "safe, first class and timely rental service for the benefit and convenience for guests staying in Walt Disney World resort."
Scheduling your stroller rental is super easy with Magic Strollers, and you'll be informed every step of the way. You get a rental confirmation email when an order is placed. The confirmation email has a link that will allow you to edit your reservation or cancel it if needed. (See the Magic Strollers site for change/cancellation policies.) When the stroller is delivered to your hotel, resort or condo, you'll get a text to your cell phone. If you're not in your room when the stroller is delivered, just call bell services when you get in and they'll deliver it to the room, or stop by the bell desk on your way out and pick up the stroller.
Want another personal recommendation? Here's an unsolicited testimonial for Magic Strollers from a MouseSavers.com reader.
Bring/Buy Your Own Stroller
Bringing your own stroller will, of course, save you quite a bit of money and ensure that you have the stroller available all the time, such as when you're going to and from your hotel. Please note: it's a good idea to check the stroller size restrictions in the Walt Disney World Property Rules to make sure your stroller will be allowed inside the parks. (If you will be using Disney's transportation system, bear in mind that you will usually have to take your child out of the stroller and collapse the stroller while on buses and boats.)
Another consideration in bringing your own stroller is the hassles of getting it to Walt Disney World, particularly if you are flying. (You can "gate check" a stroller, which saves some of the work – just bring your stroller right to the gate at the airport. It will be tagged and put into the cargo hold from the gate.)
If you want to avoid the hassle of transporting a stroller on a plane, you might consider buying a cheap one upon arrival and giving it to another lucky family or a charity when you leave.
Or buy a stroller in advance and have it shipped directly to your hotel. (Please note: a $5 per package handling fee may apply if you ship your stroller to a Disney resort.) This has the advantage of saving you money AND being less of a hassle (since you won't have to transport it to Disney yourself). At the end of your trip, either give the stroller to someone or put it back in the shipping box and have the hotel ship it home for you. To ship it to a Disney hotel, it should be addressed as follows:
Hold for guest: (write the full name under which you made the reservation)
Check in date: (insert date)
Hotel's name and address (which will appear on your confirmation form)
Most people who bring their own stroller recommend a cheap umbrella-style one. They are lighter, making them easier to get on and off buses, and you won't worry as much about the possibility of the stroller being stolen. (It's not unheard-of for strollers to go missing in the parks, so it's a good idea to put something personal on yours. At minimum, write your last name on it using a permanent marker.)