Disneyland Ticket Discounts, Deals & Coupons
LAST UPDATE: 9/4/18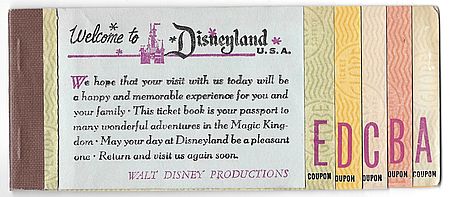 Disneyland tickets cost more every year, but you can still find Disneyland ticket discounts if you know where to look. MouseSavers.com has covered Disneyland for more than 15 years, and we list every reliable Disneyland ticket discount, coupon or deal available. Our page has solid Disneyland ticket discounts anyone can use and special discounts for Southern California residents, US military and other categories.
This page is about ticket discounts for the Disneyland Resort in Anaheim, California. If that's not where you're planning a trip, perhaps you want our page about discounts on tickets to Walt Disney World in Florida. Or you may want information and tips for the Disney parks in other countries.
Prices and blackout dates listed on this page are subject to change at any time.
Disneyland Tickets – Popular Topics
Jump to:
Disneyland Tickets: Important Information!
There are things you should know about Disneyland tickets before you buy. You may save yourself some time, money and/or aggravation by reading the tips below.
Jump to:
Where NOT to Buy Disneyland Tickets
There are lots of legitimate ways to get discount Disneyland tickets. Unfortunately, there are also some ways to get ripped off.
Never buy partially used tickets. For instance, someone may claim they bought a 4-day ticket and ended up using only 2 days of it, so they are reselling the remaining 2 days. Sounds good, right? The trouble is, there is absolutely no way to tell whether the pass does, in fact, have the number of days remaining that the seller claims, until you get to the gate and see if it works. If it doesn't, Disney will not be sympathetic, because Disney tickets are nontransferable. That means they can legally be used only by the original purchaser.
It is a very bad idea to buy Disneyland tickets on eBay or Craigslist. Unfortunately both of these online resources are extremely popular with con artists. Recently scammers have even taken to presenting fake "invoices" or "receipts" that seem to be from legitimate businesses that supposedly sold them the tickets. They always have some sad story about buying nonrefundable tickets, and now they can't go, and they just want to get some of their money back. But the passes they sell you are partially or completely used up, or were never valid to begin with.
Disneyland tickets can look perfectly new and real, yet be worthless. For example, they may be selling real Disneyland ticket stock shoplifted from supermarkets or other stores, but since the tickets were never paid for, they have not been validated and have zero value. Or the tickets may be real, valid Disneyland tickets that have already been used and are now worthless.
There is no way to find out if the tickets you buy from a stranger (or even "a friend of a friend") are any good in advance of your trip. You are very likely to arrive at the gate and find out you have invalid passes. Here is a news story, another story and yet another story about this type of scam.
Websites that seem to be offering super fantastic ticket discounts are almost guaranteed to be scams. There are legitimate, authorized Disneyland ticket brokers, but they don't have a lot of profit margin once they pay Disney. There is no way a ticket dealer can offer new, authentic Disneyland tickets at extremely low prices without losing money. Scam sites may outright rip you off (charge you for tickets you never receive), or even worse, they may just be harvesting your personal information and credit card number so they can sell that information to criminals. If you see Disneyland ticket discounts of 15% or more, that should set off red flags. Occasionally discounts like that are legit, because of some loss-leader strategy by an online travel agency, but check everything out thoroughly. If you see a discount of 50%, don't even bother; it's definitely a scam.
Some signs of a scam ticket site:
The site has "Disney" in the URL or site name, but is not owned by Disney. Disney does not allow its authorized ticket dealers to use the word Disney in their URLs (domain names or website addresses). If the site's URL has the word Disney in it and it is not a site operated by Disney, do not buy tickets there.
They say they have discounted 1-day tickets. Disney does not allow legitimate ticket brokers to sell discounted 1-day tickets, so if you see a site offering those at a discount, run away fast.
You can't pick up the ticket until the morning you are entering the park, and/or you have to return the ticket when you're done with it. This is a big red flag that they are reselling days off a multi-day ticket. There is at least one very glossy, professional-looking website offering this "service," which is possibly fraudulent and definitely against Disney's rules. See the section above about partially used passes — you do NOT want to get caught up in this scam!
The site requires you to pay by Western Union or other cash-equivalent services, which means you'll never be able to get the money back. That should be a huge red flag. ALWAYS pay by credit card (not debit card) when making purchases on the Internet!
Lost Disneyland Tickets – Very Important Tip!
For a long time, Disney would not replace lost Disneyland tickets under any circumstances. In 2014, they switched policies to match Walt Disney World, and now they will replace your lost tickets, if you have a scan or picture of the back of the ticket with the numbers under the barcode visible. So when you get your tickets (not your will-call voucher or print-at-home "tickets," but the small paper tickets the size of a credit card), immediately take a picture with your phone or camera of the backs of all of the tickets, and zoom in on the photo to make sure those numbers are readable. Then email the photos to someone else, or upload them to a cloud service, so you can still get to them if you lose your phone.
If you lose a ticket and have a picture of the back, the ticket can be replaced at any Guest Relations location or Disneyland resort ticket booth. You'll need to have everyone in your party go to Guest Relations together, with all the tickets you have (if any) so they can be sure which tickets need to be voided and replaced. It would be very bad to accidentally void the wrong ticket.
If you don't have a camera or smartphone, write down all the numbers under the bar code from each ticket and stick it somewhere you won't lose it, like deep in a purse or backpack.
Amazingly enough, if you don't have your tickets or a photo of the backs, but you do have some unused FastPasses that were gathered using those tickets, the Guest Relations folks can look up your tickets from the code numbers at the bottom of the FastPasses!
Thanks to Mike W. for info.
Upgrading Disneyland Tickets
You can apply the value of unused Disneyland tickets toward the purchase of higher-priced tickets or Annual Passports any time, even years after purchase. Discounted tickets purchased from third-party vendors will be credited at the retail price as of the day the ticket was issued. Full-price or discounted passes purchased directly from Disney will be credited at the exact price paid. You can upgrade a ticket at any ticket booth or Guest Services window either inside or outside the park.
You can apply the value of partially used Disneyland tickets toward the purchase of higher-priced tickets or Annual Passports, as long as you do it before the tickets expire. The last time you can upgrade a ticket is one hour after park closing (when the ticket booths close) on the day you use the last admission on the ticket, or the 13th day after first use, whichever comes first. Discounted tickets purchased from third-party vendors will be credited at the retail price as of the day the ticket was issued. Full-price or discounted passes purchased directly from Disney will be credited at the exact price paid. You can upgrade a ticket at any ticket booth or Guest Services window either inside or outside the park.
You can't combine the value of two tickets to buy one higher-priced ticket or annual pass. Each ticket can be traded in for a single new ticket or Annual Passport. You also can't upgrade a ticket beyond 5 days. If you have a 4-day ticket and want to add one more day, that's fine, but you can't add two more days. A 5-day ticket can only be upgraded to an Annual Passport.
The start date on an Annual Passport that was upgraded from a ticket will be the first day you used the ticket; you can't get extra days by using a ticket and then upgrading to an annual pass, though you still might want to do this to get around blackout dates.
When Disneyland Tickets Expire
All multi-day passes at Disneyland expire 13 days after the first day you start using them, or when you have used every admission day, whichever comes first. After that point the ticket becomes worthless, except as a souvenir. The first day of use is counted as day 1, so if you go into the park for the first time on February 1, the last day you can enter the park with that ticket is February 13, assuming you still have days left on the ticket.
Disneyland tickets generally must be first used by December 31 of the year they were purchased (or the next year, for tickets purchased late in the year). Some special promotional tickets may expire even earlier. Unused, expired Disneyland tickets cannot be used to enter the park any more, but can be traded in for a new ticket. You'll get the amount you paid originally as a credit toward the new ticket. Even if you're trading in for the same type of ticket, you'll have to pay more if Disneyland ticket prices have gone up since you bought the original ticket.
Old Disneyland tickets that were issued in the days before expiration dates applied can still be used. Their original value is too low to be worth applying to a new ticket, though. Just use them for admission (Guest Services will trade them for tickets that will work at the gates) — or if they're old enough, they might be worth more as collectibles!
Blackout Dates
If you buy a restricted Annual Pass (such as the Southern California Annual Passport, which has many "blackout dates"), but you plan to start your trip on one of the blackout dates, the blackout will not apply on the day you purchase the pass. So if you go to Disneyland on a Saturday and buy an Annual Pass that is normally not valid on Saturdays, you will still be able to use it that day at both parks.
Another handy tip for getting around annual pass blackout dates: you can buy a regular unrestricted Disneyland ticket and use it on the blackout dates, then before it's fully used up, upgrade it to an annual passport. You don't get any extra days this way – the annual passes will be dated from the first day you used the tickets.
Can You Use Walt Disney World Tickets at Disneyland or Vice-Versa?
The short answer is no. In the past you could use any unexpired, leftover days on a Walt Disney World ticket at Disneyland or Disney California Adventure. This was an unpublished benefit that was in effect at least since this site first started (2001). However, as of mid-December 2013, Disneyland and Disney California Adventure will no longer honor Walt Disney World tickets.
Disneyland tickets have never been accepted at Walt Disney World, and most Annual Passes are only good at the park where they were purchased (Walt Disney World Annual Passes are NOT good at Disneyland, and vice versa). However, there is a Premier Passport that is good at both locations.
What Is A Park Hopper Ticket? Do You Need It?
Park Hopper Disneyland tickets can be used to visit both parks on the same day. You can leave Disneyland park in the middle of the day, walk across the courtyard and use the same ticket to go to Disney's California Adventure, or vice-versa. You can go back and forth as often as you want.
Non-hopper (one-park-per-day) Disneyland tickets only allow you to visit one park each day. You can visit either of the two parks each day, but once you enter one, you can't use the same ticket to go across to the other park. You cannot "burn" another day from non-hopper Disneyland tickets to visit both parks on the same day; the computer knows you already entered the first park and won't let you go into the second using the same tickets. You can, of course, leave and return to the same park the same day with any ticket, say to take a midday break or to go to lunch in Downtown Disney.
Park Hopper Disneyland tickets can actually be quite handy at the Disneyland Resort, because the two parks are very close — the entrances are right across from each other. We always buy Park Hopper tickets and always hop on several days of our trip. That said, if money is tight, we think it's fine to just get one-park-per-day Disneyland tickets. It's not a massive hardship to plan your day around staying in one park.
If you buy a one-park-per-day ticket and then realize you want to hop once you're actually there, remember that all normal Disneyland tickets can be upgraded.
Disneyland Ticket Discounts Available to Anyone
Jump to:
Disneyland Ticket Discounts From Undercover Tourist
Undercover Tourist, a great ticket vendor we've recommended for many years, offers significant discounts on Disneyland tickets and tickets for other California and Florida attractions. We really like Undercover Tourist because they constantly strive to have both the best prices and best customer service in the business. That's a tall order, but we have years of experience and feedback from our readers that tells us they really deliver!
Also, Undercover Tourist has straight-to-the-gate tickets for Disneyland! No more waiting in line at a ticket booth to get your actual tickets on the first day of your vacation. Now you just print the tickets at home and take them right to the turnstile. The gate attendant will scan your paper tickets and hand you card-size tickets to use for the rest of the trip. It only takes a few seconds and you're on your way to Space Mountain. You can also put the tickets on your phone and save paper (works on most iPhone and Android devices).
Current Disneyland tickets purchased from Undercover Tourist expire January 13, 2020, or 13 days after first use, whichever comes first.
Exclusive Discounts for MouseSavers Newsletter Subscribers
Undercover Tourist offers its best prices to subscribers to the FREE MouseSavers Newsletter and Hot Deals announcements! By using the exclusive link located in every monthly MouseSavers Newsletter, you always get a special extra discount on every multi-day Disneyland ticket (and most other attraction tickets)! In addition, Undercover Tourist puts a handful of individual tickets on sale every month, and those tickets are offered only to Hot Deals subscribers! (It's a different set of tickets every month, and can include any combination of Disneyland, Walt Disney World and/or other California or Florida attractions.) The MouseSavers Newsletter and the Hot Deals emails also contain exclusive hotel and other discounts not found anywhere else. Remember, it's completely FREE.
Other Places to Buy Advance Purchase Discount Disneyland Tickets
Direct Purchase From Disney
You can obviously buy Disneyland tickets directly from Disney, but there are no advance purchase discounts online or by phone, except during rare special promotions. The rest of the time you pay the same price online as you would in person at the ticket booths.
When there is a special promotion that is available to the general public, we list it here.
AAA
The American Automobile Association is subdivided into regions, with each region having a different independent affilated club. Each regional club offers different attraction tickets. Some offer discount Disneyland tickets; some don't. Some don't have discounts, but offer a free bonus of some kind with the order, and if that bonus has value to you, that can be worth considering. Usually you'll find that clubs on the West coast and driving distance from Disneyland are the most likely to offer discount Disneyland tickets. For the very latest information, you should always call your local club or check their web site to see what they offer. Obviously, you will need to be a member of AAA to get these discounts, but in many cases, a club in one region will allow members in other regions to take advantage of their discounts. It never hurts to ask!
Automobile Club of Southern California offices sells advance purchase multi-day discount Disneyland tickets. Members of other AAA clubs can use this discount, but you must purchase your Disneyland tickets in person at an Auto Club branch. If you will have a car while in Anaheim, the closest AAA office is at 420 N Euclid Street, about 4 miles from Disneyland. Phone number is (714) 774-2392. Thanks to pho lishus and Dan L for info.
Some Central and Northern California AAA offices and neighboring states' AAA offices (i.e. Arizona and Oregon) sell advance purchase multi-day Disneyland tickets (usually only Park Hoppers). They may or may not be discounted. Be sure to call your local AAA office in advance to check prices and make sure they have the Disneyland tickets you want in stock. Sometimes they allow members of other clubs to buy tickets, but usually in person, not online. Sometimes a free parking pass is included with the purchase of multi-day tickets.
Last we checked, the Washington State AAA offices offer Disneyland tickets at regular price, but include a free parking pass with every multi-day Disneyland ticket. For some situations this might be a better deal than getting a discount on the tickets. But price it out both ways to be sure.
Supermarkets/Safeway
Some supermarkets such as Safeway, Albertson's and Ralph's (primarily in California and neighboring states) may carry promotional advance purchase discount Disneyland tickets. These are typically just the Southern California resident tickets offered at the same price you'd pay at the Disneyland ticket booths, but sometimes you can either get a little extra discount, or you can use their club card to get some kind of bonus, like a discount on gas or a future grocery discount. You may need to show an ID with a Southern California zip code in order to purchase the tickets.
1-Day Ticket Discounts
One-day Disneyland tickets and Disney California Adventure tickets are almost never discounted. The exceptions are all for advance purchase only:
Southern California CityPASS
Planning a "grand tour" of Southern California? Be sure to consider the Southern California CityPASS, which includes discounted admission to Disneyland, Legoland California and SeaWorld San Diego. The San Diego Zoo or Safari Park can be added as an option on this pass. By purchasing this combined ticket, you save a substantial amount vs. buying each ticket separately.
Disneyland Annual Pass Deals & Discounts
It may be more cost-effective to buy an Disneyland Annual Pass (which Disneyland calls an "Annual Passport") if you will be in the parks for more than a few days during the year. Be sure to include an Annual Pass in your calculations when deciding on the best pass to buy.
When purchasing tickets for a family, group or couple that will visit Disneyland together, it is often worthwhile to buy ONE Signature or Signature Plus Passport for someone in the party. That's because in addition to the admission, a Signature Passport includes parking, many Disneyland Resort restaurant and shopping discounts and discounts at the Disneyland resort hotels. Just have the Signature Passholder use the discounts and parking privileges for everyone's benefit. (Most restaurant discounts are good for the entire party — a few have limits.)
Occasionally, Disneyland Annual Passholders can purchase discounted park tickets for friends and family, we list those below.
How to Buy a Disneyland Annual Pass
You can buy your pass in person at any Disneyland ticket booth. If you have never had an Annual Passport before, you'll have to get a photo taken by a PhotoPass photographer, which will be associated with the pass.
You can also buy a Disneyland Annual Passport in advance by phone at (714) 781-INFO (4636) or online. If you buy in advance, you can order a voucher for an actual Annual Pass. The voucher must be "activated" (exchanged for the actual Annual Pass) at the park. To activate the voucher, you'll have to show photo ID (for adults).
Many supermarkets in Southern California sell "gift card" style vouchers for Disneyland Annual Passports at full price.
Generally we don't see much point in buying an annual pass voucher in advance, except if you know the prices are about to go up and you want to lock in the current price. Even if the price goes up after you purchase it, your voucher is valid until the end of the calendar year without paying any extra. After that time the voucher still retains its value (what you paid) but you have to pay the difference in price if annual pass prices have gone up. The Annual Passport is valid for one year from the date you redeem the voucher.
You can renew an Annual Passport up to 40 days prior to its expiration date. Renewals are automatically activated immediately after the current pass expires. If you will not use a new Annual Passport within the 60 days after your old one expires, it's better not to renew. Just buy a new pass when you actually need it.
If you are purchasing an Annual Passport that has blackout dates, be sure to read the hint above so that you can maximize your use of the pass at the time of purchase.
Disneyland Annual Pass Deals
Southern California Annual Passport – Southern California residents within zip codes 90000-93599 qualify for a reduced-price Annual Passport (with some blackout dates). See the Disneyland Ticket Prices page for details.
DVC members qualify for $20 off a Disneyland Signature or Signature Plus Passport. This is good on the first purchase — not on renewals. The discount is valid for members of the DVC member's immediate household only.
Southern California Resident Discount Disneyland Tickets
Most Disneyland ticket discounts for residents are for people living in Southern California zip codes 90000-93599 and Northern Baja California zip codes 21000-22999. Photo ID and proof of residency is required at the time of purchase and may be required at the time of admission as well.
Southern California Annual Passport
Southern California residents qualify for reduced-price Disneyland Annual Passes. See the Disneyland Ticket Prices page for details.
DVC Member Annual Pass Discount
The Disney Vacation Club (DVC) is a Disney-operated timeshare program with properties at Walt Disney World, Disneyland, Vero Beach, Hilton Head Island and Hawaii.
DVC members qualify for $20 off Disneyland Signature and Signature Plus Passports. This is good on the first purchase — not on renewals. The discount is valid for members of the DVC member's immediate household only.
Very occasionally, DVC may have a special offer for discount Disneyland tickets. When that happens, we list it here, but currently there are no special Disneyland ticket discounts.
Disneyland Ticket Discounts for Teachers
If you are a teacher in the US or Canada, be sure to check with your teachers' union for possible discount Disneyland tickets. These discounts can come and go as Disney evaluates their various corporate and affinity discounts. Just because they had one last year doesn't mean it'll still be there this year (and vice-versa).
Some of these teacher union discounts can be significant, but others are no better (or even worse) than Disneyland ticket discounts available to the general public, so be sure to compare the final price (with any service fees and/or shipping) to the price from Undercover Tourist.
Members of the California Teachers Association sometimes qualify for great Disneyland ticket discounts. To check on what's available right now, either visit the benefits website or call TSA/First Financial Credit Union at (800) 537-8491. Thanks to Diane E for info.
MouseSavers.com reader Barbara W reports, "First Financial Credit Union may extend this discount to members of other Teachers Associations through their toll-free phone line. (The rep I spoke to had no problem with my parents' membership in a Canadian association.) Disneyland tickets must be shipped to a residential address in the US only." Another reader reports that they would not allow a teacher from outside California to order. So "your mileage may vary."
MouseSavers.com reader Heather O reports, "the PSEA (Pennsylvania State Education Association) also offers significant Disneyland ticket discounts…. I found that I could save $25-30 on most multi-day passes!"
Disneyland Ticket Discounts for College Students
Many universities in Southern California offer Disneyland tickets and Disney California Adventure tickets at a small discount for their students. If you are a college student, check with your Student Union. You'll typically only save around $1 on 1-day Disneyland tickets and $6 on 2-day tickets, but this is one of the very few ways to get a deal on 1-day tickets.
Corporate, Government & Other Membership Discounts
Employees of large companies, major government agencies, or large membership groups like unions or professional organizations (typically those with 200-plus employees or members) may qualify to purchase discount Disneyland tickets, regardless of whether the company has any direct relationship with Disney. Tickets are offered through private websites operated by various ticket suppliers that service large organizations. A password is required to access those sites. Check with your company or organization's benefits department to find out whether your company participates and how to get the password.
If you work for a company that is a major corporate sponsor at Disneyland (i.e. the company's logo is on a major attraction), or has a significant business relationship with Disney, you might qualify for significant discounts on tickets. Check with your Human Resources department for additional info.
Additionally, employees of companies that have a business relationship with Disney sometimes qualify for deep ticket discounts. Reportedly employees of Chase (which offers Disney Visa cards), Kellogg's (which does a lot of cross-promotions with Disney) and ADT (installs alarms for Disney) get ticket discounts, for instance. Check with your Human Resources department for additional info.
Some of these membership discounts can be significant, but others are no better (or even worse) than Disneyland ticket discounts available to the general public, so be sure to compare the final price (with any service fees and/or shipping) to the price from Undercover Tourist.
Credit Union Discounts
Some California credit unions may offer discount Disneyland tickets to their members. These deals are getting fewer and further between as Disney has been slowly reducing the number of deals it offers to corporate and group clients. Still, if you belong to a credit union in California, be sure to inquire about this.
Discounts for Military Families
Jump to:
Military Salute Disneyland Tickets
Military Salute Tickets for Visits 1/1/18 – 12/19/18
Active or retired US military personnel may purchase up to a maximum of six 3-Day Disneyland Park Hopper Tickets for $168 per ticket or 4-Day Disneyland Park Hopper Tickets for $188 per ticket, to be used by themselves, family members (including spouse) or friends. The tickets expire and may not be used after 12/19/18. Tickets may not be used on the following blockout dates: 3/23/18 – 4/8/18.
Tickets must be purchased by 12/16/18.
How to Get Military Salute Tickets
Tickets for use 1/1/18 – 12/19/18 went on sale 11/1/17.
Military Salute Tickets must be purchased in person, with military ID by the eligible member or their spouse. The tickets can be purchased at participating US military sales outlets (MWR/ITT office) on a military base or at a Disneyland ticket booth.
Rules for Military Salute Tickets
These tickets are for active or retired members of the US military, including the National Guard, Reservists and the US Coast Guard, with a valid military ID card. Dept of Defense (CIA, FBI, Secret Service) and Coalition Forces are not included.
The military ID will be checked when the tickets are activated. Once the tickets are activated the group can split up.
More details are available on Disneyland's Military Salute ticket offer page.
Where to Ask Questions About Military Salute Tickets
If you have questions about this promotion, please don't send them to us. All the information we have is listed above. If you need more info, here are some good resources:
Call your local base MWR/ITT directly and ask them.
Military Disney Tips has a very long FAQ on these tickets.
Ongoing Military/DoD Disneyland Ticket Discounts
Active duty and retired military, DOD civilian employees and their dependents qualify for Disneyland ticket discounts.
Disney will check ID at the gate. Military personnel may bring in non-military guests with the military discount as long as they accompany the non-military person(s). If military personnel purchase tickets and give them as gifts to non-military users that they will not be accompanying, they risk having the recipient denied entry and the tickets confiscated.
Discounted military tickets are available through your local base MWR/ITT office. The prices and the exact passes that are available will vary from base to base.
Civil Service employees of certain branches of government (such as NASA) can purchase discounted tickets at their exchange shops at the same rates as military. Typically the tickets must be ordered and will take a couple of weeks to arrive. While the employee must purchase the tickets, reportedly anyone can use them. Thanks to Melissa for the info.
Discount Disneyland Tickets for Canadians
For a limited time, Canadian residents can purchase specially priced 3-, 4- and 5-Day adult Disneyland tickets in advance. Each ticket includes one Magic Morning early admission. You can add Disney MaxPass for $10 USD per ticket per day. Tickets expire 13 days after first use or on May 23, 2019, whichever occurs first.
Special prices are listed below in USD and include tax.
| | | | |
| --- | --- | --- | --- |
| |  3-Day ticket | 4-Day ticket | 5-Day ticket |
| 1 Park-per-day | $207 USD | $229 USD | $239 USD |
| Park Hopper | $249 USD | $267 USD | $279 USD |
Tickets must be purchased online or by phone at (866) 285-1422. This offer is not available at the Disneyland Main Entrance ticket booths.
Offer only for Canadian residents, and valid proof of Canadian residency is required. Canadian residency will be validated for each adult guest in the party prior to theme park admission. Offer may not be combined with other ticket discounts or promotions.
Book by April 11, 2019.
Select Disneyland tickets are sold at Flight Centre locations in Canada, in Canadian dollars. Frequently you'll find lower prices here than direct from Disney.
Select Disneyland tickets are sold at some CAA offices. Some Disney Store locations may also carry select Disneyland tickets. (We strongly recommend calling ahead to find out whether the location near you is offering tickets.) The price of Disneyland tickets purchased in Canada is adjusted periodically to conform to the current exchange rate, so at times it may be possible to time a purchase to benefit from a sudden change in the exchange rate. (Tickets purchased in Canada may be intended only for Canadians and there is a slight chance you might be asked for ID, so US citizens who live near the border should keep this in mind.)
Disneyland Tickets for Australians and Kiwis
Aussies and Kiwis can purchase a special Disneyland ticket that is not sold at the parks: a 10-Day Disney Vacation Pass, which is basically a 10-Day Disneyland Park Hopper ticket, including one Magic Morning admission. Typically this ticket sells for only a few dollars more than a 5-day Park Hopper, making it a great deal for longer trips. This ticket is only sold in Australia and New Zealand, through travel agents including Flight Centre and Air New Zealand Holidays. Not all agents list the Disneyland tickets on their web site; you may need to call to get prices and buy the tickets. The price of Disneyland tickets purchased in Australia and New Zealand is adjusted periodically to conform to the current exchange rate. Thanks to Paula S for info.
Online Travel Agencies
Most of the time, the big Online Travel Agencies (OTAs) like Expedia, Travelocity, Orbitz, Priceline, etc. sell Disneyland tickets at full price. Every once in a while, one of them will offer a special deal on one or two Disneyland tickets as a come-on, to get people to come to their site and hopefully book other things. The Disneyland tickets available on sale can change from day to day (or hour to hour), but it can be worth checking these sites to see if they have a deal on the specific ticket you want. Read our caveats below before purchasing. If you're only going to save a few dollars, we think you're better off with Undercover Tourist. If the OTA is offering some kind of super-deep loss-leader Disneyland ticket deal that's going to save you a bunch, and you are comfortable with the various issues we mention, you may want to take that deal.
Important notes for buying tickets from OTAs:
Read the terms and conditions carefully. We've seen things like a disclaimer saying they don't guarantee that your tickets will be valid and will let you into the park (!!!).
Make sure you compare the final price, with any tax, fees or shipping, to other sources like Undercover Tourist. A deal that looks great at first glance may not be once miscellaneous fees get tacked on.
Check and recheck your information before hitting the purchase button, especially your email address. They will email you the e-tickets and if you make a mistake with your email address it won't go to the right place. That's not the end of the world; you can call them and they can find your order by name and resend it, but OTAs have notoriously bad customer service.
Do not take the add-ons or upsells offered, especially any kind of "buyer protection" insurance. If they offer you a special limited time deal on something else like a rental car or hotel, be skeptical, and research carefully whether it's a good deal. The main reason the OTAs offer these kinds of special discount Disneyland tickets is in the hope that they can also sell you something with a better profit margin, so chances are good that any other thing they offer you will be full price (or sometimes even above full price!).
Stick to the big agencies you've heard of, that advertise widely and have a decent reputation. If you hear about a great deal from a company you've never heard of, we advise staying away. There are lots of scammers and fly-by-night sellers offering Disneyland tickets out there and it's hard to tell the real vendors from the scammers. Even a vendor that's not a scammer may not have a reliable supply of tickets because they're not an authorized dealer and don't have an actual contract with Disney. They're buying tickets under the table from another travel seller, and if their supply dries up unexpectedly while your order is being processed it might be a serious hassle. We have seen this exact situation more than once, and the people who got left holding the bag were not happy.