Disneyland Paris – April 2023
BY DON MUNSIL & SARAH STONE
In April 2023, we set off to visit Disneyland Paris, to see how Disneyland (California) and Walt Disney World's French sister park compares to the original US parks. We had heard from multiple friends, relatives and readers that the Paris parks were looking a bit run-down, but since Disney took over running it in 2017, there has been more money and attention given to Disney's French outpost, so we wanted to see how things were going. 
Getting There
Disneyland Paris is actually located in Chessy, France – about 20 miles east of the city of Paris. We flew into Charles De Gaulle Airport and took the Magical Shuttle, an independent bus service that offers service between either De Gaulle or Orly airports and Disneyland Paris (both the main entrance and all the Disney hotels, except for the Davy Crockett Ranch). After clearing customs, it wasn't entirely clear how to find the shuttle buses, but after a bit of wandering around the airport we made our way to the bus zone. We were expected to load our own suitcases underneath the bus (or so it seemed, no one offered to do it). The buses leave Charles De Gaulle or Orly roughly once or twice per hour from 9:00 am to 7:00 pm (varies by terminal; check their site for the latest times). It takes about an hour to drive from either airport to Disneyland Paris Resort. Unlike in the US, where an official Disney transportation will usually have music and/or videos playing, this was just a bus ride.  
There is also good train service available from Charles De Gaulle or Paris to or from Disneyland. In retrospect, we could have taken a high-speed TGV train from Charles De Gaulle that would have taken only 7-10 minutes, albeit with a lot more walking (or a bus ride) once we arrived at Disneyland. 
Disneyland Paris Hotels
Of the official Disneyland Paris hotels, the Disneyland Hotel, Hotel New York – The Art of Marvel, Newport Bay Club and Sequoia Lodge are all an easy walk to the parks (in fact, Disneyland Hotel is right at the entrance to Disneyland Park!). We stayed in Newport Bay Club Hotel, which has similar theming to Walt Disney World's Yacht Club, like a fancy New England seaside resort. 
Security is a bit different at Disneyland Paris. When we arrived at the hotel our luggage had to go through a scanner by the entrance and then we had to go through a metal detector. (We also had to go through a security checkpoint before entering the parks, similar to the US.) Once we got ourselves settled in our room, we decided to explore our hotel as well as Sequoia Hotel and Hotel New York – The Art of Marvel. These three hotels are arranged around a small lake and are easy to walk between. 
Our overall impression of the Disney hotels is that they are certainly clean, well-maintained and convenient. But the theming is much more low key than the US Disney hotels. Much, much more low key. Even with the recent remodel of Hotel New York – Art of Marvel, it still looks fairly generic, both on the inside and outside. The hotel lobbies are not particularly big, with check-in desks and a bench or two to sit on while you are waiting to check-in. They are not designed as a place to hang out and relax. The landscaping outside is nice, but not particularly elaborate. At Walt Disney World, it can be fun to visit the various Disney hotels, stroll around and enjoy the atmosphere. Here, the hotels felt like nice hotels, but there wasn't much to see or do. Disneyland Hotel was completely closed for refurbishment while we were there, but has since re-opened with much more elaborate décor and theming in the public areas, as well as in the rooms. So, hopefully, the other hotels will eventually get a similar makeover and feel more like the official Disney hotels in the US.    
After checking out the hotels, we walked through Disney Village, which is basically their Downtown Disney or Disney Springs area, offering shops, restaurants and (theoretically) entertainment. This area is the least interesting part of Disneyland Paris and needs the most love. There are a few places to eat, all fast food or fast casual. None were particularly interesting to us since it's food we can get at home. There is a McDonald's, a Five Guys, a British-themed pub, a Starbucks and a handful of other restaurants and snack kiosks. Just about all the stores are Disney stores, which means there isn't much to shop for unless you want Disney souvenirs. There aren't many activities – the main one is an Aerophile Balloon Flight, just like they have in Disney Springs. But it never seemed to be open while we were there. The walkways when we visited were cracked and dirty and several buildings had badly weathered facades that desperately need refurbishment. That said, two large sections were fenced off and under refurbishment. We hope that in another year or so, Disney Village will look better and have more going on. Other than using the ATM and a bit of souvenir shopping, we didn't spend any real time there. 
Disneyland Park
Like Disneyland (California), both parks at Disneyland Paris are right next to each other, so it's very easy to walk from one to the other. On the afternoon we arrived, we weren't feeling as jet-lagged as we expected, so we popped into Disneyland Park right away. After our walk through Disney Village, and the underwhelming theming of the Disney hotels, we weren't quite sure what to expect on the other side of the entrance gates. To our delight, the park looks great! It's fun to visit a place that feels familiar, but different at the same time. The layout of Disneyland Park is at first glance very similar to Disneyland Park in California and Magic Kingdom in Florida. Once you start exploring, it feels pretty different and has quite a few unique rides and experiences. The park upkeep was not quite up to the US standards – we saw multiple spots that needed touching up – but nothing needed a drastic overhaul. Bottom line: it's a beautiful park.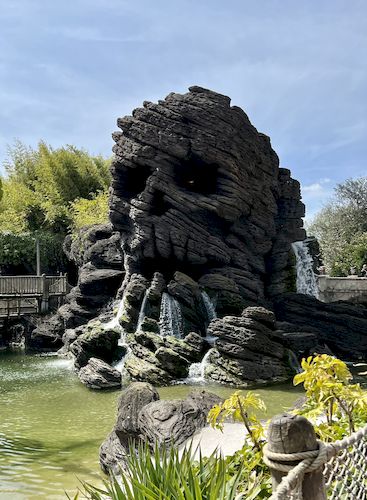 One thing that makes Disneyland Paris different from the two US parks is the wide variety of walk-through attractions. You can walk inside Sleeping Beauty's castle and see a retelling of the fairy tale in stained glass and tapestries. Then you can walk outside onto one of the balconies and get a great view of the park! Once you have wound your way back down to the ground level, you can walk around the base of the castle and find the entrance to La Tanière du Dragon (The Lair of the Dragon). Inside this dark cavern you'll find a sleeping dragon who occasionally wakes up to growl at you. The castle feels like a real building you can explore and not just something to view from the outside. There's also an area called Adventure Isle that is kind of like Tom Sawyer Island, but kicked up several notches in size and complexity. There's an old sailing ship to explore (closed for refurbishment when we were there), plus mysterious and extensive caves. There are multiple bridges and a giant skull-shaped rock formation from Peter Pan. Other walk-through experiences include an Alice in Wonderland-themed hedge maze, and a cute set of dioramas telling the story of Aladdin. There are also several spots, in addition to the castle, where you can get up high and get a view of the area – the "fort" at the entrance to Frontierland, the giant skull mentioned earlier, and the castle of the King and Queen of Hearts in the hedge maze.
The lands often have the same names as in the US parks, but look somewhat different. You enter Adventureland through a "desert" and find yourself in Agrabah. Tomorrowland's look is inspired directly by the works of Jules Verne (appropriately, given the French location). Frontierland is much bigger and includes Phantom Manor, their Haunted Mansion, which looks like a weathered, abandoned Victorian manor. Phantom Manor turned out to be one of our favorite rides. It has a different story, with just enough of the classic Haunted Mansion elements to make it fun and surprising at the same time. 
There are two covered arcades that run parallel to Main Street, U.S.A. These arcades provide an indoor place to get out of the sun or rain (and a great way to avoid the massive crowds on Main Street), and each side has fun historical exhibits and displays that look like they might be from a World's Fair in the early 1900's. Almost all the Main Street, U.S.A. shops and restaurants have a back entrance on the arcade side, which is handy if you're trying to get away from the parade crowds. Just duck into a shop and out the back door!
All in all, we found there was plenty to do, even with several of the major rides closed for refurbishment. Most of rides were unique to Disneyland Paris, or a different take on the American version. One note about the rides and the parks in general: there are fewer ramps than in the US parks, and in some cases quite a few stairs to get to the actual ride. We also found that the ride vehicles often had a much smaller opening to get into the ride vehicle, so watch your knees. Sarah bumped hers a number of times getting in and out of various rides.  
Walt Disney Studios Park
The second park at Disneyland Paris is Walt Disney Studios, which is a bit like Disney's Hollywood Studios at Walt Disney World. When we arrived, Disney had just recently opened Marvel Avengers Campus here, with a slightly different layout and ride mix from the Avengers Campus at Disney's California Adventure in Anaheim. The Kingdom of Arendelle, a brand new land themed to Frozen and Frozen II, is currently under construction. There are quite a few great rides here, and like Disneyland Park, some will feel familiar if you have been to a US Disney park recently (Spider-Man W.E.B. Adventure, for example) and some are completely unique (Crush's Coaster).
Since you are supposed to be at a film studio, the buildings can look rather boxy and generic (as actual studio buildings do). After you get through the entrance (a "studio" building with a restaurant and shops), you arrive in a large empty courtyard near a seemingly unused building. It was a bit underwhelming and, unlike the Disneyland Park layout, you aren't immediately drawn to a particular ride or direction. 
For us, this park felt like it needs more. More rides, more space, more park. The Pixar-themed rides and activities are mostly geared to smaller kids (except for Ratatouille: The Adventure and Crush's Coaster) and just strolling around isn't quite as interesting as it is in the US Disney parks. We had already seen the Avengers Campus at Disneyland (California) and this one is very similar. Spider-Man W.E.B. Adventure is just as fun in French, but it was something we had seen before. On the plus side, the Avengers Campus in Paris has a unique roller coaster called Avengers Assemble: Flight Force, which uses the ride mechanism and track layout from Rock 'N' Rollercoaster, but with a completely re-themed ride with a new soundtrack. But overall, we found the park lacking. Hopefully, once Arendelle opens that will add some excitement. We did stay to watch the night-time fireworks and drone show, which was great! 
The Food
Probably the biggest disappointment for us was the food. We ate at some of the fancier restaurants (Walt's, Remy, Yacht Club) and some of the fast casual places (Market Deli). The food was mostly fine, some of it pretty good. But given that we were in France, we had higher expectations. Much of the park food is just American-style park food – lots of burgers and pizza. The lounges and restaurants we went to at the Disney hotels were good, as was our lunch at Walt's – an American Restaurant. But our travels in France have taught us to expect excellent food, and very little we ate at Disneyland was excellent and very little felt like it was worth the prices charged. We had much, much better food after we left Disneyland Paris, when we were staying in central Paris. 
Overall Impressions
The parks, especially Disneyland Park, were pretty great! There were a lot of rides that were new to us, or different enough from the US version that they were really fun to experience. Our favorite rides were Phantom Manor and Big Thunder Mountain – we went on them several times. Most Cast Members speak enough English to let you know where to stand in line or give you basic directions to get around. The sit-down restaurants had menus in several languages, so ordering food wasn't a problem. We saw and heard visitors from all over the world, so clearly there are plenty of Disney fans who going to Disneyland Paris, not just UK residents and Europeans. 
We are glad we went, however this was part of a longer trip to Europe for us. If you are coming from outside Europe, we don't know that Disneyland Paris would be worth a trip on it's own. You can see most everything in 3-4 days. That is a lot of travel for what would be essentially a long weekend. We recommend combining a visit to Disneyland Paris with a longer trip elsewhere in France or Europe. 
There was quite a bit of construction going on while we were there, part of Disney taking back ownership of Disneyland Paris Resort and fixing the various areas that had become run down. That is great, however, it means that right now there are parts of the resort that still need some TLC and rides that aren't running on a reliable schedule. We look forward to going back in 3-4 years when more construction and refurbishments are complete. We would expect the parks to be better taken care of, more new and unique rides, more rides that are up and running, along with more interesting restaurants, shopping and activities in Disney Village.