Our Trip to Paris and Disneyland Paris – April 2003
Note from Mary: This report is a joint effort. I wrote the "Prequel" below, which explains how we happened to go to Paris and Disneyland Paris. My husband Mike wrote other parts.
If you want to skip to Mike's section of the report, which is the part that is really about Disneyland Paris, click here.
Mike's responses to my "Prequel" and his supplement about Paris and the conclusion of the trip are in red.
Mary's Prequel: Why and How We Went to Paris and Disneyland Paris
The Bargain Airfare
It all started one Saturday afternoon in November 2002. Mike was gently snoring in the bedroom, enjoying his usual 5-hour weekend nap, while I slaved away in our home office?
Lies, all lies. First, my naps usually last only 3 hours. It might be 4 and sometimes, quite rarely, 5 hours, but only if I'd actually done anything that day, like mowing the lawn. And the reason I take a nap (besides the obvious fact that naps are the best things next to delicious cold, frosty beer) is that our dog, Satan's Imp, apparently has developed an understanding of the difference between weekdays and weekends. I get up at 5:00 am on weekdays to go to work and the dog will sleep on undisturbed. Mary can sleep till 9:00 am on any day and the dog won't make a peep. Come the weekend however, and she is in the bedroom at 5:15 am, whining desperately for me to get up (the dog that is, in case you were confused). In a stunning display of canine intelligence she has obviously figured out that the clock radio is the thing that gets me up. So if whining doesn't get me to stir, she starts pushing the clock radio around the end table with her nose. Strange metal box gets man up, make noise with box, man will get up. This from the dog that hasn't yet figured out how the doggy door works.
In any case, I'll stumble downstairs and make the dog's breakfast (half pound of sausage, 10 strips of bacon, 6 slices of country ham, and a quart of coffee), which she'll gobble up. She'll then go back to bed if I don't appear to be getting ready RIGHT NOW to take her for a run in the park. Got to conserve one's energy and all. Someday, I'm going to get up at 3:00 am and run in her bedroom (yes, she has her own bedroom) and keep bugging her till she gets up. And then I'm going to go back to bed.
Second, I don't think anyone can describe my snores as gentle. I can drown out the bass thumping from the local rapper wanna-be's without a problem. On planes, the copilot will sometimes come out of the cockpit to check out why the left side engine seems to have developed an irregular whine. No, definitely not gentle.
Third, it's Mary's home office. I have been blessed with a table set inside a closet, which hardly warrants the grand title of office. And I don't do anything that can be construed as work on it. I play games on my computer and occasionally search the web for more information on games. Possibly also info on books. Not work, emphatically not work! I have volunteered to relocate my computer downstairs to the garage but Mary won't let me, as she suspects I might light up cigars when I'm not directly under her gaze. And she's probably right.
Well, it's true that Mike was napping, but in actuality, I was just surfing around, checking out a few of my favorite travel websites. On that fateful day I decided to visit FlyerTalk.com, a discussion board where obsessive collectors of frequent flyer miles like to hang out. The "Mileage Run" area of that board can be a great place to find out about very low airfares, because the members are always looking for high-mileage flights at low cost. However, you have to be very patient because it's not organized in any fashion. You can check it for weeks on end and not see any flights that interest you. Also, it uses a lot of jargon and abbreviations that are confusing to most people. Plus, you must check it frequently if you're serious about grabbing a deal. They often come and go quickly.
I especially like the discussions between the American and British board members on proper dress while flying and how standards in First Class have declined. Brits decry Americans traveling in shorts, Yanks call the Brits stiff-necked, Brits sniff about bloody colonials. Good stuff.
Well, that day I lucked out. Someone reported that he had just been on Travelocity and found a bargain. He had bought a round trip ticket from Seattle to Helsinki, Finland for $20 plus tax on British Airways. With tax, it was still under $100 roundtrip.
I raced to Travelocity I could see the fare, but by the time I tried to book it, nothing was available. Oh well.
I went back to FlyerTalk. People were posting new discoveries. The same fare had now showed up on Expedia, and a few people reported booking it successfully for various dates through March 2003. I logged into Expedia and sure enough, I was able to book the fare! Mike and I had never really talked about going to Finland, but for less than $200 for the two of us, I figured he'd be willing to go. I booked the latest dates I could get – March 22-30, 2003.
My adrenaline was pumping. I went back to reading posts on FlyerTalk. Someone had discovered the same fare was available from Seattle to Paris! Hmmm. I knew Mike had always wanted to visit Paris, and I hadn't been there since I was a college student. I debated for about two minutes, and then I went for it. I was able to get the $20-plus-tax fare to Paris for a March 31 departure, returning April 8, so in theory we could do both the Finland and Paris trips. Because Mike was low on vacation time, I figured we would probably just do the Paris trip and throw away the tickets to Finland, but I had still spent less than $400 for two tickets to Europe!
Within a short time, the fare disappeared and the feeding frenzy on FlyerTalk was over. Now the question was whether this was a special promotion by British Airways, or a mistake. I suspected a mistake. Would British Airways honor the fare?
Mike had quite a surprise when he woke up. To my surprise, he wanted to do both of the trips, if we actually ever got any tickets. Sure enough, a couple of days later, the tickets arrived in the mail. Rumor has it that 600-800 tickets were sold at the $20 fare, and British Airways honored all of them. Thanks, BA!
Actually I was just doing the usual guy thing here. I was still half asleep and pretty groggy and agreed to the trips, figuring in my dimwitted way that it was several months in the future and I'd be able to figure out a way to get out of it. Hah!
Here's the best part. It turned out that the tickets were not in Coach (which British Airways calls "World Traveller"). They were in a special section called World Traveller Plus, which is between Coach and Business class. Among other things, you get wider seats and 7″ of extra leg room in World Traveller Plus. Such tickets typically cost more like $4000 roundtrip. Each. Woo hoo! I had just bought the travel bargain of the century.
Of course, since nothing could be changed or cancelled on this bargain itinerary, we were going to have to fly to Seattle (which cost us about $250 each, roundtrip) and go from there to Helsinki. We'd spend a week in Scandinavia and fly back to Seattle, spend one night with my brothers (who luckily for us, live in Seattle), and then fly to Paris. Not the most convenient itinerary, but we could live with it for what we were paying — and we would each earn over 24,000 British Airways frequent flyer miles!
So we had two back to back round trip tickets to Europe. Whimper. We'd considered just skipping the first return trip, staying in Europe, taking a plane direct from Helsinki to Paris and then catching our second return flight instead. But people who drop flight legs have a bad habit of losing all remaining flight legs. And only wimps would skip out on the 12,000 frequent flyer miles we'd earn just to avoid being locked into a tubular metal container five miles in the air for an additional 18 hours.
Planning
For the Scandinavian part of the trip, we decided to spend half of our week in Finland, visiting Helsinki (the current capitol) and Turku (the old capitol). Then we would take a 40-minute flight to Stockholm, Sweden and stay there for the rest of the week, returning to Helsinki the night before we flew back to Seattle. I managed to get a good roundtrip fare from Helsinki to Stockholm on FinnAir. The amusing thing was that the FinnAir flight cost about the same as our flight from the US to Helsinki!
Next I decided to see what I could do about hotels in Scandinavia. Finland and Sweden are expensive; mid-range hotels were going to run us $200 a night or so. Then I remembered that Hilton had recently acquired the Scandic hotel chain, which has properties throughout Scandinavia, and we had lots of Hilton Honors points. This turned out to be another bargain, because in honor of the new acquisition, Hilton was offering stays at the Scandic hotels for only 10,000 points per night. (A comparable hotel in the US would be around 30,000 points). So I was able to get our choice of Scandic hotels in Finland and Sweden with points. And it turns out that most hotels throughout Scandinavia offer a free buffet breakfast with your stay. So our cost would be $0 for a week of hotel stays and breakfast. Not bad!
Mary did all the planning for the trip. I drank some beer and read up on dining and drinking options in Scandinavia. Guidebooks are severely lacking in many respects as they hardly ever make recommendations on the best local lagers and ales. They also keep concentrating on fine dining without giving us useful information about the kind of deep fried junk foods the locals eat.
I also tried to find useful documentaries on all those education channels we get with the expanded cable service that I never watch. But whereas I was able to find heart wrenching odes to reindeer herding in Lapland, there was nothing, alas, on more useful subjects like wild Swedish students on Spring Break. As I thought, the educational channels are severely lacking in useful content.
After careful consideration of the wide-ranging offerings of Helsinki, Mary decided that we needed to go to Stockholm also. So she booked a puddle jumper flight between the two cities so we could spend 3 days in Stockholm. In addition, we also planned on an overnight trip out to Turku from Helsinki. Mary said this was so we could experience a little more of the culture. Actually she did it so I could ride on a train. I love riding trains. She accommodates me much like she would a rather slow child.
In another of Mary's attempts to bankrupt the travel industry singlehandedly, she was able to book all of our hotels in Scandinavia using Hilton Honors points. So we didn't pay anything there to speak of either. Mary obviously felt guilty about this and overcompensated on the Paris hotel.
Paris was another story. Because it is such a romantic city and Mike had never visited, I really wanted to stay in a charming, older, centrally located small hotel. Such hotels are so typical of Paris and so much a part of the whole experience that I decided to splurge a little.
Her reasoning went something like this. Paris = romantic. Romantic = charming. Charming = older. Romantic, charming, older – translation: expensive, really small rooms, no wide screen TV's.
After a lot of research, I settled on Hotel Britannique, which has about the most perfect location imaginable, right in the center of everything in the upscale 1st arrondisement. It was 180 Euros per night (about $200) and despite much web-surfing, I couldn't find any discounts on it, so I just booked it at full price through the hotel's website. I know, I know. Can you believe Mary the bargain hunter paid RETAIL? I justified it by comparing the rate at the hotel with similar hotels in the area — it was a good deal — and by reminding myself how cheap the Scandinavia part of the trip was going to be. (Later I read that Hotel Britannique often has discounts if you call the hotel directly. Unfortunately that never occurred to me!)
The most perfect location imaginable means that the cost ratchets up by an order of magnitude. And the TV shrinks to the size of a paperback book.
I had learned from my visit to Paris 20 years ago that speaking a little basic French makes a world of difference. So in preparation for our trip, Mike listened to French language CDs on the way to and from work. Most evenings, when we took our usual walk with the dog, we tried to speak French. I had taken French in college and graduate school, so the vocabulary came back to me fairly well.
OK, I screwed up here. I won't recommend the language CDs. It wasn't until I got to Paris that I realized that they had one basic flaw. They were excellent in teaching you how to speak French and phrase common questions and such. But they had no instruction in listening to French and interpreting it. So the usual situation in Paris was for me to formulate a question laboriously then pose it to my target who would then respond in French (doh!) so rapidly that I wouldn't be able to catch a single word. At this point I usually would look over at Mary appealingly and she usually would understand enough to figure out what the response was.
We also got a small Finnish-English phrasebook. After about 5 minutes of looking through it, we knew we were never going to speak Finnish, other than learning to say "hello" and "thank you"! I can think of few languages that are more alien to an English speaker. The Finns have my absolute admiration for learning English, as most of them do.
Well, Mary might have learned "thank you," I stalled out on "hello". As it turned out this never became a liability. The Finnish work for "hi" is "hei" which in a perfectly appropriate twist of fate is pronounced "hey"! Armed with my one word of Finnish I was able to come across as the consummate international traveler. I expect to be hearing any day now from the State Department. Minister without portfolio, oh yes. And without socks, too.
We bought several guidebooks for Scandinavia and for Paris. Most of them were very disappointing — too focused on hotels and monuments, and lacking pragmatic information about how things work — the customs and rules of etiquette, how to navigate the transportation system, etc. Luckily, Len Testa, a researcher for the Unofficial Guide to Walt Disney World, heard we were going to Paris and sent me a copy of the Unofficial Guide to Paris. Wow! This was a wonderful book, with tons of practical insights about navigating the city and understanding the way Parisians do things. It was the only guidebook we read cover to cover and actually took with us on the trip.
Guidebook writers, take some notes. The Unofficial Guide has little tidbits like differentiating between tables in cafés with tablecloths or placemats, and those without. Those with tablecloths are for people who wish to dine (have a real lunch, multiple courses, the whole schtick) while those without are for people who wish nothing more then a quick snack or a coffee or drink. Little thing, but kind of important to those of us who like to try and not look like absolute schmucks. This is the type of thing I look for in a guidebook. Everyone has a listing of which museums are best and stuff. You need to offer something else useful, and things like café seating are it. Though the next edition should also have a section devoted to local deep fried junk foods. This would be very helpful to all American tourists. Just my suggestion.
The Trip to Europe
The war with Iraq started three days before we departed for Scandinavia. We weren't particularly worried about our safety, but it's always unsettling to be away from home during wartime. And frankly we weren't too thrilled about our timing in going to Paris, given the strong French opposition to the war. But we had nonrefundable, non-changeable tickets and we knew this could be a once-in-a-lifetime chance. So we went.
I have to say up front that we experienced absolutely no hostility at any time during our trip, and we were treated extremely well throughout our travels in Finland, Sweden and France. Any French-bashing in this report is purely for amusement value, because in reality most of the French people we met were extremely charming and at no time was anyone rude (well, except the concierge at Disneyland Hotel). Interesting fact: most of the trendy clothing we saw displayed in shop windows, even in Paris, bore American labels such as Nike. That struck me as somewhat amusing, particularly at a time when our countries were supposedly at odds over a major war. The love/hate relationship Europeans have with the US can be quite fascinating.
We did make an effort not to stand out excessively, either as Americans or as tourists. Nothing major – we just avoided standing in the middle of the sidewalk in white tennis shoes and a parka, reading a huge map and speaking loudly in English!
Apparently in Scandinavia we fit in pretty well, because in the shops and restaurants we were always initially addressed in Finnish or Swedish. We would inquire politely if they spoke English, and they graciously switched. Virtually everyone we encountered in Scandinavia spoke perfect, unaccented English.
The French were onto us, though – no doubt we were not chic enough to pass as French, and we were sometimes given menus in English, or shop clerks would start speaking English the minute we walked up. Even so, we attempted to speak French at all times. About half the time we received a response in English, but it was clear that our feeble efforts at speaking French were appreciated. Everyone was very polite and helpful.
Too much so, at some points. Mary invariably asked for the menu in French if they offered a choice. I had an opportunity to discover that this may have prevented me from sampling some regional delicacies. The last night we were in Paris we went to a very nice restaurant that had been recommended in the Unofficial Guide. The Smoking Dog, or the Dog Who Smokes, or the Smoked Dog – something like that. The décor was based around the pictures with the dogs playing poker. But it was cute, because it was FRENCH dogs playing poker.
When asked, Mary requested the menu in French. No problem. I got steak with bearnaise. Excellent. Mary had some chicken stew with morels. Quite nice. Waiter made a mistake when it came time for dessert and gave us the English version menus. So now I'm looking over the other choices that I hadn't understood the first time around:
"Hey, they had rabbit!"
"Yes, dear, that's lapin."
"You didn't tell me they had rabbit!"
"Lapin, dear, and I thought you noticed it."
"No, I forgot the French word for rabbit. Hey, they also have quail! I don't even know the French word for quail so how could I have noticed that?"
"Oh, well, I didn't know it either. But now I do, for next time."
So lesson from me, unless you're fluent in French, don't be ashamed to ask for the menu in English if they ask.
The Flight and the Airports
We took Alaska Airlines to Seattle. Slept the whole way. This irritates Mary for some reason (well for other reasons besides the snoring). She feels that it's unnatural to be able to sleep anytime I get on an airplane. I think it's perfectly natural, a defense mechanism so that I don't have to interact with my neighbors. Besides I get the added benefit of arriving at our destination refreshed and annoyingly perky. This irritates Mary even more.
We had a 4 hour layover in SeaTac before our flight to London left. We'd planned on spending it in the hedonistic luxuries of the Northwest Club lounge. Alas, it closed after 3:00pm. This seems a strange time to close as one would think that people later in the afternoon would have more need of a soothingly quiet getaway but it was not to be. So we had to mingle with the hoi polloi.
That called for several large glasses of the finest ales the Pacific Northwest has to offer. I boarded the British Air flight comfortably insulated from the trials and tribulations of the world at large. World Traveller Plus is quite nice. The amenities are the same as in Coach – just more room. I'm not sure if I think it's worth an extra $300-400, but I'd willingly pay another $100-200 for it.
We had the rather nice seat back video systems. Since our two cross Atlantic trips would occur over a month end we got a different set of movies during the second trip. I managed to catch up on my action movies and during the course of the 4 legs on BA saw the latest Bond flick, the Two Towers, the awful and hopefully last Star Trek movie, and the Four Feathers which I think was done much better as a TV movie like 20 years ago. Oh, and a little of the nausea inducing Maid in Manhattan. Echh. BA coach airline food was pretty much on par with everyone else's coach airline food.
After the movies I slept some more, after having a couple of glasses of Merlot first. Quite nice and relaxing. Alerted by the loud rumbling noise emanating from mid-plane, the engineer came out to see if the starboard engine was disintegrating in flight, but Mary just pointed at me and he went back to the cockpit.
Heathrow, ah wonderful Heathrow. One thing I cannot figure out about this airport is its layout. Atlanta must handle easily as much traffic. How come in Atlanta you can get off a plane, walk no more then a quarter mile and you're in the central concourse, whereas in Heathrow you get off then march through featureless corridors for two or maybe even three miles before you get to a central area? Anyhow, after a long forced march we made it to the central concourse which apparently is now an American style mall. We looked in vain for information on our connecting flight to Helsinki. I was finally forced to interact with another human being, which is pointless when we have the modern marvels of video display screens. Echh, other people.
I found out that they don't post flight times and gates till around 30 minutes before the flight leaves. This puzzled me on all four of our visits to this airport until it finally became clear. There are no video terminals at the gates, which are 2-3 miles away down featureless corridors. If they posted the gate a couple of hours before departure and then the gate were changed for whatever reason, the people who arrived early at the gate would have no way of knowing that had happened. I wonder now how many missing people in the world are passengers who unknowingly boarded the wrong flight in Heathrow and have been toiling in a factory in Shanghai making Gameboys ever since?
Anyhow, we repaired to the Holodeck, which is a private lounge. Quite nice except for the bloke who sat right under the sign requesting no cell phone use, yacking away on his cell phone. I briefly considered slamming him in the forehead with a can of Heineken but discovered a better use for it. And also discovered that Britain has yet again marched ahead of us in the snack food department. Bacon flavored crisps! Dang, what a great idea. Not only that, they have a multitude of other pork flavored, deep fried potato products. From past trips I remember ham flavored crisps, smoked bacon crisps, pork chop flavored crisps, and even hedgehog flavored crisps. Which aren't actually pork though one could look at them as faux pork. Well, they're actually faux hedgehog with artificial pork flavor so there we are, full circle, right back where we started. Some kind of an in-joke having to do with some BBC program which I never saw and they might not make them anymore so don't send me emails saying you looked all over the British Isles and couldn't find them.
Anyhow, bacon flavored crisps. I like the term crisps so much better then potato chips anyhow. Tasty salty, porky goodness. I think I'll have another beer. I had several bags and would probably have had more but Mary was making that exasperated expression which indicates that I'm doing something I oughtn't. Which apparently in this case was gobbling up all the bacon flavored crisps. I desisted.
They tried to shovel more food into us on the Finnair flight to Helsinki but apparently 4 or 8 bags of crisps will ruin your appetite so I picked away at the food and thought longingly of pork flavored potato products.
Helsinki airport (or aerodrome as we're in Europe now) was nice in a vaguely '60's way. Anyhow, no problem to navigate around. We found our bags, and found a stand for what in the US would be the airport shuttle bus but is called the taxiservice in Finland. Oh, those wacky Finns. Minivan for two to the city center was only 18 euros.
Helsinki and Stockholm
I won't go into much detail about the Scandinavia portion of the trip, since it's wildly off-topic for MouseSavers! But we had a wonderful time. Finland was fascinating and we loved Stockholm. It is a beautiful city and there are lots of things to do.
Big thumbs up for Stockholm. Not so much for Helsinki, which is perfectly nice in a kind of Upper Midwest kind of way, well if the Soviets had taken over for 20 years or so. Lots of kind of boring, monolithic type concrete buildings with little interesting ornamentation. Problem is the city is relatively new as compared to other European capitals. So it doesn't have a lot of those 17th and 18th century buildings in the city center that make Stockholm interesting. And while Helsinki has not been directly controlled by the Russians since early in the 20th century, there were obviously still a lot of influences. Also, late March is probably the worst time to go. Everything is still gray and drab and spring hasn't really arrived yet.
The Scandic hotels varied a lot. The first hotel, Scandic Simonkentta in Helsinki, was convenient to everything. It was also new and sleek. Our tiny ultramodern room had gorgeous teak built-in furnishings that reminded me of a cruise ship cabin.
The Scandic hotel in Helsinki is very new, only been open a couple of years. Quite nice. Filled with a lot of that furniture that you see in the design and architecture magazines that no one actually sits in. Apparently Finns will sit in them. And drink. A lot. My kind of people.
The room was very small (as were all of our rooms on the trip) but well designed. They had all the modern amenities that one could desire except adult movies on cable. But according to Mary this is called regular prime time programming in Europe. I think she lied to me. I watched Finnish, Swedish, and French TV intensively for two weeks and didn't see a single naked breast. I am fluent in three languages now though.
The other Scandic hotels we used (Scandic Marina Palace in Turku and Scandic Anglais in Stockholm) were 60s or 70s era hotels and perfectly pleasant.
One note. In their misplaced environmental zeal all of the hotels we stayed in during our trip had replaced the hard soap with soft soap dispensers in the showers. I defy anyone who doesn't regularly wear Birkenstocks to state that a person can actually get clean with soft soap. Can't be done. Needs a hulking hunk of hard soap. The kind that can take off a layer or two of skin. Real man's soap – no moisturizers, no perfumes, no oils. Nothing benign to the environment. That kind of stuff. On our stopover in Seattle between the Scandanavia and France legs of the trip I made a special trip to the Rite Aid to get a real bar of soap to take with me. Turned out the French still use real soap so it was all for naught but I was consoled on our flight knowing that a bar of hard soap resided in my suitcase.
The Scandinavian breakfasts were heavenly. Every hotel offered a huge buffet with hot and cold dishes – eggs, meatballs, bacon, hot cereal, cold cereal, muesli, yogurt, fruit, smoked salmon, cold cuts, cheese, plus coffee and juice and lots more. Oh, and herring — usually three kinds. Personally herring makes me gag, but Mike loves it and I think he had several varieties every morning. I tried not to look. Anyway, it makes my mouth water just thinking about those buffets (except the herring). And all of this was included in the room rate, which we didn't pay, of course, since we were using points! Who could ask for anything more?
Yumm, herring. Had it for breakfast every morning. Sometimes at lunch as a starter. Also had reindeer, which virtually every restaurant in Helsinki serves. Including Finnish McDonalds too, I think – McReindeer burgers. I was thinking that it would be a lot like venison. It wasn't – a lot gamier. Didn't like it as much as I thought I would. Still I've tried reindeer now so that's another box marked off on my "Things To Do Before I Die" list. Had to take off the Japanese twins box when Mary saw it though (obligatory Goldmember reference).
Helsinki's cuisine scene has some ways to go yet. We may have just been unlucky. Nothing to complain about but nothing spectacular. In Stockholm, on the other hand, we had some truly excellent meals. And more herring.
While we thoroughly enjoyed everything we did in Scandinavia, I just have to mention one absolutely do-not-miss attraction. The Vasa Museet (museum) in Stockholm was incredible. The Vasa is a huge wooden warship that capsized and sank in Stockholm harbor on her maiden voyage in 1628. The ship, which is covered in intricate carvings and stands 6 stories high (not including the masts), was almost perfectly preserved at the bottom of the harbor. It was discovered in 1956, raised in 1961 and after archeological and preservation work was completed, the ship was moved to the current museum in 1990. We spent most of a day there, and it was fascinating. Almost all of the museum's exhibits are in English as well as Swedish.
In two weeks in Europe this was the only time we encountered stupid American behavior: a guy yelling across the length of the museum (it's a huge museum) for his kids to get a move on. Of course that kind of behavior would not be acceptable in an American museum either, but try telling him that.
We also came to some conclusions about Scandinavian museums and their contributors after visiting many of them. First, we believe that Finland may contain the largest concentration of coin collectors in the world. And they all seem to bequeath their collections to museums on their deaths, along with presumably healthy endowments, if they agree to display all of the contents of their lifelong obsessions. We saw more coins in museums in one week then we've seen all the rest of our lives combined. And squared.
Second, Scandinavians archaeologists seem to have an absolute fetish for Stone Age implements. They apparently feel a compulsion to display every single one they have ever dug up. Somewhere around the 14th or 15th exhibition of Stone Age axe heads we started jogging through the museums to get to the two items at the end that are unique to that museum.
Finally, from what we gathered from our trips to the museums in Stockholm especially, Vikings apparently ravaged the greater part of Western Europe, The British Isles and Russia in order to amass large collections of coins which they then buried randomly all over Sweden. I guess they didn't have museums to bequeath their collections to at the time. Apparently, a Swedish farmer has a better then even chance on any single day of discovering yet another stinking Viking hoard whenever he feels like plowing his fields. Mothers probably caution their children from turning over rocks because they might find a Viking stash and then they'll have archaeologists underfoot for weeks afterwards.
Old town in Stockholm was really pretty cool. We found a wonderful restaurant (Marten Trotzig) and had a magnificent meal for lunch. When dinner rolled around we thought about it for about one minute and decided to go back. On our way we came across another little café, Slingerbulten, that looked intriguing and ended up having another excellent meal there.
Markets in both Helsinki and Stockholm had the biggest variety of smoked meats and fishes as well as fresh seafood we've ever seen. Think Pike Place Market in Seattle, for those of you who've been there, only with a lot more smoked goodness on display. We cursed the American laws that prevented us from bringing unpasteurized, biologically suspect food products back into the country.
Bus systems in both Stockholm and Helsinki were easy to use, clean, comfortable – excellent. Pay a little attention that you're getting on the right bus. We ended up at the bus maintenance yards on one trip when I read 44 instead of 47. We had a good laugh with the bus driver. Mary now reads the bus numbers for me, confirming me in my dotage.
Stockholm has a subway system too. We're not sure why. Perhaps it's because major European capitals are supposed to have subways. Some kind of EU rule maybe. A mystery.
Swedish and Finnish beers are excellent. I sampled extensively and can safely say that I never had a bad one. Only drawback is there was a distinct lack of salty snacks to accompany said beers. I desperately wished I stowed away several bags to bring with me from Heathrow.
Paris
We returned to Seattle from Helsinki via London, and spent the night with my brother Don, his wife Sarah and their two adorable sons, Roland and Malcolm. My brother Bob also came over for awhile. While it was a short visit and we were jet-lagged, it was great to see everyone.
I greeted everyone and promptly fell asleep.
The next afternoon we got right back on the same British Airways jet to London. We even had the same flight attendant. Boy, did she do a double-take! "Weren't you just on this plane yesterday?" I just laughed and said yes. It was too complicated to explain. It was kind of fun feeling like a jet-setter, though.
After a change of planes in London, we were off to Paris. We walked off the plane and into a dense cloud of cigarette smoke. Ah, Parisians and their cigarettes! As we went in search of a restroom, we noted that the man working at a nearby information desk appeared to be almost suicidally bored, presenting a perfect example of why the French had to invent the word "ennui". He was leaning on one elbow, staring at the ceiling and smoking a Gitanes, right under the Ne Pas Fumer (no smoking) sign. Perfect. This must be France.
Charles de Gaulle Airport is looking a little down at the heels. I have this airport kind of immortalized in my mind from any number of spy/jewel heist flicks. Going through it screams cosmopolitan and sophisticated in the movies. Now it reminds me more of Duluth, or possibly Omaha.
The mere concept of a no-smoking section seems to be contrary to French sensibilities, though they now have such sections in all Paris restaurants — something I could never have imagined when I visited 20 years ago. I recently read that only about 25% of young people in France are smokers, though, so there go the stereotypes.
After consulting various guidebooks, we had decided to use the RER (suburban rail system) from Charles de Gaulle Airport to Chatelet-les-Halles station in Paris, and then take a short cab ride to our hotel. Apparently that was supposed to save a lot of money, though the guidebooks warned that pickpockets are abundant on that line, preying on jet-lagged tourists.
However, we had slept fairly well on the plane and we felt alert enough. Finding out how to get to the train was another story. There were signs indicating the direction of the intra-airport bus that goes to the RER station, but once we found the bus stop we couldn't tell which waiting area was which. Fortunately the next bus along was clearly marked RER and we were off to the station. There we figured out how to buy our tickets and boarded the correct train into Paris. Whew!
Every available surface on the RER train was covered in graffiti. I've been on much nicer New York City subway trains. The landscape on the way into Paris was not nice, either. Miles of dismal, graffiti-laden stuff as far as the eye could see. No one bothered us on the train and it was pretty inexpensive, but it was also not the most pleasant way to enter Paris.
We arrived at Chatelet-les-Halles. What I hadn't remembered is that this is the largest and busiest station in Paris. Also, we were arriving during rush hour. Luckily we each had only one wheeled suitcase and a carry-on bag, because we had to fight our way up 7 escalators to street level.
OK, this goes on the 'never do again' list. Sure it seems convenient and easy. Just take the RER into central Paris. No problemo. Pshaw. We found ourselves deep into the bowels of the earth, fearing that we'd never see the sunlight again. And after wandering around in said bowels, we thought we were lost forever. But we finally found the up escalator. Then the next one, and the next one, and the next one. Reminded me of a horror short story I read many years ago.
There were signs over the escalators reading "Taxis" and pointing upward. And indeed, on the street level there were more signs reading "Taxis" and pointing toward the exits. But could we find a taxi stand? We could not. We walked several blocks in each direction without locating a taxi. Finally we just decided to walk. As it turned out, the hotel was only about 6 blocks away, so this was no problem.
Oh, as an aside. We had read in a major guidebook that one cannot flag down a taxi on the street. Legally that is. You're supposed to go to a taxi stand and get one. It would help if they had signs indicating where the nearest stand was. As it is, you wander randomly up one block and down another in search of one. (We later found out that this was completely untrue… you can flag taxis in Paris, if you can find one that is available!)
At this point we were tired and flustered and just wanted to lie down. (We also swore we'd never use the RER to go back to the airport, and in fact we did not. We took a cab, which was much faster and cost only about $10 more than the train. It was worth every nickel.) At last we checked into Hotel Brittanique and got our room key. Then I went up in the hotel's miniscule elevator with the suitcases. It would not hold two adults and two suitcases. Mike had to come up separately.
Our kitchen table has a bigger footprint than this elevator. And you also got to play musical tag with the call button. The button starts to blink when it approaches its destination. Once it arrives and the people get off, the button starts glowing steadily. You have to punch it the second it quits blinking in order to get it from all the other people who are trying to call it. If you listened carefully you could hear the people on the floor below you say "Damn" when they'd realized they'd lost the elevator tag game again.
The hotel room was small but charming. Impeccably tasteful drapes and bedspread. Very French. I was pleased.
Obviously, people in Paris don't need closets. The one we had comfortably held 2 shirts and one dress. No chest of drawers, either, though there were a couple of drawers in the desk. So we pretty much lived out of the suitcases.
We took only a brief look at our surroundings before plopping down for a nap. At about 10:00 pm we woke up ravenous and decided to venture forth in search of some food. Fortunately for us, there were an abundance of restaurants nearby. We walked across the street and had a late dinner of chaucroute (sauerkraut cooked with several types of pork products, including various sausages, ham and other piggie parts) at Le Zimmer, an Alsatian-style restaurant which had stunning Art Nouveau ceilings. The food was delicious. All of our meals in Paris were delicious. I think it's against the law to serve bad food in Paris.
Mary loves duck. And it's usually not too common in restaurants in America. The French, on the other hand, serve a lot of duck. One day at lunch Mary decided to order the salad with smoked duck and duck confit for the main course. The waiter looked at her and said "You would like duck and duck?" She nodded primly. I tried to explain that she doesn't get to try much duck in San Diego, but he was already striding away, shaking his head at the strange Americans.
Something we really enjoyed about eating in France is the slow pace. A restaurant meal will take 2 hours or more. You'll typically have a small first course, a main course, sometimes a cheese course, then dessert and eventually coffee. The courses are delivered with long gaps in between, so that you can eat slowly, talk, drink wine and savor every bite. I'm sure some Americans find it frustrating, but we were prepared for it, and we were on vacation and not in a hurry. We particularly liked relaxing over a cup of espresso (which was invariably accompanied by a little packet containing two chocolate-covered almonds rolled in cocoa) without feeling the slightest hurry. They will never bring your bill until you ask for it. American restaurants make their money by turning over tables rapidly. French restauranteurs think a meal is an almost sacred thing. The table is yours for the night.
We got so used to the slower pace that we didn't even notice issues that would somewhat irritate us back in the US. We had dinner one night at a little brasserie, Tete d'Or, around the corner from our hotel. It obviously was a family run business and the waiter was a young boy, probably around 15. After our starter we waited for quite a while, spending the time watching other people and enjoying a very nice Cote du Rhone. The waiter eventually came back to our table with menus so that we could order dessert. We looked at him a little strangely and remarked that we hadn't received our main course yet. For a moment, I wondered if just possibly they'd changed things and the French had started eating dessert before the main course. But it seems that the young man was just confused and he eventually was able to locate our missing main courses, and confiscated them from the people he did give them to and placed them on our table. We were concerned that we might have lost the chance to order dessert after that, but he decided that we could do so after we ate every morsel of our dinner.
After dinner, I remarked that I was fairly sure it would only be a block or two to the Seine (the major river that divides Paris down the center), and suggested we take a short walk. We strolled to the Seine, which turned out to be only a half-block away. I said "look to your right." The look on Mike's face is something I'll never forget. There was the Eiffel Tower, silhouetted against the sky and gilded with lights. I said "look to your left." There was Notre Dame cathedral, floodlit and dazzling, two blocks away. Fantastic. I knew I had picked a hotel with a great location, but it really was an amazing moment.
Yeah, yeah, yeah. She shoots – she scores! The crowd goes wild! All right, it was pretty cool. She gets a gold star.
The next day we had a leisurely breakfast in the Hotel Britannique's breakfast room. It was "just" a self-serve continental breakfast, but very delicious — perfect baguettes, croissants, wonderful cheese, and the best yogurt I've ever eaten.
We were a little concerned as breakfast was not included in the room rate, and there didn't seem to be anyone keeping track of who was eating it. There was a woman who kept the buffet all stocked up but she never talked to us. So we spent the entire week wondering how they would account for how many times we'd had breakfast. The mystery was cleared up on the final day on checkout, when they simply asked how many times we had breakfast. It's kind of interesting to be confronted by the honor system nowadays in a hotel.
Then we walked over to Notre Dame and spent a long time taking it all in. The stained glass is awe-inspiring. It's just too bad a lot of the tourists are so crass. The cathedral was full of inappropriately-dressed people talking at full volume, gawking and taking flash photos of each other. Few seemed to be quietly and reverently appreciating it as both a house of worship and a stunning architectural monument. It made me sad. I was relieved to note that most of the worst offenders were NOT Americans, however.
In the afternoon, we were off to Disneyland Resort Paris (formerly EuroDisney). Since Mike is not a Disney nut like me (his only failing), he had never been to France before, and there is so much to do and see in the city of Paris, we decided to spend only one night at Disneyland Resort Paris. I agreed to drag Mike through only the Disneyland Paris theme park and skip the new Walt Disney Disney Studios park, because from what I understand, the Studios park is very similar to Disney's Hollywood Studios at Walt Disney World.
Mike's Report: Euro-Disney or Disneyland Paris or a Blot on Our Landscape
After our adventures with the RER and trying to maneuver with large bags through the bowels of the Parisian transit system, we decided to make use of our newly acquired knowledge and take the trip out to Disneyland Paris with nothing more than overnight bags. This turned out to be a very fortuitous decision, for reasons I'll recount later.
We packed up and said adieu for one night to our lodgings at the Hotel Britannique, and made our way back to Chatelet-les-Halles station. After 3-4 hours of wandering around in the catacombs we found our subway quay. The RER trip out to Disneyland Paris was really no better nor worse then the trip in from the airport. The train was badly disfigured with graffiti though overall clean. And crowded. (Though not nearly as crowded as it would be on the way back. But that's a story for later.) Of course since Disneyland Paris is located at the last stop of the line, the crowding didn't last terribly long and by the time we arrived the train was fairly empty.
Getting off the train at Marne-la-Vallée / Chessy station, we discovered our first difference between US Disney parks and EU Disney parks: signs, or the lack thereof. The station is fairly nice and spacious but whereas in the US there would be large numbers of big signs saying "THIS WAY FOR PEOPLE WITH CASH BURNING HOLES IN YOUR POCKETS" we couldn't find a single sign indicating where the hotels were. We could see several of them from outside the station and Disneyland Park is right there, but there were no signs informing prospective customers where to go to dislodge those uncomfortable wads of cash. We wandered around for a bit and soon found a set of bus stands that obviously were for the various theme hotels. Naturally they were right next to where we exited the station, but we were too stupid to see them.
Anyhow there was also a map of the surrounding area with the hotels clearly marked. From the looks of it we could have walked, but I decided that the map didn't give enough detail to make me comfortable about whether we were embarking on a 5 minute stroll or an epic journey. And it looked like it was going to rain any minute. So I convinced Mary to wait for the shuttle bus. Three minutes later the heavens opened and dropped rain, small hail, large hail and small hairless dogs. Kicking aside the vicious little brutes, we boarded the shuttle and traveled in comfort to Disney's Hotel New York. I took this opportunity, one of the few during our sojourn in Europe, to smirk.
The hotel itself was nice if somewhat bland. Other than some décor touches like the Mets emblem painted on the floor of the lobby, there really wasn't much to distinguish the hotel as particularly New Yorkish, whatever that's supposed to mean. While Mary handled registration, arguing with clerks, dispensing of tips and such tasks, I wandered over to the bar. Division of duties you know. And a nice bar it was too. After 30 to 40 minutes of effort, Mary was finally able to dislodge me from my comfortable seat, but only after frosty, cold beverages had been consumed, and off we went to our room.
[Note from Mary: I now know why it was the French who invented the word "bureaucracy." In packing an overnight bag for our trip out to Disneyland Paris, I neglected to grab our Disney hotel confirmation. This dismayed the front desk clerk at Hotel New York greatly. I mean greatly. Even though our reservation for a lakeview room was right there in the computer and I had all kinds of ID and credit cards, that was insufficient. I had not followed procedure and brought the all-important piece of paper, which, to be fair, WAS printed with instructions to bring it along. Well, she was beside herself and had to consult with 2 or 3 senior management types before she could actually give me a room key. She was perfectly pleasant and polite throughout this interchange, but I actually think she would not have let us check in, had it been up to her. Fortunately the Disney brainwashing, er, training ("exceed the guest's expectations") defeated her desire to punish me for my transgression. And exceed our expectations she did…]
Though the desk clerk had said nothing to Mary, she had obviously upgraded us. The room — or more properly suite, or perhaps aircraft hanger — was huge! I mean basketball-court-size huge. It had 1 1/2 baths for chrissake. Possibly the room wasn't quite as big as it seemed, as we had been inhabiting European hotel rooms for close on two weeks by this point and something bigger than a broom closet would have seemed incredibly spacious to us at the time, but we were quite impressed with the room size. I mean it was big!
Ok, enough about that. The room was quite nice and the bathroom — or I should say the main bathroom — was quite high quality, with a nice selection of toiletries. Interesting touch: unlike American suites, there was only a TV in the bedroom — none in the sitting room. I didn't miss it 'cause after a few days French TV pretty much loses any interest for anyone with a pulse.
After checking out the room we went back to the lobby and the concierge to attempt to make reservations for dinner. This turned out to be harder then we expected, as the hotel was hosting a Microsoft Europe conference and they had reserved the entire main restaurant in the New York. The other high-end restaurant, at the Disneyland Hotel, was also closed for some reason. Besides, it was called the California Grill, and even assuming it wasn't very similar to the one at Walt Disney World, we live in California and we didn't travel several thousand miles to eat stuff we can have every other day. So we decided to get a reservation at the Yacht Club, the main restaurant at Disney's Newport Bay Club hotel. I will say that the concierges at the New York were mighty helpful.
On our way to dinner we stopped at Disney's Sequoia Lodge hotel to check it out. It's kind of a slimmed down Wilderness Lodge, though with more of what I think of as a California mountain feel, rather than Yellowstone, for instance. Which makes sense as they named it after a national park in California and all. Seemed pretty nice but not quite up to Wilderness Lodge.
[Note from Mary: I was a little disappointed with the Sequoia Lodge. I had expected it to be similar to the Wilderness Lodge at Walt Disney World or the Grand Californian Hotel at Disneyland, but in fact it had nowhere near the level of detail and quality. The architecture was a bit boxy and lacked the natural forms I associate with the American national park lodges.
Hotel New York, Newport Bay Club and Sequoia Lodge are all on a "lake" and lake-view rooms are sold at a premium. By American standards, the "lake" is a small pond; the views across it are of the other hotels and of the back entrance to Disney Village (which is virtually identical to Downtown Disney). On a late-winter/early-spring day, the surroundings seem somewhat barren, without the lush foliage one associates with Disney's US resorts. At night the view of the Newport Bay Club from Hotel New York is quite lovely, since Newport Bay is outlined in lights; unfortunately Hotel New York and Sequoia Lodge do not have similar lighting, so views from Newport Bay aren't particularly impressive. Newport Bay is absolutely huge. With over 1000 rooms, it's the biggest hotel in Western Europe.
The hotels have pools, some of which are indoors, but they are only lightly themed. None are anything like the spectacular pools at the Moderate and Deluxe Disney resorts at Walt Disney World, or the Neverland Pool at California's Disneyland Hotel. Overall at the Hotel New York and Sequoia Lodge I had a feeling of a thin veneer of theming being slapped onto a standard modern hotel shell. This feeling was even more pronounced at the Hotel Cheyenne and Hotel Santa Fe, which are the least expensive of the Disneyland Paris hotels and have a very "motel-like" feeling, at least from the exterior (we didn't go inside the lower-end hotels due to lack of time). Only the Newport Bay Club and the Disneyland Hotel reminded me of Disney's best hotels in the US.
We looked at the menus at all of the major hotel restaurants. The food offerings sounded outstanding and sophisticated, which is not surprising when you consider that eating is a very important component of French culture. I doubt that you could find a really bad meal at any of the Disneyland Paris hotels.]
The Newport Bay Club hotel was obviously modeled on Cape Cod or the Hamptons type designs. I kind of like that, but not to the extent that I'd take it over Wilderness Lodge, for instance. Seemed a little noisy inside, but that might have been because a lot of people seemed to be arriving back from the parks at about this time and all of them decided to stop off in the bar for libations before feeding the kids or whatever. There may have been something like 150 people in the bar and possibly 2 wait staff. Though alcohol deprivation may have caused me to hallucinate the second one. Poor girl, she'd serve a British party and by the time she'd brought their order they were ready for more. Eventually I was able to steal a beer from the big group of Brits seated next to us while they weren't looking.
[Note from Mary: Of course that's a lie. Everyone knows no self-respecting Brit would set down his beer long enough for it to be stolen!]
Dinner at the Yacht Club was decent though not exceptional. I'm sure I ought to offer some kind of review of what we ate but to tell the truth I can't remember and I can't find a copy of the menu to jog my memory. Overall, compared to the food we ate during our time in Paris it was nothing to write home about. Hmm, but that's what I appear to be doing here. I think I need to up the meds, can't handle the dissonance.
[Note from Mary: It was a beautiful restaurant, with lots of mahogany woodwork. In all honesty I can't remember exactly what we ate, either, except that it was seafood. The Yacht Club restaurant bills itself as "a gourmet cruise through New England specialties," but I remember remarking, upon seeing the menu, that the cuisine was distinctly French. Like most French restaurants, it offered fixed-price "menus" that allow you to choose one each from a selected list of starters, main courses and desserts — or you can order a la carte. The price-fixe "menus" are almost always a wonderful deal compared with ordering items separately, but your selection is a bit more limited. We both ordered full "menus," and we had a nice bottle of Pouilly Fume. We also had coffee, which was not included in the set menu. The service was a little hurried. Not bad, not great. Our total was slightly over 100 Euros, which isn't too bad for a rather elegant three-course meal. One nice thing: in France the service is included, so you typically leave only a few coins as a tip.]
I think the major reason why we didn't find it all that distinctive is that it was pretty much just like themed restaurants across the width and breath of the United States. We found the meals we had in the little Parisian bistros so much more memorable — even if the food wasn't really any better in some — because of the atmosphere and the people watching. In all respects eating at the Yacht Club would not be any different experience from eating at many of the restaurants in Walt Disney World. That's not a bad thing, it's just that I could not discern the fact that I was just outside Paris, France as opposed to being in Orlando. Well, no one was wearing shorts for one thing. But then again it was pretty cool outside. Possibly later in the year the differences would have been nil.
Strangely enough, for the first time since we'd arrived in Paris we left the restaurant feeling distinctly stuffed. It didn't seem like the portion sizes were any bigger or anything. Maybe it was the "American style" cuisine or something more undefined. In any case I was too stuffed to check out the New York's bar further. So we decided to call it a night and get up bright and early to enjoy the sights of Disneyland Paris! Wee!
The next morning, groggily dragging my old and graying carcass to the main restaurant in the New York, I found myself confronted with a buffet breakfast that was skimpy at best. A few scraps of cold cuts, lots of rolls and sweet pastries and that was pretty much it. Well, except for my coffee, my lifeblood, my reason for continuing to eke out a miserable existence on this reeking mortal coil, and? ah, I feel much better now. Off to the park!
I can't remember if we paid for breakfast or if it came with the room. It we paid for it then it wasn't worth it. If it came with the room then it wasn't worth it. I'm not a breakfast person. (Unless we're talking country ham, grits and red eye gravy — then yessir, I'm your boy. Just let me get a plate here and, perhaps a little more gravy there for those grits please, and do you have any more of those homemade biscuits?) As I was saying, I'm not much of a breakfast person, so skimpy doings for this meal don't bother me unduly, but I'm not shepherding a passel (herd, gaggle, grouping) of kids around. I'd think this breakfast might be a little light for most families.
[Note from Mary: I didn't think the breakfast was bad. There was plenty of food. It's just that compared with the enormous variety and quality of the breakfast buffets we had in Scandinavia, it looked kind of puny. There were a variety of pastries, yogurt, juice and coffee, and a few cold cuts. You wouldn't starve, but it's just a basic continental breakfast that is included in the room rate. For a fee you can upgrade to a hot character breakfast, but I was afraid Mike would pop a gasket if I forced him to confront a French Mickey Mouse that early in the morning.]
So off to the park. It was a beautiful day, bright sun, blue skies, birds chirping away, and a brisk yet bracing chill in the air. Mary hated it. She considers the sun to be evil and wrong, but that's 'cause she's the palest person in America. 75 watt bulbs give her a sunburn. And she hates it when the temperature drops below 80 degrees F, whereas I feel that temperatures right around freezing are just right. This makes for interesting times in the bedroom, with me trying to get a little fresh air and her complaining that 40 degrees in the room is too cold. Wimp.
Our first interesting encounter was with the idiosyncratic Disneyland Paris signage system again. After much backing and filling we finally figured out that first you have to get tickets over THERE, and then you enter the parks over HERE. Unlike somewhat more logical designs (like pretty much every amusement park in the US uses), they have ticket selling off to one side and the entrance over on the other side, instead of right in line with each other so you can buy your ticket and then proceed in a straight line to the person who will take it.
So we entered the park. What can I say about it? Well, I liked it. It doesn't seem as large as Magic Kingdom and I don't think it's even as large as Disneyland. It still has a nice feel to it. Kind of warm and cozy and something to wrap around you on a cold night. With a nice little snifter of brandy on the side. The different areas seem to kind of blend into each other a little more organically, as opposed to turn a corner and bam! you're in Frontierland or whatever.
And there are some nice touches like the Audio-Animatronic dragon in the basement of Cinderella's castle. [Note from Mary: This was really cool. You have to explore some tunnels to get to the dragon, which is huge and realistic-looking. It even breathes steam. A little English boy who walked in at about the same time as us took one look at it and said "Mummy, I am afraid of the dragon. Please can we leave?"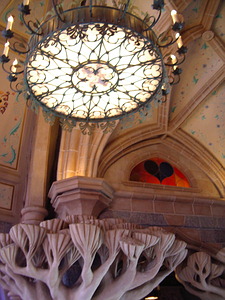 We also went upstairs in the Castle and walked through La Galerie de la Belle au Bois Dormant (Sleeping Beauty's Gallery), which is a very lovely display of the story behind Sleeping Beauty, using tapestries and stained glass.
To back up a bit, I have to say that when we entered the park, I was completely thrown off by Main Street. It looked very much like the American Disney Main Streets, which is not what I was expecting! For some reason I had thought Main Street at Disneyland Paris was covered by a glass-topped arcade to keep the rain out. I was sure I had seen pictures of this. As it turned out, on the way out of the park we discovered that there are covered shopping arcades behind the main street facades. The arcades are completely unlike anything in the US parks.]
I also liked the pirate caves in Adventureland, along with the pirate ship from Peter Pan I think. [Note from Mary: The caves on Adventure Isle in Disneyland Paris' Adventureland are similar to the caves on Tom Sawyer Island, but much more elaborate, with colorful stalactites and stalagmites, waterfalls and grottoes. I think some of it was probably patterned on the long-gone Rainbow Caverns at the original Disneyland. And indeed, docked at Adventure Isle is Captain Hook's ship, which is magnificent. There is also a Skull Rock, just like they used to have at Disneyland in California. Ironic that the French Disneyland has some great classics you can no longer visit at the original!]
I liked the Haunted Mansion though it really wasn't radically different from the one in the other parks. Just a few different touches. [Note from Mary: Now, here's where you can see that Mike is not a true Disney fanatic. In fact, Phantom Manor at Disneyland Paris is hugely different from the Haunted Mansion in the US parks! First of all, it's in Frontierland and is built to look like a mansion in a Wild West ghost town. It reminded me very much of some of the big old mansions built in the 1880s by silver mining millionaires in Arizona and Colorado, and later abandoned when the mines went bust. However, the interior decoration of Phantom Manor is very French and very elaborate. Apparently this particular Old West magnate imported the fanciest European fittings money could buy…
While there are bits of the Phantom Manor attraction that are very similar to the US Haunted Mansions, the overall look and feel of it are distinctly different. It is darker in tone and more gruesome than the American versions, though still not terribly scary. The detail is amazing (better than the US attractions) and the storyline is much clearer, focusing on a bride who loses her fiance to a jealous phantom on her wedding day. The phantom hangs the groom in the attic, unbeknownst to the bride, who continues to live in the creepy, abandoned house, waiting for her fiance to return. You meet the bride repeatedly throughout the attraction. Plus, the graveyard scene is completely dissimilar from the American version, and the attraction ends in an Old West ghost town full of raucous ghouls. I think Phantom Manor is the best of the Haunted Mansions.]
Big Thunder Mountain was set on its own island in a moat, which was pretty neat. The Wild West area was probably the least appealing area in the park, though. [Note from Mary: The French do seem to be in love with the Old West, and Frontierland is bigger and more important at Disneyland Paris than at either of the American parks. For those of us from the real Western US, European ideas of it sometimes seem amusingly unrealistic. Also, it's a bit odd that the paddlewheel steamers dock in Frontierland; you go by the red rocks of Thunder Mountain while "cruising the Mississippi," which is just weird. I did think the theming of Frontierland was exceptionally detailed, though.]
I really grooved on the Jules Verne appearance of Discoveryland. [Note from Mary: I have to agree, Discoveryland is stunning. The Art Nouveau theming is gorgeous. It makes Tomorrowland at either of the American parks look sick.] Space Mountain somewhat sucked. Outside it looked much cooler than either of the ones in the States. And a video in the line indicated that there was some sort of linear accelerator type action to launch you onto the ride. But when we got on, the obviously lackadaisical staff sent it limping forward rather then allowing it to blast us through the roof. Sad. [Note from Mary: I agree, this was a complete disappointment. Space Mountain was the first attraction we hit in the morning, and the park was nearly empty because it was a cold, windy Tuesday in early April. Yet we had to wait in the pitch-black queue for 45 minutes because they were only running one side of the attraction and the Cast Members were loading the ride at a snail's pace. There are some beautiful queue elements, but not until the very last bit, just before you get in the ride vehicles. Once we finally got on, we were sent partway up the launch hill and then stopped for several minutes. When the ride restarted, it all seemed to be in slow motion. Perhaps this is normal, or perhaps the attraction was malfunctioning. Either way, we weren't going to stand in that line again. Knowing the French predeliction for strikes and other labor actions, perhaps it was a work slowdown!]
On the other hand they had Timekeeper, which I really miss in Walt Disney World. Interestingly enough in this version, which is called Le Visionarium, the robot narrator isn't using Robin Williams' voice — some sort of licensing fallout with Mr. Williams and Disney, I gather. And the movie has several scenes that never appeared in the US version, including one with Gerard Depardieu and the Concorde. What one has to do with the other I'll never understand. But it's France and you have to have Mr. Depardieu in it or I think it's against the law or something.
[Note from Mary: I wanted to check out Les Mysteres du Nautilus, a tour of Captain Nemo's submarine, and Orbitron, which sends you through "a fantastic animated galaxy inspired by the great Leonardo da Vinci's sketches." But alas, both were closed for refurbishment.
So we moved on to Fantasyland. Well, Fantasyland was really beautiful. The attractions are basically the same as in the US parks, but the overall design and atmosphere are fabulous. The use of color is amazing, the details are stunning and it's just a lovely, lovely place. We spent quite a while walking around, just drinking it all in.]
We ate lunch in Cinderella's place or Auberge de Cendrillon. It offered a typical bistro type menu, quite nice though pricy. It was not very busy the day we were there. [Note from Mary: This restaurant, which is at the base of the Castle, has a very, very pink interior. It would be heaven for a 7-year-old girl who likes Princesses. In other words, it's very pretty but perhaps a little cutesy for many adults. I had a salad with goat cheese, followed by a creamy risotto. Mike had a charcuterie plate (pates and cold cuts) followed by blanquette du veau (veal stew). It was all very good, but probably the richest meal we ate in France. The service was indifferent and it wasn't cheap. Cost was 59 Euros, including a beer for Mike and Perrier for me.]
We wandered through the park for much of the day, forshortened because of the end of winter and because many of the things there were the same as in the US.
[Note from Mary: One thing that was different is Pirates of the Caribbean. It is more similar to the Disneyland California Pirates attraction than to the Walt Disney World version, and therefore (in my opinion) superior. The pirates definitely have a French flair, but the familiar songs are in English. There is a nice-looking restaurant, the Blue Lagoon, in the center. It's similar to Blue Bayou at Disneyland in California, but with a much more tropical decor. I wish we had eaten there instead of at Auberge de Cendrillon.
Another thing — and I'm amazed Mike forgot this one — is the unique attraction "Indiana Jones and the Temple of Peril: Backwards!" This is a roller coaster that puts you into a runaway mine cart. It has a full loop and you do the whole thing backward, so you can't anticipate anything. The theming is excellent. We loved it.]
Overall I'd say the park was pretty nice. I'd definitely go again. It would be better if there was some means of inculcating a little more of a work ethic among the staff though. Several times we got the distinct impression that the kids running the rides or serving in the restaurants were doing so under protest. Obviously catering to tourists and working in such a banal place as Disneyland is crushing to the ego. We had fun figuring out the conversations of the ride operators as they were doing their level best to ignore people trying to actually ride on their rides. Like:
"Ah, Marcel, what a soul crushing experience this is, catering to the foolish masses. How I wish we were not required by the capitalist exploiters to earn money to buy our wine and Sartre!"
"So true, Gabrielle. I think it's time to organize a strike so that we can force the capitalist exploiters to grant us an additional 6 weeks vacation a year on top of the 6 we already have! There is many a café table that goes unoccupied where we should be spending our days, much more usefully than pushing buttons to send the horrible tourists on their way through the banal experiences of Disneyland."
And then all nod in agreement at the obvious truth of this sentiment.
[Note from Mary: After we left the park for the day, we walked through Disneyland Hotel. If I had it to do over again, that is where I would have stayed. This five-star luxury hotel is very reminiscent of the Grand Floridian. Best of all is its location; the hotel consists of two wings connected by a second-floor walkway that spans the entrance to Disneyland Park. Many rooms have views into the theme park.]
So after gathering our bags back at the hotel we went back to the RER station and tried to take a train back into Paris. I say "tried" because none of the ticket kiosks were working. We noticed other people wandering around looking confused also. Puzzled, and remembering we had overheard mention of some sort of transit strike, we decided to go over to the nearby Disneyland Hotel to check with the concierge there and see if they had any information. Mary's first encounter was a non-event as the concierge was on the phone and determinedly avoided making eye contact with her. The valet parking attendants turned out to be much more helpful. And since they were being helpful, the concierge, assuming his position to be in jeopardy, jumped in and informed us that there was indeed a transit strike and than the trains, when and if you found one, were free.
I don't know. I have this possibly unrealistic expectation that since the train station is on Disney property, and since most of the people who arrive or depart at this station are tourists, maybe in events like this Disney might station a customer rep at the entrance of the station to inform people about what's going on. But then that's just me, ugly American and all.
Well, we waited for quite a while before a train did arrive. We had one major advantage — the station was the end of the line, so it would arrive empty. After seating ourselves and just before leaving, one of the patrolling gendarmes entered the car and said something in rapidfire French, before quickly departing. For a moment I considered the possibility that he was warning us that since the transit workers were on strike, there was a potential that we might encounter switches that hadn't been switched properly, and that the chance of a head-on collision with another train driven by a management type who hadn't been out from behind a desk in 10 years was, while not particularly high, a possibility nevertheless. Mary managed to make out something about grasping belongings tightly as thieves would be rampant. This cheered us immensely.
After setting off they managed to pack the train to completely full and lacking oxygen within a couple of stops. And we were still way out beyond the suburbs. We figured that people would just give up trying to board once they saw the state of the train but silly us. As near as we can figure once the doors opened and a few poor unfortunate souls were extruded out like paste from a tube, the waiting passengers would put their heads down and bull determinedly forward till they cleared the doors. I think a few may have backed up and got up to ramming speed first. By the fourth or fifth stop the small children had been crushed and their bodies shoved under the seats. By the time we got into the central arrondisements the mass of bodies aboard approached gravitational collapse and mini black holes were in danger of forming.
[Note from Mary: At some point, midway to Paris, I actually saw a man with two huge, muzzled German Shepherds board the train. How they managed to squeeze on is anyone's guess. But dogs are welcome almost anywhere in France.]
But then we actually made it to a station where for the first time it seemed more people got off than got on. We're not sure about this, 'cause I think they were starting to pull the crushed remains out and drop them on the station floors. We figured that if we got up around 10 or 12 stations early, we might be able to slam our feeble bodies through the mass and get to the doors, possibly overrunning our stop by only 5 or 6 stations. As it turned out, since we were getting off at the dark hole of Parisian Metro stations (Chatalet-les-Halles, the third or maybe fourth circle of Hell), many other doomed souls also exited there and we were able to get off while only getting groped three times, once for Mary and twice for me.
Thus ended our delightful trip to EuroDisney. For me, the trip was well worth the time away from the wonders of the Louvre and Parisian bistros. I sampled several fine French beers. I had several more cocoa coated almonds with my espressos. And I was able to smirk once, a real bonus.
Mike's Supplement – Conclusion and Some Paris Highlights
Sundays in Paris – everything closes down. I mean everything. Ever seen "Night of the Comet" or any of those other post-apocalyptic movies where the cities are completely deserted? It was like that. Every other day of the week, the streets were full of traffic, 25 hours a day. On Sunday there were no cars on the streets. No pedestrians, no one except other tourists. It was kind of strange.
Of course we'd planned on going to the Louvre on Sunday. It was our second visit, to check out some of the exhibits we missed a couple of days earlier. We got there and discovered where everyone in Paris was – standing in line at the Louvre. The mystery was cleared up later when Mary checked the guidebook and discovered that the first Sunday of the month, admission to the Louvre is free.
Since everything is closed on Sunday, which we didn't realize, we missed an opportunity to pick up some goodies to take with us, because many places are also closed on Mondays. Hard to believe that a people can operate a viable economy when they are closed for business close to 30% of the time. Ah, the French.
The Louvre apparently is understaffed, so many exhibits are closed on any particular day. Not really a problem because they close the exhibits on a rotating basis, so if the Egyptian wing is closed on Mondays, it'll be open on Tuesday. And unless you decide to jog through the museum you'll have to plan on spending 2 days doing this properly in any case. Oh, and don't use the main cafeteria for lunch. There's a smaller restaurant in one of the wings which is much more pleasant to relax in and have a meal.
There was a surreal moment on one of the large stairs between one wing and another where we started to go down and discovered a large group of Japanese tourists stretched across the stairwell popping away with cameras at a sculpture on the landing above. The incessant flashes blinded me for a minute and then I started into my Godzilla imitation. Mary kicked me in the shins before I devoured more then one or two tourists. Spoilsport.
We had an interesting encounter with a driver for hire in the Louvre. He approached us just after we walked away from the information desk and asked us if we were going to Normandy. We said no, we'd like to, but there wasn't enough time on this trip. He offered to take us there himself. He even offered to drive us there in a rental car — if we'd rent it, he'd handle all the driving. As intriguing as this offer was, the thought of handing over the keys to a rental car in my name to a stranger just seemed a little too much to ask for. I suppose he probably was legit, but it's the type of offer (limited time only, first come, first served!) that raises large warning signs on any sensible American's part. Or maybe I'm just too distrustful. Yeah, that's it.
We planned on checking out several other museums but plans in Paris always seem to go awry. We usually found ourselves just wandering around seemingly at random and didn't get to as many museums as we'd planned. Not a problem in our case – the weather was pretty good while we were there though Mary complained about it being a bit cold.
We did check out the Latin Quarter which really has gone way too touristy. To revisit Mary's school days we did dine in one of the little Greek cafes in the Quarter. I had the Carnivore Platter with many different kinds of meat on one skewer, including a pork chop. A new experience for me – I've never had a pork chop kebab. Mary does not agree that this is something we should have at home more often. She still subscribes to the belief that we should place more vegetable type things on the skewers.
We did check out Shakespeare and Company, a famous English-language bookshop. I do not believe that this shop has changed in probably the last half century, from what the guidebooks say. Certainly the proprietor has been sitting behind that desk for at least 50-60 years from the looks of him. I found a nice history of the Crimean War so I walked away quite happy. But then there hasn't been a bookstore made that I haven't enjoyed, so I'm kind of easy that way.
We checked out a couple of the huge department stores. They are kind of nice in an archaic way, but I guess I'm getting too used to the US megastore approach. Where we have 80 different light bulbs alone at Home Depot, in one of the big French department stores you might find 4 different types of light bulbs. (Though you will find 30 different types of pepper grinders, so that's nice.) We had a wonderful lunch at the café on top of Samaritaine department store and we'd highly recommend it on a nice day. You can't beat the view, as you're looking right down on the Seine. And the food was excellent.
Going Home
On the trip home, we checked in at Charles de Gaulle and got our seat assignments all the way through to Seattle. We never looked at the boarding passes again till we were sitting in the Holodeck in Heathrow and I was on my second beer and fourth bag of bacon flavored crisps. Mary was checking them out and said "Hey, I think we've been upgraded to business class!"
Turns out she was right. The ticket agent at Charles de Gaulle never said a thing. Weird. Anyway, going home after two weeks abroad in Business Class on a $20 fare is mucho coolio. I recommend it highly. I gathered up all the spare Molton Brown toiletries kits and will be giving them out as Christmas presents this year.
So that concludes the trip to Europe. We had a great time, notwithstanding the war, the French, or the lack of hard soap in Scandinavia. And Mary bought me three Cuban cigars in Heathrow, which I got to enjoy after we got home. I was going to report her to the authorities, but heck, she bought them for me, so I let her slide.