Opening of Pandora – The World of Avatar at Animal Kingdom
BY DON MUNSIL & SARAH STONE
A Whole New World
In May 2017, we were invited by Disney to see the new Pandora-themed area (officially titled "Pandora – The World of Avatar") at Disney's Animal Kingdom. We jumped at the chance to see the world of James Cameron's Avatar movie come to life and experience the latest attractions to come from the minds of Disney Imagineering. We (and a few hundred of our colleagues) got a sneak peek at the land in full operation, a couple of days before it was opened to the public. You can read on for our detailed notes, but we can sum it all up in one word: Wow!
Disney and Lightstorm (James Cameron's company) have been working on this new land for the better part of 6 years, and what they've built is pretty amazing. It really does feel like you've traveled to a beautiful, but alien planet. To get to Pandora, you cross a bridge near the new Tiffins restaurant, and on the other side you see some bizarre alien pods, including a huge pod that puffs out steam and seems to throb with an inner light. Past that you turn a corner and the first thing you see is the centerpiece of the land: a set of floating mountains, hovering serenely in the sky. Obviously these mountains don't actually float, but they seem to have no visible means of support. They're only connected to the terrain around them by some flimsy-looking vines. The engineer in Don says that those flimsy vines are actually steel supports, but visually it just looks like magic. You can walk around, and even under, the mountains. One of these floating mountains even has a waterfall! (Don's engineer brain couldn't help but ask, "Where is the water supposed to come from?") Everything you see is lush with exotic flora, punctuated by still ponds, flowing streams and sparkling waterfalls.
The whole land has nooks and crannies worth exploring, as well as some fun dynamic elements here and there – like electronic drums that appear to be part of a rock formation. Anyone can walk up and play these drums with their hands, and clever electronics play back an echoing counter-rhythm. It's as if there is someone in the trees listening to the message of your drumming and sending it back slightly changed. Every once in a while, Cast Members dressed as human settlers of Pandora will put on a drum show there, and it's worth stopping to clap along, and maybe get pulled into the show if you're lucky.
In addition to the natural wonders, there are a few other elements that make up the Pandora area, all flowing from the history of Pandora created by Disney Imagineers. The Resources Development Administration (RDA), i.e. the bad guys in the Avatar movie who wanted to strip-mine the planet, have been driven off. However, there are rusted-out remnants of their equipment still scattered around. Since then, human settlers who are more in tune with the ecology and native culture of Pandora have moved in. You see them around, wearing loosely-fitting outfits made of natural fibers and spreading a message of respect for the natural world. In addition, there's a tourism company called Alpha Centauri Expeditions (ACE) that has recently opened up parts of Pandora for eco-tourism. ACE's equipment looks new and high-tech, but is better integrated into the landscape than the RDA equipment and buildings. In a few cases, you can see that a particular building might have started as an RDA warehouse, but ACE has fixed it up and made it nicer so they can use it as a gift shop or snack bar. The attention to detail is fantastic, and everywhere you look there's something new to see.
Attractions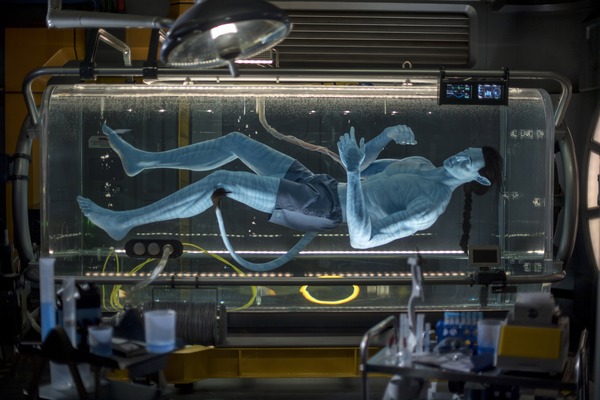 There are two new attractions in Pandora: one of them is an instant masterpiece and the other is definitely worthwhile, but not as amazing. The instant masterpiece is Avatar Flight of Passage, which immediately rockets into the top five Disney rides of all time and is clearly going to be a standout for a long, long time. But before we talk more about that ride, let's talk about the other ride: Na'vi River Journey.
Na'vi River Journey is a boat trip at night through Pandora's bioluminescent forest. The basic vehicle technology is not radically different from Pirates of the Caribbean or "it's a small world." Guests sit in a boat and float past a variety of cool things. The Disney Imagineers have made use of some new and highly effective special effects for this ride, including synchronized projections on moving objects, "hologram" projections that integrate pretty seamlessly into the physical sets, and one astonishingly fluid animatronic Na'vi figure, called the "Shaman," at the end. The final figure has so much movement, and is so smooth and graceful, that we assumed it must be done with puppetry or a Cast Member in a suit. But no – it's the latest advancement in audio-animatronics, and it's pretty great.
The highlight of Pandora is, without a doubt, Avatar Flight of Passage. This is the kind of ride that only Disney can do, and it's a stunner. The premise is that the scientists at the Pandora Conservation Initiative (PCI) have figured out how to connect each guest to a Na'vi Avatar using a new kind of brain linking technology, so everyone can experience what it's like to ride on the back of a banshee, the dragon-like flying creatures seen in the Avatar movie. On the way into the attraction, you pass through caves with ancient Na'vi drawings, old RDA facilities, and a PCI lab with an amazing Avatar floating in a tank. As he floats, his limbs twitch like he's having a strange dream.
The basic ride concept is similar to Soarin', where riders are on moving seats in front of a projection screen, and the movements of the seats synchronize with the motions depicted in the movie. Flight of Passage takes this basic idea to the next level, putting each rider on something like a high-tech motorcycle seat, where you straddle the seat and lean over and grip the handlebars. Each seat moves separately, unlike Soarin', where whole banks of seats move together. The seats contain some nifty gimmicks that help sell the idea that you're actually on the back of a banshee. In addition, the "neural interface headsets" they give the riders are actually 3D glasses, so the images on the screen look like they're right there in front of your face. Add some rushing wind, a few mild sprays of water, and the illusion of actually swooping around the skies of Pandora is complete. This ride is not to be missed. It's a bit more intense than Soarin', but not so bad that people with mild motion sensitivity can't ride. Sarah's not a huge fan of the very intense simulator rides at Universal Orlando, but was able to handle Flight of Passage just fine.
Other Features
In addition to everything mentioned already, Pandora also includes a gift shop, a snack stand, and a quick service restaurant. The gift shop has the usual stuff you expect at any Disney gift shop like t-shirts, mugs, enamel pins, etc., plus a few unique items like a mini-banshee puppet that can ride on your shoulder. We saw some people around Walt Disney World with one on their shoulder and they're quite striking. The banshees can flap their wings, move their heads and open and close their mouths, seemingly on their own. There are a wide variety of different colors and patterns so you can "adopt" one that fits your specific style. They aren't cheap at about $50, but they're definitely not something you're going to find at your local Toys R Us.
The snack stand sells beverages and one snack. The non-alcoholic beverages are like slushee parfaits in contrasting colors with a scoop of fruit-flavored popping boba pearls. They're tasty, but hyper-sweet. The alcoholic beverages are a fancy margarita and two kinds of ale, one of which is bright green. The snack is a pineapple & cream-cheese spring roll which is much better than we expected from the description. The pineapple tartness helps balance out the heaviness of the cream cheese.
The quick-service restaurant, Satu'li Canteen, sells a small selection of mostly asian-inspired foods. The primary offering is a Create-Your-Own Satu'li Bowl, where you pick a protein (steak, chicken, fish or tofu) a base (sweet potato hash, rice or two kinds of salad) and a sauce (chimichurri, black bean vinaigrette or creamy herb). They also have a couple of different steamed buns: one "cheeseburger" bun and one curried vegetable bun. We tried a little of everything, and it was all quite good. The cheeseburger bun was a standout, because of the bold mustard and pickle flavors they included along with the beef and cheese. We were also pretty happy with the steak, as it was cooked rare to medium-rare and was quite red. That's great for us, probably not so much for some kids. The chicken and fish were both also solid, and surprisingly enough the tofu was pretty tasty. Of the bases, they were mostly pretty ordinary with the exception of the sweet potato hash, which had some nice sweetness that balances out all the savory meat. The desserts were both unusual looking, but fun and (most importantly) delicious. One is a chocolate mousse cake dome that anyone who loves chocolate will like, and the other is a blueberry cheese mousse dome with a lemon curd dollop on top that was basically like a small blueberry-lemon cheesecake.
Pandora at Night
At night, Pandora simply glows – the walkways glow, the plants glow, even the clothing of the guests glows! And because it's hard to see the rest of the park, you can believe you truly are in another world. Like so much of Animal Kingdom, the effects and landscaping are best appreciated by taking your time to stroll around and explore all it's corners. Some of the plants are interactive and you will find they glow ever brighter after a bit of rubbing.  It's beautiful and strange – many of the plants look unlike anything you would see in a jungle or forest "on Earth."
Tree of Life Awakenings
We were able to explore the rest of Animal Kingdom park a bit at nighttime, though the complete report will have to wait as the Rivers of Light show was cancelled due to bad weather and we were unable to experience the nighttime safari. Our favorite new-to-us night element was the Tree of Life Awakenings that happen every 10 minutes or so after dark and until the park closes. The Tree of Life comes alive with light and color, along with animated projections synchronized to music and lighting effects. While this show has been around since 2016, it is now one of several special nighttime activities at Animal Kingdom. And because there are several different shows, you can enjoy it multiple times between rides, dinner plans and checking out Pandora at night.
Unlike most other nighttime spectaculars, these shows have no fireworks as that would disturb the animals. As a result, the show is a calmer, more peaceful show – very suited to the overall feel of Animal Kingdom and a nice way to wind down after an exciting day. Given that the surface of the Tree of Life is just covered with animals carved in relief, we were surprised at how much the projections transformed the tree. A carved animal would be highlighted, come to life and then the rest of the animals on the tree would just disappear as that animal jumped, hopped or flew around the surface of the tree.
The best viewing spot is to  face the tree with the bridge to the Oasis (and park entrance) behind you.
Newer Nighttime Spectaculars at Magic Kingdom
We also had a chance to see Happily Ever After, the new Magic Kingdom nighttime spectacular, and Once Upon a Time, a shorter projection show at Magic Kingdom.
We have seen several of the Walt Disney World nighttime shows that make use of Disney's projection-mapping technology. It's pretty amazing how Cinderella's Castle and the Hollywood Studio's replica of Grauman's Chinese Theatre are used as part of the show. However, Happily Ever After improves on this and is well worth your time. The show transforms Cinderella's Castle multiple times to transport you to the worlds of Aladdin, Inside Out, Wreck-It Ralph, Hercules and so many more! One moment the castle is covered in ice while Anna sings her signature song, the next moment the castle appears to be filled from top to bottom with memory balls from Inside Out. At times the castle is merely a surface for a scene, but often, and more so than previous shows, the projections transform the look of the castle to fit with the featured movie – Remy's restaurant, Anna's ice castle, Notre Dame cathedral. The whole audience seemed absolutely thrilled with the show and we overheard many people saying they thought it was one of Disney's best!
The fireworks, of course, are great at well and as the show builds to a close all the trees in the hub begin to sparkle with twinkling white lights – it's pretty breathtaking. One tip, unlike fireworks which can be seen from just about any angle in the Main Street U.S.A. area, the projections are best viewed while directly facing the castle from inside the ring of trees. Don was able to stand in a reserved area with a clear view. Sarah had to find an open spot outside the circle of trees and off to one side. Between the trees and being at an angle to Cinderella's Castle, the projections were fairly hard to see and appreciate. It was okay as an adult, but we imagine it would be frustrating, especially for a child, to not get the full impact of the projections. So if this is a really important experience for you or your family, you may want to consider arriving early to claim a good spot, or make a reservation for one of the dessert/dinner parties that includes a reserved viewing area.
If you aren't completely exhausted at this point, or prefer not to deal with crowds and staking out a spot, stick around for the later show – Once Upon a Time. It's a shorter show with very few fireworks – the focus in on the projection show. Chip, from Beauty and the Beast, won't go to sleep without a bedtime story, so Mrs. Potts tells him a short version of several Disney tales. The projections were similarly spectacular. At one point the castle transforms into stacks of spinning books, and in another part of the show you'd swear the turrets are bouncing up and down to the beat of the music. Despite the later show time, this show may be more enjoyable to younger children. It's not quite as loud (again, very few fireworks) and because many people left after the big show it was much easier to find a good viewing spot.
All in all, some great new experiences – so if you haven't been to Walt Disney World in a while, start saving your pennies!