Tokyo Disney Resort – May 2004 – Part 2
Day One – Tokyo Disneyland
Before this trip I pretty much had the idea that Tokyo Disneyland would be extremely similar to Disney World's Magic Kingdom and Disneyland in California, both of which I know like the back of my hand. So I assumed that very little in the Tokyo park would seem new to me. As it turned out, that was not true. Tokyo Disneyland is probably more different from Disneyland or Magic Kingdom than those two parks are from each other.
Tokyo Disneyland is laid out somewhat differently from the US theme parks and there are definitely enough new or changed attractions to justify a day at Tokyo Disneyland without feeling too much deja vu. Plus, there are lots of small differences and surprises that are very enjoyable.
By reading the Tokyo Disneyland website and every other resource I could find, I had made a list of the attractions that are significantly different from the American theme parks:
Pooh's Hunny Hunt
Cinderella Castle Mystery Tour
Mickey Mouse Revue
Enchanted Tiki Room: Get the Fever
Western River Railroad
Pooh's Hunny Hunt has been hugely popular with the Japanese since it opened in late 2000. I was told that the lines for this attraction can get huge and that sometimes the Fastpasses for Pooh will all be gone shortly after opening. I'd also heard that the lines just to get a Fastpass for Pooh could be hours long on busy days! So that attraction was my main priority.
I also wanted to eat at the Queen of Hearts Banquet Hall because I had heard the theming was amazing, and I wanted to take a quick look at some of the other restaurants, since they are completely different from the restaurants in the US parks. If there was time left over, I hoped to catch a show or two, visit the Disney Gallery, and enjoy some of my favorite "classic" Disney rides in Japanese.
Originally the plan was to spend a whole day, from opening to closing, at the park. However, it didn't work out that way. I have serious knee problems and after spending a week hiking all over Tokyo, they were protesting loudly. I was in a lot of pain and unfortunately that meant we had to cut our day short.
Even so, we had a great time and managed to do almost everything on the list. We also spent a fair amount of time just poking around, sitting on benches watching the crowds, and generally enjoying the atmosphere. I was a bit disappointed that my legs weren't up to a 13-hour day, but in 8 hours or so, we saw plenty.
The park opened at 9:00 am and we didn't arrive until almost 9:30. The transfer between trains at Tokyo Station had taken a lot longer than expected, and we hadn't bought our park tickets in advance, so we had to wait in a short line for those. ¥19600 (about $174) later, Mike and I were the proud owners of two 2-Day Passports. 2-Day Passports allow you to enter one park per day (no hopping), and you have to specify which park you're visiting on which day, at the time you purchase them. We chose to visit Tokyo Disneyland on the first day and Tokyo DisneySea on the second day.
I had deliberately chosen to visit the parks on a Tuesday and Wednesday after the Golden Week holiday, because I knew the crowds would be lighter than usual. Even so, after hearing so many horror stories about the lines for Pooh's Hunny Hunt, I was a bit worried about the fact that we were entering the park late.
Fortunately, as we entered the crowds didn't seem daunting at all. Even so, we hustled through World Bazaar (Tokyo's glass-covered version of Main Street) and skirted through Tomorrowland to Fantasyland.
Pooh's Hunny Hunt was on our right. The front is made to look like an opened Pooh storybook. When you walk around the sides and back, it looks like an English cottage. It's an adorable design.

We spotted the Fastpass signs on our left and joined what we thought was the correct line. A minute or two later, the people in front of us suddenly looked surprised and left the line. They went and joined a different, much shorter line. Some other people did the same thing. That's when we realized (as had the people in front of us) that we were in line for the honey-flavored popcorn cart!

Yes, the line for honey popcorn was longer than the line for Pooh Fastpasses. People were buying big buckets of the stuff… cute plastic buckets shaped like honey pots, for ¥1100 (about $9.90). It did smell good, but we wanted to get a move on!

We got in the short line and quickly obtained Fastpasses that would allow us to return between 11:30 and 12:30. Whew. One less worry. Now we could relax a bit, look around and start taking it all in.

The first thing I noticed was that the standby lines for Pooh didn't seem very long at all. I was tempted to go ahead and try riding it right away. However, Disney's queues can be deceiving, and I didn't see a sign indicating standby times, so we decided to keep moving and head to the next thing on my list.
We walked through Fantasyland to the back side of the Castle, where we saw the sign for the Cinderella Castle Mystery Tour. Like virtually all of the signs throughout Tokyo Disney Resort, it was in English. (Sometimes, but not always, there is a small Japanese translation underneath the English text.) However, I had been warned that the actual attraction is completely in Japanese and can be difficult to follow if you don't speak the language.

Sure enough, we joined the fairly short line and a few minutes later a Cast Member spotted us and brought over a laminated sheet written in English. It said that the tour is totally in Japanese ("we are very sorry for this"), that no photos are permitted and that there are actually two different tours, but you can't choose which one you want to take. It also warned that there are lots of stairs.
Great. Lots of stairs. Perfect for my knees. Mike asked me if I really wanted to do it. Yep! I was just so curious to see what was inside the Castle that I decided I would tough it out.

The Castle at Tokyo Disneyland, by the way, looks pretty much identical to the one at Magic Kingdom at Disney World. It appears that the Mystery Tour in the Tokyo Castle occupies the space that is Cinderella's Royal Table restaurant in Orlando's Castle.

The attraction opened at 10:00 and the first group of people from the queue in front of us were allowed up to the entrance doors. The Cast Member who would be leading their tour started a very long spiel in Japanese. Naturally we had NO clue what was being said. However, it was fun to watch the Cast Member, who was really getting into the story she was telling, and the reaction of her group. They were all completely riveted by whatever she was saying.

The first group entered the Castle and our group moved up to the doors. The Cast Member who would be leading our tour was male. He started his spiel, and he was very animated, with a really expressive face. He was making a lot of hand and arm gestures and it was obvious that he was telling a very dramatic story, but we had no idea what it was.

In we went, and they definitely weren't kidding about the stairs. We went up and down, up and down, in the dark. From time to time we would stop in a small room and something would happen. Usually a villain would appear and say sinister-sounding things in Japanese. Then the Cast Member would talk for a long time, drawing oohs and ahhs from all of the Japanese-speaking guests. The kids in the group seemed especially thrilled by it all, and some of them acted scared, but in a good way, like they were hearing a spooky campfire story.

As you can tell, the aptly-named Mystery Tour was, indeed, an almost complete mystery to us. There was a LOT of storyline but beyond "good triumphs over evil," which was about the only thing in English in the entire tour, I really couldn't tell you what it was all about. However, there are some cool special effects along the way, which are fun to see. (By the way, some of them are very similar to effects you can experience in the Sorcerer's Workshop at Disney Animation in Disney's California Adventure.)
The finale is spectacular, and I believe it is the same for both tours, because at the end, the group that had entered ahead of us was in the same room with our group. The last part involves a life-sized Audio-Animatronic dragon and lots of other excellent visuals and effects, so it was worth the climb.

After we came down from the castle turrets, I stopped to take some pictures. Mike sat down on a bench. I turned around a few minutes later and saw a group of boys about ten years old walking away from him. Mike was kind of chuckling. I asked what that was about and he said they had just come over and asked if he was American. Then they tried to talk with him in English a little. (This actually happened to us several times while we were in Japan, though usually it was older ladies who wanted to practice English by talking with us. We were delighted to chat with them!)

Next we went to The Mickey Mouse Revue, an Audio-Animatronic show featuring classic Disney songs and scenes from famous Disney movies. If you visited Walt Disney World about 25 years ago, this attraction may seem familiar to you, because that's where it came from originally. It was in the Fantasyland Theater (which now houses Mickey's PhilharMagic) from the Magic Kingdom's Grand Opening until late 1980.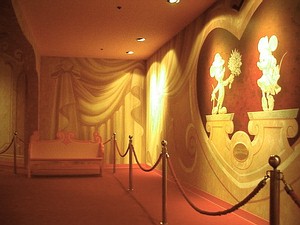 We had a short wait while sitting on a bench in the lobby. The lobby is very pink. The benches are pink, the carpet and ceiling are pink, and the walls are painted pink and white, with romantic illustrations of Disney characters.

I had a good time people-watching while we waited. Everyone had their cameras out and Cast Members were volunteering to take pictures of the families who were waiting. (This was something I saw throughout the park, typical of the "above and beyond" service offered by the Tokyo Disney staff at all times.) The walls did make nice backgrounds and it was fun to watch people posing.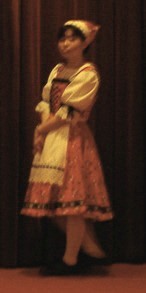 It was at this point that I realized all of the Cast Members we had seen in the park so far were wearing elaborate costumes. Plus, every attraction had a different costume! It really adds to the atmosphere a lot.

Memories flooded back to me. When I was a child visiting Disneyland in the "good old days," the Cast Members used to be costumed the same way. I had forgotten all about that! The outfits worn in the US parks these days are really pretty basic compared with the old ones.

I had never seen The Mickey Mouse Revue before. The audience first goes into a theater where you stand in rows against railings and watch a short film. This had been dubbed into Japanese, but it didn't really matter — it was obviously about how Mickey Mouse has evolved from the silent movie days up to today… well, up to the 1970s, anyway.

Sadly, the movie is in really poor shape, with lots of scratches and bad sound. It is obviously the same film they showed in the 70s and has the old Disney World logo (the big D with ears) all over it. People who have fond memories from early Disney World would probably get a kick out of it, though.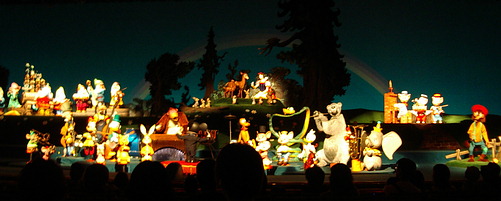 After the film, you enter a very nice auditorium with plush seats, where a cute Audio-Animatronic show is presented. The curtain rises on small groups of characters who "perform" short selections from the most popular songs from classic Disney movies.

You get to hear bits of many songs — everything from "Some Day My Prince Will Come" to "Zip-A-Dee-Doo-Dah." At the end the whole "cast" comes together for a rousing finale. It's a sweet show that is especially great for kids. Actually, I think Mickey's PhilharMagic is pretty much a 3-D version of the same concept.

Unlike most of the attractions, they do allow non-flash photography and videotaping in The Mickey Mouse Revue, so about half the audience was either using a video camera, a digital camera or a phone camera to record it!
We wandered back to Tomorrowland, which gave me flashbacks. It looks exactly like the old Tomorrowland at Disneyland in California, as it was in the 1980s. The layout is a little different, but otherwise it's like stepping into a time machine.

One attraction that looks superficially different is Grand Circuit Raceway, but behind the facade it is pretty much identical to Autopia. It does have the old cars, though, not the new ones they now have at Disneyland in California.

Lest you think Tokyo Disneyland is one big trip down memory lane, I should point out that Buzz Lightyear's Astro Blasters just opened there, in Tomorrowland. I've been told it's essentially identical to Buzz Lightyear's Space Ranger Spin at Walt Disney World. We really wanted to ride it, but not enough to wait in line for hours. We went by several times during the day and the lines never let up. The Fastpasses were gone very quickly. Obviously it has replaced Pooh's Hunny Hunt as the "hot ticket" in the park.
The funny thing, though, is that once again we mistook a popcorn cart line for an attraction line! When we were first hurrying through Tomorrowland to get to Pooh in the morning, we had noticed a very long line that we thought was for Buzz Lightyear. Then we realized there WAS a huge line for Buzz, but not where we thought. The first huge line was for a cart where they sell "Soda Flavor" popcorn in spaceship-shaped buckets!

We passed the popcorn line again on our way to "Once Upon A Mouse," a 30-minute live show at Showbase in an amphitheater in Tomorrowland. Unfortunately for us, the shows at Tokyo Disney are extremely popular, and by the time we arrived, the theater was full. At Tokyo Disney they don't allow "standing room" right behind the seated crowd. Once the seats are full (or at 5 minutes before show time), they close the ropes at the queue entrance and you can only stand behind those, about fifty feet from the back of the audience.

We could see some of what was going on, so we watched for a few minutes. Basically it was a cute song-and-dance review with lots of characters and the cast seemed very energetic. We're not usually big fans of the live shows in the parks, so we weren't too horribly disappointed to miss part of it. (Apparently this was one of the last performances — the show ended on May 23.)

We were pretty curious about the "Soda Flavor" popcorn and why so many people would wait in line for it, so we went back and got in the line, which fortunately was now much shorter than it had been first thing in the morning. We bought a bucket, which comes with a strap so you can sling it over your shoulder, and each of us had a nibble of the popcorn. The coating was dark green. The flavor was… well, we thought it was horrible. It kind of reminded us of bubble gum, but with a yucky aftertaste. Oh well. The bucket is nifty.

I'm thinking a lot of the people waiting in line just wanted the bucket. Obviously popcorn is a novelty in Japan, plus the buckets are a neat souvenir. We saw people of all ages with them strapped across their chests. I even saw toddlers walking around with buckets strapped on. The buckets were almost as big as they were!

Apparently some Disney fans in Japan collect the buckets, kind of like some American Disney fans collect pins. (Pins are virtually nonexistent at Tokyo Disney.) Different buckets are introduced fairly frequently, and new buckets are offered to promote new attractions. There was even a display of "retired" buckets at the Disney Gallery in World Bazaar, which we saw at the end of the day.

Some of the buckets do have very clever designs. I took pictures of several:
| | | | |
| --- | --- | --- | --- |
| | | | |
| Buzz Lightyear – "Soda" | Pooh – Honey | Mickey & Friends – Plain | Chip & Dale – Caramel |
Interestingly enough, I just realized that the Pooh "Birthday Bucket" offered at Disneyland in California is very similar to the Pooh popcorn bucket offered at Tokyo Disneyland. It has the same "honey pot" shape but the top colors are different and the artwork on the side is different. So if you're dying to own one of the buckets above and you can't get to Tokyo Disneyland, a Birthday Bucket is probably the next best thing. (The "birthday buckets" are sold for $20 at various restaurants at Disneyland and include a small cake, some toys and a pin. They come in other shapes, too, but I don't think any of the others are very similar to the popcorn buckets.)
Go to Part 3 of the Tokyo Disney Resort Trip Report.