Tokyo Disney Resort – May 2004 – Part 3
Day One – Tokyo Disneyland, continued
After taking a look around Tomorrowland, we realized it was nearly 11:30, so we walked back up to Pooh's Hunny Hunt. We handed in our Fastpasses and for the first time I got a better idea of how the queue is laid out. As I had suspected, the wait is quite a bit longer than it looks from the front of the ride!

The queue jogs back and forth about four times across the width of the attraction, and then it winds through several rows on the right side of the building. The Fastpass allowed us to bypass all of that part of the line.
As you progress along the right side of the building, you are treated to a pretty little English cottage garden scene straight out of the original Pooh books. The landscaping, featuring a small pond and flowering plants, is lovely. It was at this point that the wait in the Fastpass line actually started.

There is a covered queue area at the back of the building, surrounded by trellises and giving the effect of a gazebo or conservatory. It's probably an "overflow" space for busy days. It was not in use when we went by, so the standby line must not have been terribly long that day.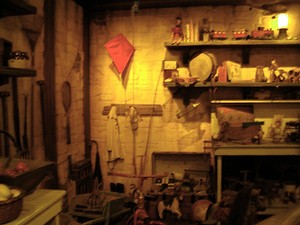 Once you're inside, you find yourself in what appears to be a garden shed full of tools, old toys and the usual cast-off things people would store in a shed. There's a lot of detail to enjoy, but the line was moving quickly so we had to keep trotting along.

After that you reach the final queue area, which is pretty large. It is basically just a big room divided by 10- or 12-foot-high upright concrete "pages" from a Pooh storybook. All of the text on the "pages" is in English, since they are reproductions of the original storybooks, complete with illustrations.

I started to take photos of the queue area but was quickly stopped by a pleasant Cast Member who let me know by hand gestures that photography was not allowed. I was embarrassed and put my camera away immediately. I should have noticed no one else was taking pictures!

Since Pooh is a continuous-loading ride, the line moves fast. I don't think we waited more than 15 minutes. From the queue you can see the loading area, where guests are loaded into the "hunny pot" cars. There are two rows of seats in each hunny pot, each of which can hold two or three people. We were in the front row of our hunny pot.

We pulled down our lap bar and zoom, off we went! Those hunny pots really move along at a good clip. What's interesting is that they are not on a track. I don't know how they work exactly (magnets under the floor? GPS? radio signals?) and I don't really want to know. I prefer to think it's pixie dust! Anyway, they just seem to have minds of their own and appear to move totally at random. You go zipping along in one direction, suddenly stop, spin around and then head off in another direction. It's really fun because you never know what's going to happen next.

The concept of the attraction is that Winnie the Pooh is dreaming of honey and you are in his dream. The hunny pots move through a series of rooms that have characters and scenes from the Pooh stories popping out, spinning around and whirling around you. At one point you see a video projection of Tigger bouncing and your entire hunny pot bounces along in time!

I know I'm not describing it very coherently, but there's a reason for that. After we got off, I described the experience to Mike as "hallucinatory." I mean that in a good way, but it's wild! It really makes your head spin — not from the motion, but from the amount of stuff that happens while you're riding it. I would probably have to ride it a half-dozen times to be able to report on it very accurately.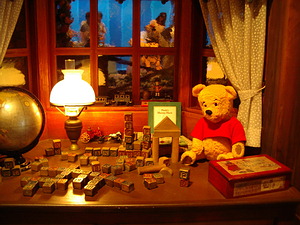 I've never experienced anything quite like Pooh's Hunny Hunt. It's definitely a next-generation version of Disney's traditional "dark rides" (i.e. Snow White's Scary Adventures and Peter Pan's Flight), and it's absolutely fantastic. I understand why it's so popular! It makes the American parks' Pooh rides look sad by comparison.

On the way out of Pooh, there is a very sweet little "nursery" room decorated like Christopher Robin's room in the books. It's quite detailed and appears to be intended partly as a photo backdrop. We saw several families posing their little ones on the bed and taking snapshots.
After the ride, we checked out Pooh Corner Toys and Gifts, the gift shop adjacent to Pooh's Hunny Hunt. It's themed to look like a cute little cottage on the outside, but inside it's immense! Some of the merchandise is repeated in multiple areas of the store, but even so, I was astonished at the quantity of Pooh souvenirs available.

The big thing in Japan is to buy gifts for practically everyone you know whenever you go on vacation. So the gift shops are truly "gift" shops — almost everything they sell is something you could give as a gift. One of the most popular gifts is a tin of cookies, candy or other edible treats. The number and variety of tins offered in every gift shop is mind-boggling, and they are available in all price ranges from about $5 on up.

We also noticed they sold lots of small items that were probably intended for school kids to buy as gifts for their friends back at school. A common item I saw all over the place was a wrist strap with a little character charm dangling from it and a spring hook on one end. I was mystified by what was supposed to attach to the hook, but I've since been told it is a cell phone strap. There were lots of other cell phone accessories for sale, too. Individually-cellophane-packaged washcloths or small towels printed with characters were available in most shops and I saw many young girls buying them, probably as gifts.

There were a lot of plastic containers with pop-up lids. They work kind of like a kitchen trash bin, but they are much smaller — about cookie-jar-sized. For instance, in the Pooh shop, there was one shaped like a "hunny" pot, with a little molded Pooh at the base. If you pushed down on Pooh, the lid would fly up. As we moved through the park we saw many variations on these containers, with different shapes and characters. As I recall, they cost about $13.

In one shop there was a whole display of Tokyo Disney car accessories! Yes, in Japan you can outfit your car with a Mickey rear-view mirror and a cup holder with Mickey hands to grasp your coffee mug. There was even a light-up Mickey hand that plugs into your cigarette lighter. (It seemed to be purely decorative.)

The Japanese parks sell hardly any adult clothing. There are really very few hats and t-shirts, even for kids. They had some adorable baby clothes, though. Trading pins are not sold at the Tokyo theme parks at all, as far as I can tell.

Other than that, most of of the souvenirs were pretty familiar and similar to what you'd find in the US parks. However, one interesting thing I noticed about the attractions at Tokyo Disney Resort is that they don't force you into a "shoppertunity" as you come off every ride. The exits come out close to the gift shops, but you don't have to walk through them.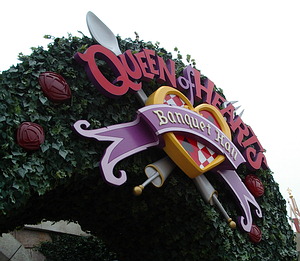 Once we had explored the Pooh gift shop, it was lunch time. Nearby in Fantasyland is the Queen of Hearts Banquet Hall, which is an absolute masterpiece of theming. If you visit Tokyo Disneyland, you absolutely must go inside, even if you don't eat there. Talk about eye candy! It's really almost an attraction unto itself.

We arrived at Queen of Hearts just a few minutes before noon, so it was getting busy. We started to walk right in, but a costumed Cast Member was stationed outside and let us know by gestures that we should line up behind one other couple between two velvet ropes located off to one side of the entrance. Within seconds there were probably a dozen parties in the line behind us, so our timing was good.

Only one party at a time was being let in, but it didn't hold us up for long. Less than a minute later, a Cast Member working at the doors gestured to the person who was directing people into the outside line, and we were allowed to go through the doors and join the line inside.
Once we were inside, it was apparent why they were holding us outside. If guests had been allowed to just walk straight in without intervention, they would have blocked an interior walkway, and the queues inside would also have become sort of awkward and straggly. So they had devised an efficient system to make everyone more comfortable. This type of thing is common in Japan.

It helps that staffing levels are much higher than in the US. Just in the Queen of Hearts waiting areas, there were at least a half-dozen Cast Members working. As I mentioned, there was one person outside and one at the doors, who also walked us in and let us know we could join either of the two inside queues. As I recall there were also two Cast Members working in each of those two queues. Their function appeared to be answering questions about the menu and keeping people moving forward.

At a similar Disney restaurant in the US, there might have been one person working the entire queue, or possibly no one at all. Of course, all that extra staff costs money, so the meal at Tokyo Disney may cost slightly more than a similar meal in the US. But everything runs really smoothly.

As we waited in line, we were getting an eyeful, and I was taking a lot of pictures. (Click here to see more.)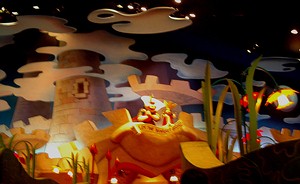 Walking into Queen of Hearts Banquet Hall is like stepping through the Looking Glass and being caught up in Alice's world. There is an incredible level of detail everywhere in the restaurant. For instance, one part of the queue is flanked by "life-sized" playing card characters. They are all heart cards, but each one is a different number in the suit.

There are large menu boards in English (including some showing photos of the food) both outside and inside the restaurant, and they are repeated several times in the queue, so it is no problem to know exactly what you want to order by the time you get to the serving line. The selection isn't huge — probably two appetizers, two salads, two soups, six entrees and five desserts to choose from. Almost all of the dishes offered are American-style food, although sometimes with a Japanese twist.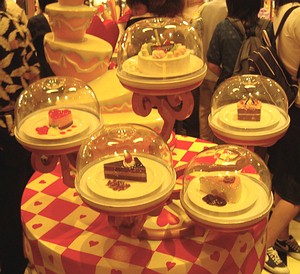 You pick up any salads or desserts you want from the buffeteria counter. They are constantly replenished from behind the counter.

When you get to the soup station, a Cast Member (who speaks English) is working the queue. He takes your order, calls it out in Japanese to a worker behind the counter, and the soup you want is immediately handed to you. The same thing is repeated for the entree, and then you pick out your drink and someone carries your tray from that point to the cashier.

Once you've paid, someone escorts you directly to an open table. Talk about service! It was great not having to search the room for a table while carrying a heavy tray. Nice touch.

There was a "lunch set" (a specially-priced set menu) available for ¥1995 (about $18) that included a specific appetizer, entree, bread roll, dessert and hot beverage. The lunch set is supposed to be the best value, but neither of us ordered it. The appetizer included with the set meal was some kind of marinated seafood item that didn't appeal to me. Mike didn't like the sound of the dessert, which was a molded banana-flavored bavarian. (He hates bananas.) Neither of us was really in the mood for coffee or tea.

So instead of the lunch set, we just got whatever we wanted. The entree serving sizes were fairly small, which was fine with me since we were having multiple courses. We both had cream of corn soup (¥367) as an appetizer, which was delicious. My entree was meatloaf (¥1029) and Mike had sliced flank steak (¥1417). My meatloaf was tasty. It was a small individual serving that had been wrapped in several strips of bacon, and it was covered with a tomato/beef gravy. Both of our entrees came with whipped potatoes and broccoli — actually I'm almost positive you get those same sides no matter what entree you order.

We each had a soft drink (¥262 apiece). Mine was a Kirin Lemon soda, which is similar to 7-Up but with more lemon flavor. I found it very pleasant. As we walked into the dining area, I noticed there was a station where you could get good-sized paper cups of cold water, so you could certainly skip the soft drinks if you wanted to keep costs down.
For dessert we split a "Happy UnBirthday" cake (¥840), which I had spotted in the dessert display while we were in line. I just fell in love with it because it was so darn cute! It tasted great, too. The decorations were all edible — the "candle" was white chocolate and there were also strawberry-flavored marshmallows and fruit on top. The cake had had some peaches between the layers and was frosted with strawberry-flavored whipped cream. Yummy!

The UnBirthday cake, which is large enough to serve 2-4 people, depending on how piggy you're feeling, was the most expensive dessert by far. Most desserts were around ¥300. The total cost of our meal, including 5% tax, was ¥4544 (about $41). In other words, we paid only a little more for our a la carte meal than if we would have paid for the lunch set.

Go to Part 4 of the Tokyo Disney Resort Trip Report.