Trip Report: A Disney Fantasy Cruise with Little Ones – Part 2
BY BETH S – MAY 2012
First Sea Day
Left in the merciless hands of two little kids, a miracle happened: we actually got to sleep in. At 9:00 am Ella woke us up, but the blackout curtains were so effective it had remained dark in the room until she opened them up.
For most breakfasts and lunches we opted for the buffet or poolside dining options. While Ella is capable of sitting through full service meals and Mia likes to eat, it made more sense for us to cut meal times short in order to maximize playtime with the kids.
When we left breakfast the crew members were organizing a baby crawling race (called Jack Jack's Diaper Dash) in the atrium. We entered Mia, and gave her a serious pep talk about how focus and determination are more important than experience. Mia had only been crawling a few weeks, and was definitely an underdog. It was very cute and funny and all the babies and their families had a great time. All crawlers received a Disney Cruise Line bib for their participation.

It was a bit rainy, so we used the time to explore the ship. We brought our MacLaren Triumph stroller and a Beco Gemini baby carrier to help transport kids. We actually used the MacLaren more than I expected, and it was a perfect sized stroller to collapse and store under the bed. The ship does have Peg Perego Vela strollers available to rent from Guest Services. Checkout requires a $200 deposit and you can take the stroller around or off the ship. I noticed some guests rented them and left them in the hallway outside of their rooms. Honestly I didn't use the baby carrier as much as I expected, though I use it all the time at home.

By lunchtime the weather had cleared, and we ate poolside. Cabanas is located on Deck 11 with all of the pools and slides, and you can always get a tray of food and sit elsewhere with it. We enjoyed watching movies by the pool and eating on our own schedule. The food options Disney makes most easily available for kids are good, but not particularly healthy. However, you can find vegetables, fruits and deli sandwiches poolside and in Cabanas. Additionally, we found our server at dinner more than willing to bring foods that were not on the menu for Ella.

Ella eats like a 40-year old woman on a diet. She prefers eating plain, uncooked, single ingredient foods (like a bowl of plain, raw baby spinach). So, the fried cheese sticks, pizza, chicken fingers, French fries, etc. on the kids' menu don't appeal to her. Our server would accommodate odd requests happily, and Ella was able to eat her normal foods even at full service dinners with set menus. The kids' menu at dinner always includes a salad and fruit option in the appetizer section, and most entrees come with French fries and green beans and carrots.

After lunch I took Mia to play at Nemo's Reef. It is the only water play feature on the boat that babies and non-toilet-trained toddlers are allowed to use. Nemo's Reef has a small water slide, interactive water features, showers, and spouts that were equally fun for a 10-month-old and a 3-year-old. It is also somewhat heated and blocked off from the wind, so if the weather isn't cooperating elsewhere kids can still play comfortably in Nemo's.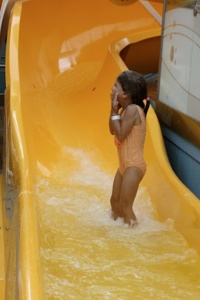 Ella loved Mickey's waterslide. It is intended for use by kids ages 4 – 14 and has minimum and maximum height stipulations (38 inches – 64 inches). I observed that 4 – 8 year olds primarily used the slide. The queue is not highly regulated, and no one asked Ella if she was 4 years old. The slide terminates in a very shallow flat trough, and does not require kids to be full swimmers in order to use it. Parents stand at the bottom, and if a kid seems to have trouble getting out of the trough there are ample hands willing to help out.

One problem I observed and heard other parents and grandparents talking about is that there isn't an attendant at the top of the Mickey slide. Older kids often pushed the younger ones out of the way to cut in line. I observed that a much larger girl would take two or three turns down the slide for every time Ella made it down, but she didn't seem to mind.

The larger, faster water coaster, the AquaDuck, does have minimum height requirements that are strictly regulated. To ride with a partner – even a parent – a child must be at least 42″ tall, and to ride solo the height requirement is higher (54″). Crew members measure closely and if a child is tall enough she will get a red wristband to wear. Ella was not tall enough to ride.

Exclusive to the Disney Fantasy is the Aqua Lab, an elaborate water play area aimed at slightly older kids than Nemo's Reef. Danny took Ella to try it out, but she wasn't interested. She doesn't like being sprayed in the face with water. While Ella didn't want to play at the Aqua Lab, I did walk over to observe it several times throughout the week. The facility looked like Disney concocted the best "running through the sprinklers" experience imaginable. Oddly the Aqua Lab was always sparsely attended. Even on sea days there were never more than 5-10 children playing in this space.

We had 6:00 pm dinner reservations at Palo, and needed to dress / clean-up beforehand. At 5:00 pm we fed Ella at Cabanas, and dropped her at the Oceaneer's Club. Mia had a reservation at Small World Nursery.
Oceaneer's Club and Lab
The Oceaneer's Club and Lab (Deck 5 Midship) are intended for children 3 – 12 years old. Ella is often shy around much older kids, and I was worried she would be intimidated and not like it. That was not the case. During the times we were there, most kids were early school age, and it was clear the Club was geared to younger kids while the Lab was a bit better suited for older kids. There were plenty of staff members throughout, and each room had at least one adult present monitoring and encouraging play.
As it got later in the evening, the staff put on a movie and placed mats on the floor for resting. Kids could potentially fall asleep if they were exhausted. Characters make regular appearances in the Club and Princesses tell stories. The staff learn the kids' names and can often tell you what they have done during their time there.
Food and drinks are available during meal times, but staff largely allows children to make their own decisions on what, when, and if to eat. Ella is never a self-feeder if there is anything else she could be doing, so we mostly tried to feed her outside of the Club. Ironically, I found the food selections offered to children in the Club were healthier than what is on the menus at the sit-down restaurants. Fruit and veggies were often central components of the Club's mealtimes.
Reservations are not required to drop off children at the Club. If a child wants to leave, staff members try to encourage them to participate in other activities before texting the parents. I found the check-in / check-out and safety procedures to be quite satisfying. Parents must carry a Wave Phone (a special on-ship mobile phone, two of which are provided in every cabin) and tell staff where they will likely be. When parents arrive to pick-up children, they are permitted to walk through the facility to find their child. The facilities are quite engaging, and beyond the infrastructure, crew members often organize group activities and games for children. Additionally, all children are required to wash their hands before entering the club to mitigate the spread of germs.
Small World Nursery
Small World Nursery is located adjacent to the Oceaneer's Club / Lab on Deck 5 Midship. You must make a reservation in advance to secure space. You can prebook a certain number of hours (18 hours for a 7-night cruise; the number of hours varies by cruise length) online in advance of your cruise, or you can make reservations once you arrive on board. However, if the Nursery is not at capacity you can use it as a drop-in facility, and even exceed the allotted pre-bookable hours of Nursery time. It costs $6 / hour, and is booked in 30-minute increments. A minimum one-hour reservation is required, although you can always pick up your child earlier. I found that even if you pick your child up well before the end of your reservation, you may be charged for the full amount.
Prior to the trip I booked time each night during dinner so I could eat without entertaining a noisy, grabby baby. We had the early dinner assignment, and Mia was in the Nursery each night from 6:00 to 8:00 pm.
While Mia prefers to eat table food when she is with us, I packed ample squeeze packets of baby food, and brought a backpack stocked with a change of clothes, diapers, a bib, a sippy cup, food and baby spoons. The Nursery does not want prepared foods from onboard the ship dropped off: parents must bring sealed baby foods or snacks. Additionally, there seemed to be bananas and yogurt present most of the time. If your baby is still taking a bottle you can drop off bottles with formula or breast milk. Small World Nursery labels each item with a label maker to ensure items are returned to you and are not shared. They use non-alcohol wipes to clean children's hands prior to entry in the Nursery.
The procedure for check-in / pick-up is secure, and includes swiping the parents' Key to the World card and giving a password. Parents are not allowed inside the facility except during open houses (8:00-9:00 am each day). A sticker with the child's name and reserved nursery time is placed on his or her back upon check-in each day. The staff all got to know Mia and if we saw them outside of the Nursery they would say hello to her by name and sight recognition. I found they were all very calm, caring and kind to the children. I felt confident with the staff and comfortable leaving Mia.
The facility is clean and stocked with safe baby toys. Mia enjoyed having space to crawl around and explore. They also have baby swings to soothe fussy ones and cribs for naps. Parents must carry a Wave Phone, and can call to check on the child at any time. I found the staffs' tolerance for fussy and crying babies was quite high. Occasionally, I would show up and either Mia or another child would be melting down, and one night I showed up and Mia had obviously been crying hard for a while (her face was swollen and puffy). We appreciated that while the staff would try to soothe the child, they never called me to come back early. They were very professional and were confident and sweet with cranky babies. The crew members in Small World Nursery are all women and for our sailing all were first-language English speakers.
I found they did not often change Mia's diaper unless she had a bowel movement, and so I made sure to drop her off wearing a fresh diaper. Additionally, even though I did include a bib in her backpack, the staff never used it. Mia would often return from the Nursery covered in baby food. There are self-serve laundry facilities available on most decks of the ship, as well as dry cleaning / laundry drop off, but I just brought a Tide Stick to treat stains without having to do laundry while on vacation.
Twice when Mia needed a nap, and we didn't want to have to sit in the stateroom with her, we called Small World Nursery to see if we could drop her for a nap. Both times they were open and had room for her. She regularly napped there and allowed us to maximize our time having fun on vacation while allowing her to get regular rest periods.
Palo and Aladdin
On our first full sea day we had dinner at Palo, the northern-Italian inspired restaurant. My husband wore a long sleeve button up shirt and slacks. I wore a skirt, heels and nice shirt. Palo is a $20 per person up-charge from regular dining, requires a reservation, and is a fun experience. The food and wine selections are higher quality than in the main dining facilities. The service is great, and our server respectfully explained any / all questions we may have had about the menu.
We rushed a bit to finish our meal at Palo so we could see the live Aladdin production. When we picked up Ella and Mia they were both happy, albeit tired, and we were later than we should have been to secure decent seats for the Aladdin performance. We ended up in the far corner of the upper balcony. Mia didn't last long, and I returned to our stateroom to put her to bed. Ella was riveted and loved the performance. It was high quality theater and quite fun.
Each night when we returned to our stateroom following dinner our stateroom hostess had cleaned for the second time that day, left chocolates on our pillows, and created a towel animal on Ella's bed. Ella loved the towel animals and would squeal in delight and play with them until they had unraveled each night. It was a great enticement to get her back to the stateroom after a full day of fun.